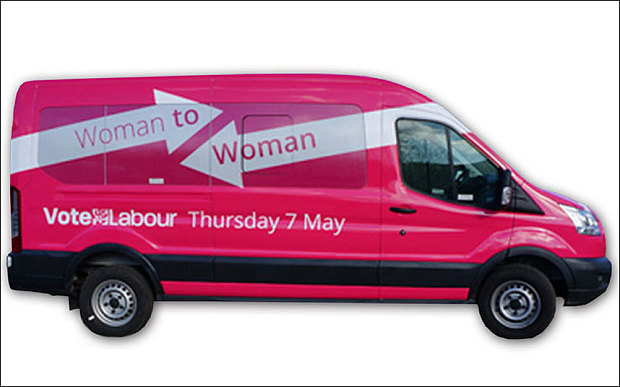 What is it with Labour and vans? Whether you think it's cerise, magenta, or Persian rose, Labour have announced they'll be hitting the road in a touchy-feely pink van to "reach out to women" ahead of the election and create a "Domesday Book" of women's electoral wishes. Their slogan, 'woman to woman' may be well-intended. However, it sounds a bit too much like the title of a sex and relationships book pressed into your hands by a well-meaning aunt, or the fictional feminist bookstore 'Women and Women First' in Fred Armisen and Carrie Brownstein's comedy 'Portlandia'. In any case, it hasn't quite hit the target.
Harriet Harman's plans for a dedicated women's campaign bus, which will visit 70 constituencies before May in order to ask women what they want from a Labour government, has already been met with derision on Twitter. Comments that the van comes across as patronising as a 'Bic for Her' stand alongside more serious claims that the bus will in fact put women off voting for Labour in the first place. So where exactly are the Labour women's campaign going wrong?
Labour still have a formidable set of priorities to help attract female voters: supporting women to balance work and childcare; helping older women who are working longer and looking after relatives; taking tougher action on domestic violence; tackling the pay gap and raising women's living standards; and striving to achieve gender-balance in government.
However, the approach that Harman has taken in this particular campaign strategy reveals a lack of understanding about engaging women in politics for two important reasons.
First, I am not convinced that the majority of female voters will readily unite over their gender identity above other factors such as class, age, ethnic identity, regional identity, profession, whether they are mothers, whether they are disabled, and so on. It's true that women have suffered disproportionately under austerity measures, with more cuts to jobs, benefits and vital services putting them in 'triple jeopardy' according to the Fawcett Society.
But there is clearly much less uniting two women of different backgrounds in the same town than there is a group of parents battling to keep local Sure Start centres open so they can carry on working. That's not to denigrate explicitly female-led organisations such as domestic violence campaigners Sisters Uncut, for which there is clearly a need. Generally speaking, though, women will mobilise politically on a far broader interest base than just their gender. Local activist groups, explicitly feminist or otherwise, are better at recognising this than the Labour party.
This brings me to my second point. This may be 'kitchen table' politics, but the short election campaign shouldn't feel like a shopping list. Starting a national conversation about the political priorities of women is important, but the execution will still feel too much like the 'delivery' style politics of old. Labour needs a plan that's less Ocado van, more Casserole Club.
With this in mind, the edited collection that Rosie Rogers and I put together, 'Riding the New Wave' is full of ideas from real life feminist activists on how to do this – centring on the fact that Labour can still prove itself to be a vehicle for lasting social change if it genuinely engages with local campaigns and shows that there's meaning in the movement.
This entails campaigning in partnership with groups like UK Feminista, the men and women in the Spartacus Network, as well as the myriad local groups set up to bring about positive change in their communities. When Barbara Keeley and local Labour councillors lent their support in the to the hundreds of parents and carers protesting about the closure of the Sure Start centres in Salford last summer, Labour representatives showed that they were behind local people when it mattered most. Saving the centres in Irlam, Walkden and Lower Broughton demonstrated that politics can make a massive difference to people's lives.
Labour needs to show its politics can work in the spaces people have created in their towns and cities, instead of just driving through.
Anya Pearson is assistant editor at the Fabian Society and co-editor of Compass and Fabian pamphlet 'Riding the New Wave: Feminism and the Labour Party' with Rosie Rogers. She tweets at @AnyaRPearson