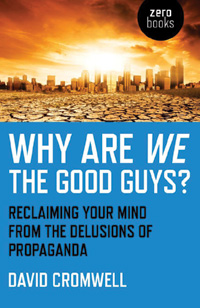 Established in 2001 with the aim of 'correcting for the distorted vision of the corporate media', MediaLens uses a 'propaganda model' analysis inspired by Noam Chomsky to argue that mainstream newspapers and broadcasters are systematically incapable of challenging business and state power. In his latest book, the website's co-editor David Cromwell offers both a critique of the ways the powerful convey propaganda through the media and a personal memoir.
Cromwell addresses several topics, including Iraq, climate change and the financial crisis, highlighting the narrow scope of media debates that rarely question the assumption of a benevolent if fallible west. He intersperses this with several formative moments of his life and his development as an activist.
Sometimes eye-opening information is uncovered. Consideration of the post-second world war Marshall Plan reveals how it was used as a cold war weapon to dissuade the Attlee government from nationalising industries. Chapters on the Iraq war and Iran expose both the media's dissimulation of bias and distortions and the selective amnesia and hand-waving of many journalists when confronted on it.
That said, the book has weaknesses and its view of the world does not escape the good/bad guy dichotomy, with certain self-styled anti-imperialists left unchallenged. Cromwell denounces 'the British media' for trying to 'silence or vilify' Wikileaks' Julian Assange, but does not address the rape allegations against him.
The final two chapters are the weakest, unconvincingly merging together existentialism, Buddhism and psychology to set out a personal philosophy in which social change seems to derive more from individual enlightenment than collective struggle. The result is an eclectic romanticism, in which enlightened individuals who have freed themselves from selfish indifference to others use compassion to overcome the egotistical corruption of civilisation.
This offers little obvious guidance as to how people constrained not by 'indifference' but by oppression can emancipate themselves. And strategic considerations as to how journalists can work within the limits of the capitalist press to speak out against power and ensure audiences receive accurate information are sidelined. Sadly, given the useful information compiled elsewhere in the book, this leaves political strategy sidelined in favour of empty moralism.