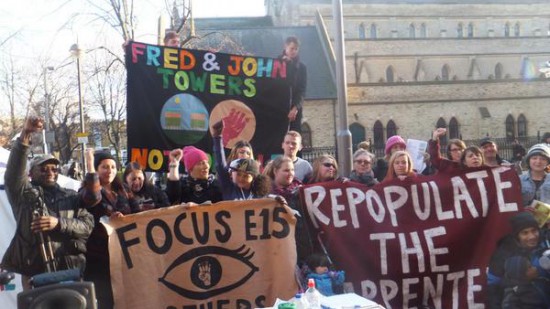 'We won't stop until we win back the whole of Carpenters Estate and we end social cleansing!'
Focus E15 campaign began life in Summer 2013, when 29 single mothers, all under the age of 25 were handed evictions notices from Focus E15 hostel in Stratford. When they were told they would be housed as far away as Hasting, Manchester and Birmingham a campaign to keep all mothers in London began with occupations of the local housing office and confrontations with politicians like Mayor Robin Wales. Resistance was successful and all 29 mothers were given private rental accommodation in Newham.
But one year private rental contracts just aren't good enough and everyone agreed that we all need stable secure homes; we need social housing! The campaign has now transformed to include anyone affected by the housing crisis.
The main focus of the campaign is to get Carpenters Estate in Stratford filled with people on social housing tenancies. Newham council have been evicting families because of the Olympics to sell it off as prime, London real estate and its currently a ghost town.
Our most high profile tactic so far was to occupy a block of flats on the estate with the help of the local community, to protest the hundreds of council homes being left empty. We were there for two weeks and got amazing media coverage and a visit from Russell Brand! The two week occupation came to a smashing end when the mums from Focus E15 got an apology from Mayor Robin Wales for their treatment and a commitment to house 40 households in temporary accommodation on the estate. Most of the 40 flats have been filled now and that's 100% down to direct action. But we won't stop until we win back the whole of Carpenters Estate and we end social cleansing!
To find out more visit: @FocusE15
Red Pepper are running the People's Agenda series in the run up to the General Election, demonstrating the breadth of exciting grassroots political activity in the UK.
Join Red Pepper for our free event on 22 April in London- Beyond the Ballot Box: Ways we can Win.