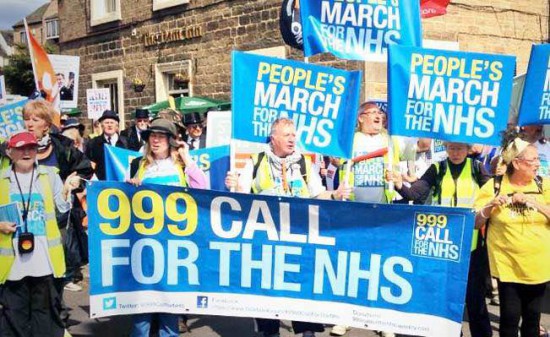 '999 Call for the NHS is a truly grassroots campaign and proud to remain independent from any party politics & political influence. Politicians, lobbyists, policy makers – we ask questions of them all, going beyond politics. We have one mission and that is to save the National Health Service from fragmentation & privatisation – whatever it takes.'
999 Call for the NHS organised last August's People's March for the NHS, a 300 mile march retracing the route of the original Jarrow crusade. Founded by Joanna Adams and a group of working women from Darlington, nicknamed the #darlomums, it has become a national organisation campaigning to save the NHS from the greed & corruption of private companies (who wish to sacrifice one of the greatest institutions of our country, recognised globally as the most cost-effective and efficient health service in the world.)
We call for an end to PFI (Public Finance Initiative), an end to cuts & underfunding and the complete rejection of TTIP (Transatlantic Trade & Investment Partnership). It believes that the only way to defend and preserve the NHS is to stay true to Nye Bevan's founding principles of a publicly owned, publicly funded NHS – removing the internal market and bringing the NHS back into public ownership.
We are currently supporting the development of the NHS Reinstatement Bill and campaigning against the recent proposals known as 'Devo Manc' with a variety of inspiring events planned in the run up to the election and beyond.
To find out more visit: 999callfornhs.org.uk
Red Pepper are running the People's Agenda series in the run up to the General Election, demonstrating the breadth of exciting grassroots political activity in the UK.
Join Red Pepper for our free event on 22 April in London- Beyond the Ballot Box: Ways we can Win.