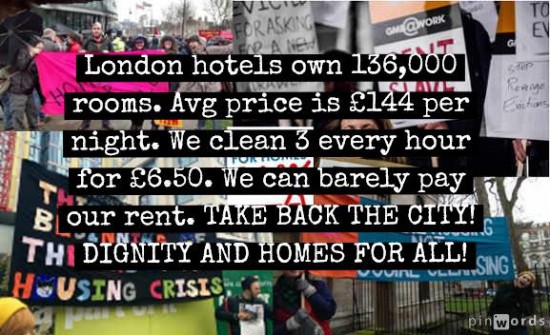 'Hotel workers in NYC have the best terms and conditions in the world. Their starting rate is $24 (£16) per hour. They achieved this through solid workplace organising and wider community support and direct action. If they can make it there we can make it anywhere!'
The Unite the Union hotel workers branch has been going strong for ten years. We have 1000 members which is a sizeable number but considering that 100,000 people work in the London hotel industry, we still have a long way to go. We want union access and recognition, the best pay (Living Wage as a minimum) and conditions possible, and a total culture change which right now is described by workers as slavery, and rife with exploitation, zero hours and precarious work, bullying and fear.
We believe in equality, grassroots member-led action and democracy, and being part of social movements. Our members have been active in anti-war and anti-austerity protests, we see ourselves as part of a UK and international movement for economic, social and climate justice.
Our tactics include: workplace collective actions, pickets and protests, regular advice surgeries, conferences and training, the use of social media, performance and art including a comic drawn by one of our leading members, former room attendant Barbara Pokryszka, plus outreach to other campaigns and community groups. We are also establishing HEAT teams – Hotel Employee Action Teams – across major hotel chains. These are workplace activist committees modelled on the New York union Unite Here!'s experience.
Want to find out more? @hwunite //  https://www.facebook.com/hotelworkersunite
Red Pepper are running the People's Agenda series in the run up to the General Election, demonstrating the breadth of exciting grassroots political activity in the UK.
Join Red Pepper for our free event on 22 April in London- Beyond the Ballot Box: Ways we can Win.