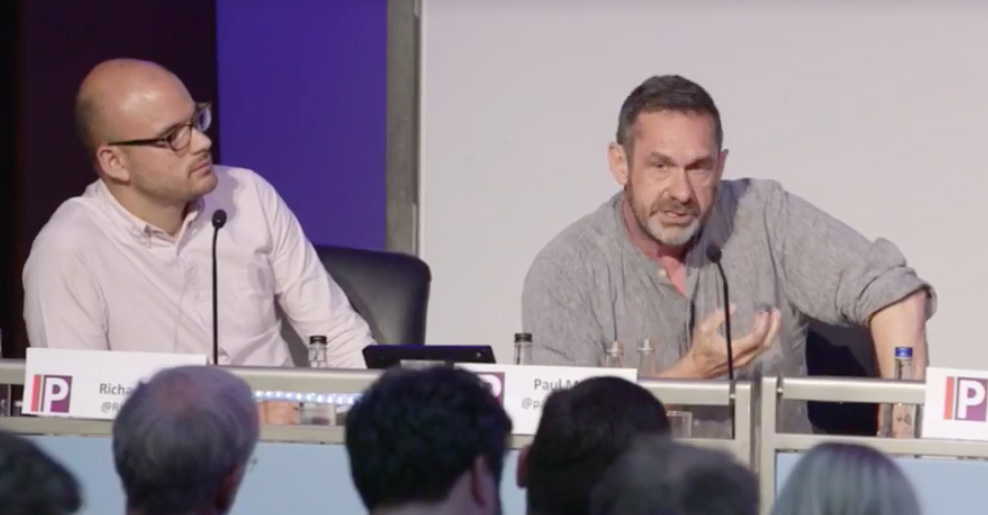 Progress, the continuity-Blairite group within the Labour Party, are having a bad week. First their billionaire funder Lord Sainsbury checked out, leaving Progress begging for cash on Twitter.
Now broadcaster and Corbyn supporter Paul Mason, speaking on a debate panel at Progress' annual conference, has told Labour's neoliberal wing to decide: "Do you want to be part of this party, or not?"
"Right now our leader is addressing a 200,000 strong crowd at Glastonbury who are singing his name," Paul told the Blairite caucus. "And the reason they are doing it is because they believe, unlike some of the people on the platform, that we are totally serious when we say we're going to tear down the free market economy and replace it with one of social justice.
"That's what that manifesto said and that's what I want us to do. Make no mistake, as long as Jeremy is leader, as long as people like me have a voice, this is what we will try to do."
Paul pointed out that many Progress-supporting candidates had run a campaign along the lines of "Jeremy can't win, I am a good local MP", and the party HQ (where staff tend to lean right) had "underestimated the strength of the surge in our favour, and therefore even on the last night they were fighting a defensive campaign when they could have been fighting an offensive campaign".
"I staked my reputation on the idea that we could win," said Paul. "And I said the night before that we could certainly achieve a hung parliament."
"The question for people in this room is: it is now a left wing Labour Party. It is a Labour Party led by a man villified in 14 pages of the Daily Mail, and the Sun, as a 'terrorist sympathiser', and we got 13 million votes. Do you want to be part of it, or not?"
Progress is the last hold out of Labour's right wing. MP Wes Streeting – despite being a former president of the National Union of Students – used the opportunity to speak out against the Labour manifesto's commitment to scrap tuition fees. (He claims "the money can be spent better".)
Polly, an audience member, absurdly accused Paul Mason of 'intimidating' Progress members by tweeting that 'moderates' had been wrong about the election, repeating to him, "would you like to apologise?"
"For what?" replied Paul. "Your tweet," she said. Paul laughed, "I'd like to retweet it. I'll retweet it now in fact."
To hisses from the crowd, Paul spelled out that if they do not like Labour's manifesto, Progress could split off into a party of their own, along the lines of Emmanuel Macron's successful new centrist party in France.
[related]
"There could be a British Macron," he told them. "You could have a totally 'sabotage Brexit, end Brexit, second referendum' party. Run right it could do much better than the Liberal Democrats did."
Fellow panel member Liz Kendall MP and many audience members were outraged at this suggestion, saying they are "Labour through and through" – despite often in their next sentence setting out more of their disagreements with the party's 2017 manifesto.
Richard Angell, Progress' director, said some people in the room were being made to feel unwelcome in the Labour Party. Paul replied, with a smile, "You are all welcome in Jeremy Corbyn's Labour Party.
"But if you want a centrist party, this is not going to be it for the next 10 years.
"If it's important to you to have a pro-Remain party that is in favour of illegal war, in favour of privatisation, form your own party and get on with it!"
This article was first published by Labourfeed