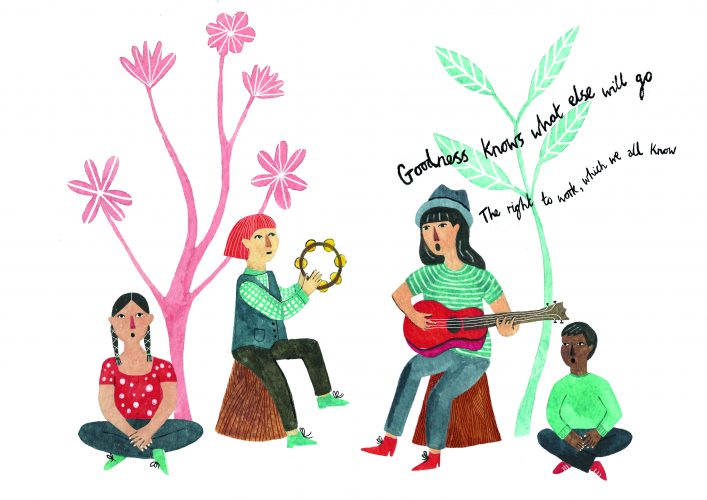 This article is taken from the previous issue of Red Pepper, produced in partnership with The World Transformed – get a subscription now.
In 1983 the women of the Greenham Common peace camp encircled the military base holding up mirrors in a mass demonstration known as 'Reflecting the Base.' An estimated 35,000 women were involved in this protest and some continued living on the camp for years to come with their children. There was a feeling of cameraderie, safety and empowerment like never before. The camp itself had areas considered safe zones for children. Yet what the Greenham Common women taught the next generation of protesters was the power in being disruptive, of being an inconvenience, the importance of being in the public eye and drawing attention to non-violent protest.
The following year, the 1984-85 miners' strike began. Women played a pivotal role and created a legacy for future generations. 'Women came out from behind the kitchen sink, they came slow but they came – men were even more slow to recognise the power women had,' explains Sandra, a founding member of Women Against Pit Closures. Women had to find safe places within the movement to demonstrate, as often they had to bring their children along. The picket lines weren't always suitable but rallies and pit camps provided an opportunity: riding on banners, sitting between the struts, singing songs. Women and children became politicised through this shared injustice and struggle, and in doing so children found their own voice: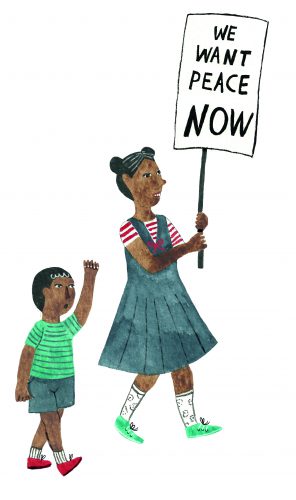 'Arthur says our mines must stay,
So listen please what he has to say
Here is a man who understands
If they close our pit
No more colliery band
Goodness knows what else will go
The right to work, which we all know,
Of course they could all take the dole
Never mind fight for coal
'Could we really just sit back
Of course we can't, our dads would be sacked
Living thro' this long, long strike
Left us at Christmas without a bike
It doesn't really matter tho'
Especially when the truth we know
Rather have nothing, then hold onto our pride
You've guessed, of course, we stood side by side
OUR DAD DIDN'T SCAB'
Nicola Cohen, 'The Strike,' from More Valuable Than Gold, a collection of poems by striking miners' children.
The legacy of this experience was certainly one of empowerment and unity for the women involved. After the strike many went to work or back to education. But for families and communities affected by the pit closures and the loss of 200,000 mining jobs, the legacy was destructive.
'Kids suffered because they lived in communities that were disintegrating. There were more mental health problems, domestic violence, drugs and landlords,' reflects Sandra, who has spent her career in Wakefield as a social worker. But she warns: 'It's worse for you now. Back then they didn't see us [women] coming. Once two of my comrades and I went to a factory who made components for the pits to ask if we could talk to the engineers about the miners – we expected a few but hundreds came out. It's worse for you now. Back then the establishment weren't prepared for us, they are now!'
Real pressure
When Jeremy Corbyn said at the Durham Miners' Gala that 'real pressure' is about having money to feed your kids – to a single mum that resonates. Being politically active women and co-founders of Momentum Kids is a challenge to say the least. Attending meetings at the Momentum offices from our home in Stroud took money we didn't have, childcare to arrange and was generally a logistical drain on resources. It wouldn't be something we could sustain without the support we get. And if that is true for us, it is true for the rest of the two million single parents in the UK, of which 90 per cent are women.
If Momentum is going to meet the challenge of being fully inclusive, how will a space be provided for parents, mothers, carers, grandparents and children? We don't want to be an afterthought. We want to be fully integrated into the movement. That is what Momentum Kids is about.
Our aim is to provide a female-led, intersectional space where children can be empowered and understand their value, the value of democracy, the value of their civic engagement and the power they already have. We want to encourage curious, questioning children who will become pioneers in their own right. As Sandra says, 'As a society we massively underestimate kids, what they can do, what they think . . . Engage them to join in, even the mundane things from stuffing envelopes to making posters – but then do something with it!'
Jessie Hoskin and Natasha Josette are co-founders of Momentum Kids.