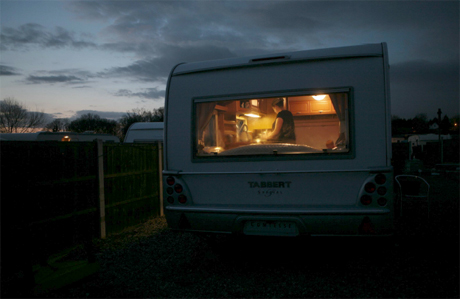 Dale Farm resident Barbara Sheridan cooking in her caravan. Credit: Mary Turner
When David Cameron was asked at Prime Ministers' Questions in March by Tory MP John Baron about the threatened eviction of 86 Traveller families from Dale Farm in Essex – now scheduled to take place at the end of August – the Prime Minister remarked that many feel 'there is one law that applies to everybody else and, on too many occasions, another law that applies to Travellers'.
Indeed there is, but not in the way Cameron sees it. According to the Commission for Racial Equality, more than 90 per cent of Traveller planning applications are initially rejected compared to 20 per cent overall. In fact, many Gypsies and Travellers in the UK are trapped in a web of overlapping, systemic failures to respect their customs and preferences. This is compounded by lingering racism (a 2004 Mori poll revealed that one third of the public admit to being personally prejudiced against Gypsies and Travellers) and the legacy of years of exclusion. The Prime Minister's comments betray a failure to acknowledge, and comprehend, the challenges facing this community.
Government legislation, planning restrictions and sale of public land have decimated the number of safe and legal stopping places for Gypsies and Travellers. The estimated 20 per cent of Gypsy and Traveller families without a legal place to stop often have to prioritise finding appropriate sites over health and education concerns, resulting in higher child mortality rates and lowered life expectancy. Attempts to purchase land for themselves, such as that made by the Dale Farm residents, face insurmountable obstacles: applications are opposed by local residents, sometimes vociferously. We've seen this at Meriden in Warwickshire and expect to see the same as Dale Farm residents continue to try to find a legal place to live.
Dale Farm itself is officially greenbelt land, but was a scrapyard when a group of residents bought it and turned it into a home for their families. Half the site has planning permission, the other half, home to about 500 people, does not. It is this half of the site that faces demolition by bailiffs Constant & Co. If recent evictions at other local sites are any indication, the operation is likely to be brutal and executed without regard for people's possessions, safety or human rights under the law. The Council of Europe has already expressed concern about the UK's approach in this case – and about Constant & Co in particular.
So determined are Basildon District Council to go through with the eviction that they haven't been put off by the costs, which stand at an estimated £18 million including £10 million for policing. They've asked the Home Office for £6 million towards this policing bill: the Home Secretary, Theresa May, might actually make UK taxpayers foot the bill for this unnecessary eviction. Furthermore, as Rita Izsák, UN Independent Expert on minority issues, said to the UN News Centre: 'The irony of this case is that these costs do not appear to include the provision of adequate alternative accommodation for the evicted families, which are soon to be rendered homeless.'
Against the backdrop of austerity Britain, the expense is even harder to comprehend. We've been asked to pay for the financial crisis caused by the banks, and now we're being asked to pay in order to deliberately make people homeless. And pay dearly – 100 Basildon Council jobs are likely to be axed to help the local authority cope with budget cuts which will leave it £2.3 million short. Playing fields are being sold off to developers. The green belt is being destroyed in order to supposedly protect it from Travellers. They are also cutting £505,000 to disabled services. The Council wants vulnerable people in the settled community to suffer in order to make Travelling people suffer. When we can find £18 million to evict families from land they own, but can't find the funds to keep nurseries, libraries and youth centres open, something has gone terribly wrong.
The most ridiculous part? Dale Farm Travellers have offered to leave at no cost to the Council, they just need somewhere to go. John Baron and David Cameron say the evictions are upholding the law, but the law isn't being applied equally. The Council demands that Travellers move to authorised pitches, whilst refusing to make any available… It's almost like it's one rule for the rest, and another rule for the Travellers.
Yoshka Pundrik is a member of Basildon Uncut and Dale Farm Solidarity. For more information see dalefarm.wordpress.com