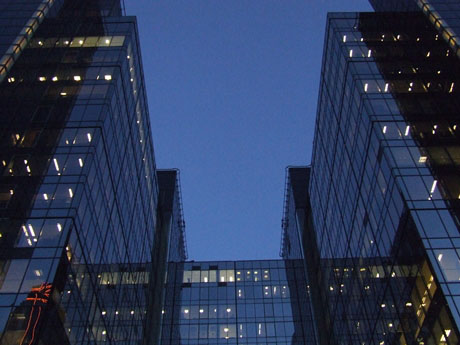 The shimmering steel and glass of Canary Wharf bear testament to the financial centre's opulence. But while billions of pounds pour through its banks each day, it is also the workplace of some of the country's lowest paid workers – who are now demanding a 'living wage'.
A group of men stand huddled outside Canary Wharf underground station as commuters rush by, speaking in a slow South American Spanish. They ask not to be named for fear of reprisal by their employer.
As cleaners at Exchange Tower – a fifteen storey building home to Barclays, HSBC and even government regulator the Financial Services Authority – they are paid just 18 pence above the legal national minimum wage of £6.08 an hour. All of the fifteen-strong work crew, originally from South America or Africa, travel from various parts of inner London to get to work.
They say the low level of pay means they struggle to make a living.
"Pay is less than £200 a week. How can you pay the bills, council tax, transport? You are forced to live in poverty," one man explains.
"I have three daughters – it is not enough to live on."
Another says he is forced to take other part-time jobs in order to make ends meet, and that it is not unusual to work up to 16 hours a day.
With the cost-of-living soaring in London – average rents have shot up by 12 per cent in the space of a year – and a recent study showing the city to have the most expensive public transport system in the world, they are among the section of the workforce most feeling the squeeze.
Now they are calling on their employers, LCC Support Services, to pay them the London Living Wage, a non-binding standard set by the Greater London Authority at £8.30 per hour in recognition of the high living costs of the capital.
Research by the Greater London Assembly shows that somebody earning less than £7.25 an hour in London will be living in poverty, even after taking benefits and tax credits into account. Nevertheless workforce statistics suggest that six out of every hundred full-time employees in the capital earn below this poverty threshold, with the proportion increasing to nearly 30 per cent of those in part-time hours.
Alberto Durango, organiser at the cleaners' union, Industrial Workers of the World, says the cleaners' company refuses to engage in meaningful negotiation.
"In November they offered £6.26 [per hour] – they say this is all the building management will agree to – but since then there has been no further dialogue. This is not enough; we want a decent pay, the living wage. We also want guarantees that in the case of a pay increase they will not reduce staffing levels."
When contacted, LCC declined to comment. Behind this reticence the company appears in a healthy state. In July last year it was reported that the LCC Support Services, which runs operations nationwide for The Arts Council, Land Registry offices and Royal Mail, had seen its business grow at a rate of £1m per month over the previous seven months.
And their current stance on pay seems at odds with sentiments expressed in a 2008 article by Executive Chairman Bob Vincent. He wrote: "cutting corners with staff salaries is the most effective way of committing suicide…[I]n some areas where housing rents are high, increased wages are paid to the cleaners…".
This refusal to grant what they see as the minimum required to survive in the city has angered the cleaners. One of them says: "There is a lady who has been working there for fifteen years, always on minimum wage. She has shown loyalty but has not been rewarded."
There is also resentment that other cleaners on the estate are paid more.
"Cleaners who work in other towers earn £7.25 [an hour]," one man adds. "So why not us?"
"What they pay us is impossible to live on," says another one of the men, visibly frustrated. "This is supposed to be one of the richest areas in the country – there is no logic".
That was back in December. A month later and a group of supporters are distributing flyers calling on the living wage to be implemented.
The building management have other ideas, and within a few minutes the group are forcibly ejected by security guards who say they are obstructing private property. Technically this is true: all of the Canary Wharf estate is private property, rather than public realm, and therefore owners can lawfully ask people to leave. Instead, informs the building manager, they can stand at the nearest public space – an overground station situated some 500 yards away – all but thwarting their aim of speaking with people on their way out of the tower.
Alberto explains the stumbling block is the building management company, MGPA, who ultimately decide the value of the contract.
"We were given positive indications they would meet the demand but we are still waiting to hear any formal communication."
For a company that boasts of managing a private equity property portfolio worth $11bn, this would appear no more than crumbs from the table. When contacted to speak about the matter MGPA declined to comment.
Despite the impasse, members of the union who come to show their support are buoyed by victories at other sites that have traditionally not been unionised.
"We have had success with cleaners working for [contractor] Sodexo at the City of London Corporation," says Luke Carver, an IWW member who works as a teaching assistant. "There was bullying and harassment but we had people reinstated after 12 hours. I think the employers are surprised; they don't expect this section of the working class to be organised".
The cleaners' campaign is supported by Labour MP John McDonnell, who has tabled House of Commons EDM 2411 calling on the employers to respect the living wage.  Email your MP to urge them to sign up.