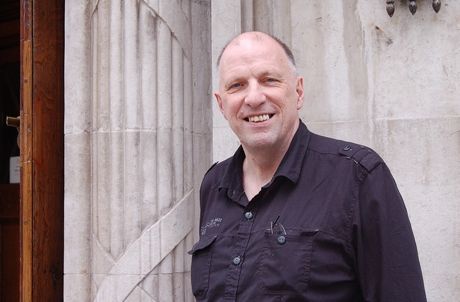 Tom  To introduce the report to someone who is unaware of what this stimulus would provide, what effectively is this report saying?
John  We focus on climate jobs not green jobs as a whole. The report explains how and why we urgently need climate jobs that will directly reduce CO2 emissions and help solve the environmental and economic crisis. If there is investment in public transport (buses and trains), walking and cycling; that will create jobs. It will create jobs in the building of infrastructure; it will create jobs in the running of the public transport services. We estimate that if this was done in a serious way, it will double the amount of people working in public transport, in other words add another 300,000 public transport jobs. Public transport is a really good example of how investment will bring real social and environmental benefits as well put a lot of people back to work.
This can be repeated in insulating homes, and investment in renewables like offshore wind and wave power. The government initiative needs to be there, particularly for the high level of investment that will be required for something like wave power.
Tom  We hear that there is no alternative to cuts and the need for austerity. Your report, One Million Climate Jobs, helps to debunk some of these myths. Give us an introduction to the politics of austerity and the demands of your report for a fiscal stimulus to get the economy going again, but crucially, for a new kind of economy.
John  We think that the current austerity programmes that the government is trying to put through are self defeating. There is another way forward which helps solve the economic crisis we are in, and the environmental crisis we are in.  That is investment. Our report details with some very specific figures, the costings of a million jobs in climate friendly industries and the cutting of overall emissions for the UK by 80 per cent. This is a message of hope. If the current government claim to be the greenest government ever, (for which unfortunately there is not much competition) they have not been very strong. We need much more direct government action in order to create these one million climate jobs that will help both crises.
Tom  Your report is original in comparing the initiative to the National Health Service (NHS). Could you explain the difference between having the climate jobs as public sector employees instead of going down the more traditional route of tax breaks and subsides for market led growth?
John  I don't think we would be saying there would be no room at all for subsidises and quantitative easing (QE), but we are not convinced that it in itself will work. We are not convinced because it is still relying very heavily on the private sector to come up with radical and significant change. The scale of the economic and climate crisis calls for government action.
Tom  This report is very much a top down initiative. What would you say to critics who might suggest that instead of local authorities and national governments; encourage local communities to organise and lead the way?
John  It certainly argues that governments need to take the initiative and lead the investment. But, what it is being careful not to say is that government needs to micro-manage. I think we saw during the last Labour government, there was a lot of micro management of the economy and I don't think that works. There is a big difference between the government supplying the overall investment, but then trusting local authorities, local people to manage their own projects in as imaginative and creative way as possible, because what might be right for Cardiff in South Wales may be a different approach for a town like Bournemouth in the South Coast.
Tom  How could we encourage local communities the need for, say wind farms, whom may resist the implementation of such wind farms or renewable energy initiatives in their neighbourhood if they are not the most attractive things?
John  As we know there is strong local opposition to wind turbines. We have to work with the local community. I don't think you can just railroad communities, forcing them to adopt them. This sort of approach is unacceptable and would be self defeating. Local authorities and national governments need to make the national, economic and environmental case for wind turbines, but when it comes to the sighting of wind turbines, it has to be done sensitively. While in principle they are a good thing; there are some genuine concerns amongst some local communities, particularly the noise, and we need to be very sensitive to that.
Tom  How do we popularise these arguments and go on to establish lasting communication and co-operation between environmentalists and trade unionists?
John  We communicate to the people, and in particular, people who are feeling in despair that they can't get a job (particularly the younger generation). This is one of the reasons behind the Climate Jobs Caravan.
In a sense this is almost dramatising it. It can be street theatre. We will be going out to the main public squares, in towns and cities across the country with a van, with a message, with videos, with people, saying, actually there is another way! No need to be in despair; there is some hope.
But we are also hoping that campaigns and coalitions will emerge in the various towns and cities, and work together to put real concrete pressure on their local authorities to move in a direction of investing in climate jobs.
Tom  Could you explain what is happening and how people can get involved with the Climate Jobs Caravan?
John  We are covering over 25 towns and cities up and down the country in two parallel tours. It begins on the 12th May and ends on the 25th May. One is covering Scotland and the north of England, and one is covering the midlands, south of England and Wales. It depends on the town and city, as local people are heavily involved, as they should be, at the local events. The whole message will be is things can be different and don't have to be as they are now.
One of the key things is the caravan has been jointly organised by environmental campaigners and trade unionists working together. We hope an alliance will come out of this to put joint pressure on local government and authorities.
We would be disappointed if the caravan was just a one off piece of street theatre. We want more than that. We want to have these lasting alliances working fairly effectively and practical ways together to influence local authorities, regional authorities and influence the climate opinion generally in people's areas.
Tom  Now to talk about the transition period that would need to take place to move towards a low carbon economy. How would we guarantee that those who lose high carbon jobs, would be moved to sustainable, secure jobs in the low carbon economy? How do we protect these people?
John  This is where a government led initiative is critical. If too much of this is left to incentivising the private sector then we can't get this sort of just transition. Government would be heavily involved in reskilling, retraining and educating the workers in the unsustainable industries; to ensure they are properly equipped to move into the more sustainable and climate friendly jobs. Now, that may happen with fiscal incentives, but the argument is that it will not guarantee them that switch.
Tom  Imagine we have moved into a low carbon economy. How do we prevent retailers and/or consumers/local communities from simply using those energy efficiencies to produce and consume more energy as opposed to reduce our demand for finite resources?
John  Once we are at this nirvana of having created a million climate jobs, how do we ensure that people don't just use more energy? This is where fiscal measure have a role to play. We have got to look at the price of carbon. It has to be done fairly so poorer communities don't lose out. We need a carbon tax, or some sort of equivalent fiscal measure, where the people who consume the most are paying the price of that consumption.
Tom  There is growing research highlighting the dangers of emerging bubbles in carbon offsetting and cutting. Are there any calls for more rigorous regulation in finance that complement the transition to a low carbon economy?
John  To forestall that happening, my own view, is that there needs to be much greater control and regulation of international finance.
The National Climate Service (NCS) is one initiative amongst many others. We are not isolating this as the world's total answer to unemployment and climate change but it's an answer amongst many others. To tackle the crises of our time, we will need several approaches.
There are many other great ideas put forward by the likes of the Green Party, which I think will sit very nicely alongside this initiative.
The task is to find a positive answer to the problems we face; and the creation of a million climate jobs is a great first step as part of that approach.
John Stewart is Chair of Campaign Against Climate Change, was a leading activist in the campaign to prevent the expansion of Third Runway at Heathrow and Chair of Heathrow Association for the Control of Aircraft Noise (HACAN). He is currently on the organising committee for the Climate Caravan.