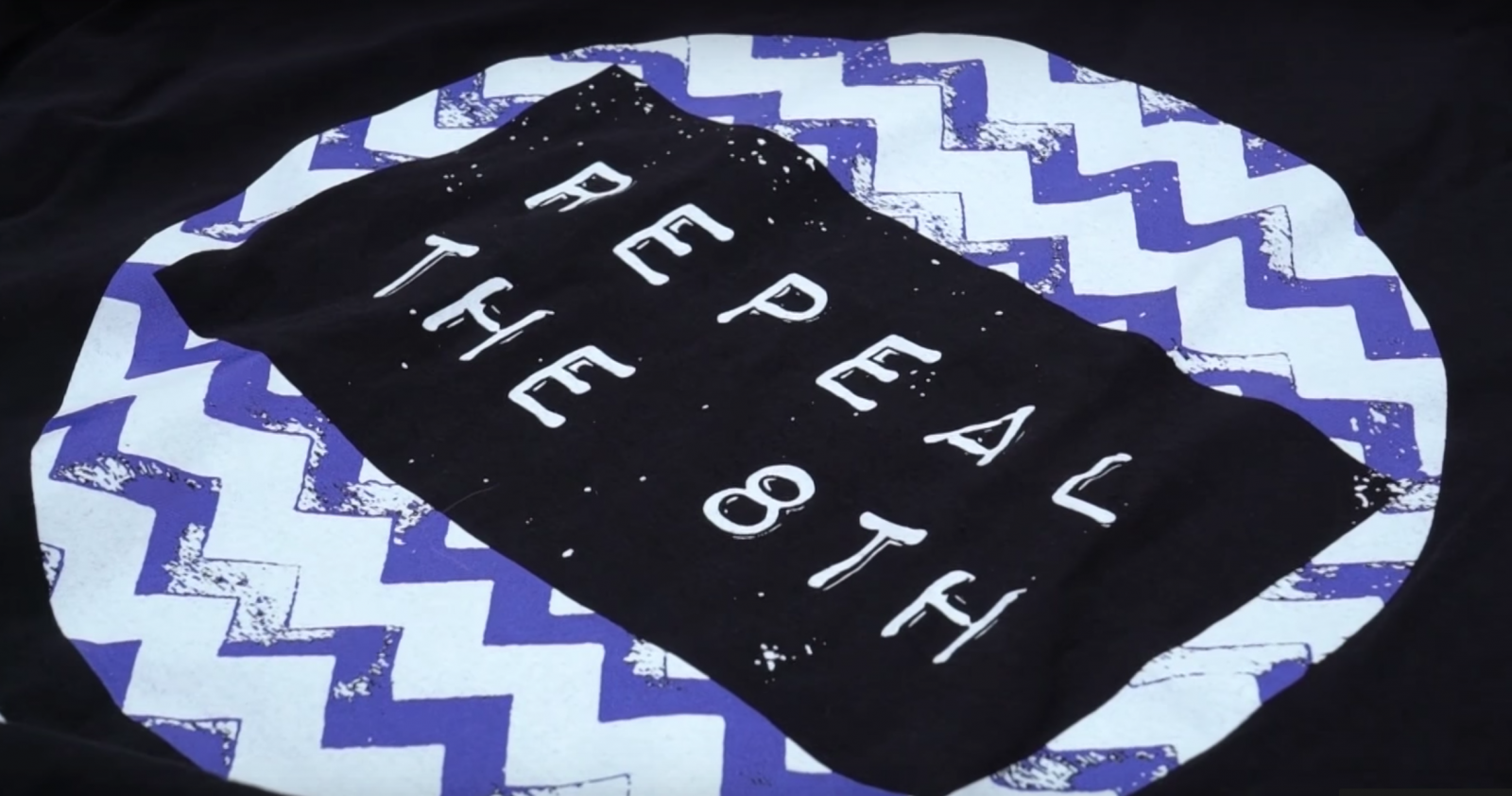 Tomorrow, the Republic of Ireland will hold a referendum asking the electorate if they want to repeal the Eighth Amendment of the Irish Constitution. The 1983 Eighth Amendment (Article 40.3.3) grants the embryo or foetus with equal rights to life as the pregnant woman, causing an almost total ban on abortion. Should a yes vote prevail on the 25th May, it will enable the government to legislate for allowing access to abortion.
We, the direct-action feminist performance group, Speaking of IMELDA, have been campaigning to repeal the Eighth Amendment since 2013. Based in London, our group is largely comprised of members of the Irish Diaspora, including those who were active in the Irish Women's Abortion Support Group, which helped women from Ireland traveling to England to access abortion between 1980 and 2000. In the run-up to the referendum, members of IMELDA returned home to undertake a road trip around Ireland. As part of our project, Referendum Road: Speaking with IMELDA, we pitched an inflatable sofa in public spaces across Ireland asking the question: Should Ireland Continue to Make England the Legal Destination for Abortion? Our mobile pop-up chat show travelled to locations less frequently reported on, including Waterford, Cork, Ennis, Galway, Sligo and Leitrim. In staging conversations in public spaces we sought to encourage open discussions around a long-silenced issue. The films we produced following the road trip document the momentum of the repeal and Together for Yes campaign, paying tribute to the tireless work of activists, including rural campaigners.
The human stories that propelled people to political action were prominent within our chat show conversations. For instance, Martina Collender recalls establishing Waterford Pro-Choice in response to a case two years ago involving a young girl placed in a psychiatric ward after her request for an abortion was denied. Tracy Ryan highlighted the case of Michelle Harte as one that 'stuck' with her 'throughout this campaign.' In 2010, an unplanned pregnancy halted Harte's treatment for cancer. Yet, as Ryan recalls, the Ethics Committee at Cork University Maternity Hospital decided that her life 'wasn't under immediate risk' and refused her request for a termination. Forced to travel for an abortion while gravely ill, the delays to her treatment caused the cancer to spread and she subsequently died.
On the grounds of the National University of Ireland Galway (NUIG), many campaigners cited the tragic death of Savita Halappanavar in the hospital on the same site as a key catalyst for change. In 2012, Halappanavar died from septicemia while miscarrying a wanted pregnancy. Her repeated requests for a termination were refused due to the presence of the foetal heartbeat. Bernie Linnane related that at the launch of Leitrim Together for Yes, Dr Peter Boylan, who reviewed the notes of Halappanavar's case, stated had she been granted a termination when requested she would have survived, further noting there are other cases like Savita's, which we haven't heard about due to patient confidentiality.
Indeed, across the country members of Parents for Choice told of the negative consequences of the Eighth Amendment in denying consent in reproductive healthcare. Others spoke of those unable to travel abroad. Flávia Simas of Migrant and Ethnic-minorities for Reproductive Justice (MERJ) explained the discriminatory impact of the Eight Amendment on migrants in Direct Provision, reminding us of the harrowing case of Ms Y, an asylum seeker, pregnant as a result of rape and suicidal, who was denied an abortion in 2014. Éilis Murphy spoke of the three women a day who have little option other than to illegally take the abortion pill risking fourteen years in prison.
Throughout our journey we explored the connections between the restriction of reproductive rights and the Catholic Church's influence on state legislation historically. At the former Catholic-run Mother and Baby Home in Bessboro historian, Sandra McAvoy detailed the mistreatment of unmarried mothers and children. Others spoke of the detainment of women in the Magdalen Laundries until 1996. While we encountered many stories of oppression, we equally experienced a communal call for a more compassionate Ireland gathering momentum. Citing her personal experience of having to travel for an abortion as the inspiration for starting Abortion Rights Campaign in Sligo Denise O'Toole, stated 'I didn't find that there was any support for women like me in rural towns in Ireland.
I was just looking for help and support, understanding and compassion.' And across Ireland we found the battle to repeal the 8th is fuelled by compassion, courage and creativity. Alongside activists, we met performers, filmmakers, artists and musicians. Anne Rynne, sang the heartfelt 'Asking For A Friend' at our chat show at the cattle-mart in Ennis. We had a shindig with queer rural comic, Breda Larkin, on Shop Street in Galway, who joyfully reclaimed in song all the names for the vagina, while wearing her own customized vagina mask. And, we were moved by Emma Lohan's melodic ballad 'The 8th', which poignantly questions 'what year we are living in when saving a woman's life is seen as a mortal sin?' We hope that come tomorrow, this will no longer be the case.