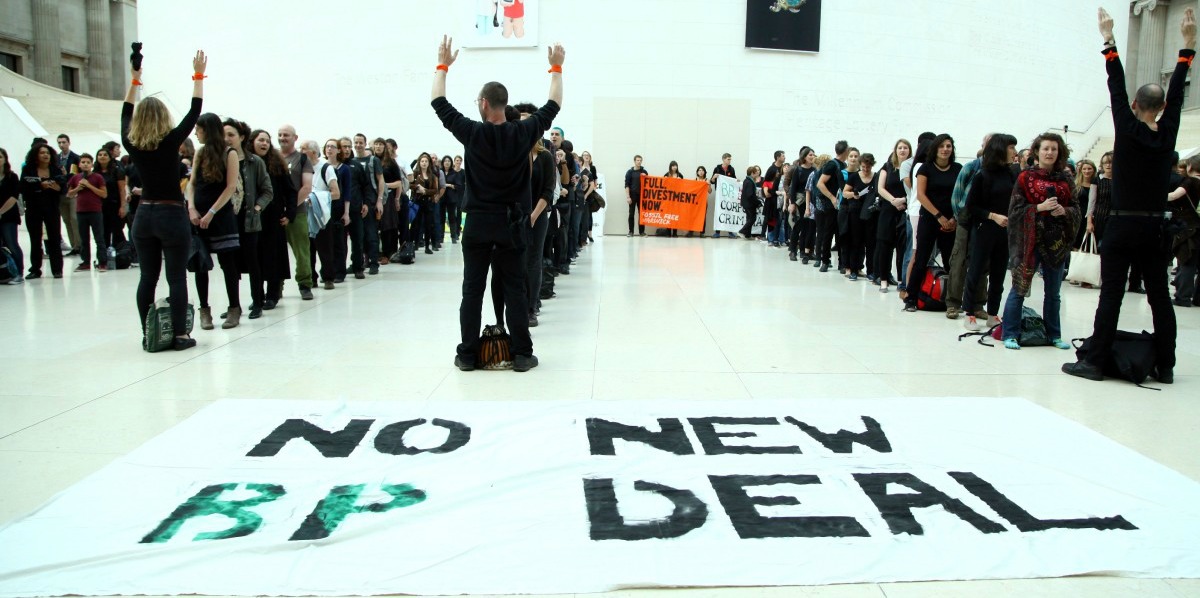 On 17 February 2014, the British Museum was offered to buy a painting by a group of Aboriginal women painters in Australia, for use in its Enduring Civilisation exhibition. A British Museum staff member then sent the following email to a counterpart at BP:
"We have heard back from the Spinifex women's painters … We have been offered the opportunity to purchase one of their current works. The curator of the Australia exhibition is keen to move forward with this so we just wanted to make sure you had no objection to this?"
The BP respondent promptly replied, "That's fine – thanks".
Think on this a little while. The team curating the biggest show of Aboriginal Australian art ever to take place in London gets sign-off on a curatorial decision from an oil company who at that point, incidentally, is pushing through controversial plans to drill in the Great Australian Bight.
This story and others surfaced among internal emails released by the Art Not Oil coalition.
While it was announced recently that Tate's BP sponsorship would end in 2017, the British Museum, the National Portrait Gallery, and the Royal Opera House are all still BP-sponsored. The deals are currently under review as they are due to end within a year.
And this week, Tate goes to court to defend its secrecy over BP. We'll be watching the court case closely. Here is why.
Managing dissent
"Dear all – we have had an indication that there will be increased activist action around the BP arts & culture programme in 2015. The BP security team have requested a meeting to discuss the impending action, I'm hoping we can arrange this during the first two weeks of February. Can I please ask you to provide [name redacted] with your availability in February, the meeting should include a representative from your security team."
BP sent this email to its partner institutions on 15 January 2015. Managers from the British Museum, Tate, National Portrait Gallery and the Science Museum all gathered at BP's invitation to discuss 'suggested measures' for dealing with protest.
Marketing objectives
BP was able to actually instigate museum events for its business convenience, by offering extra cash. In this way, BP instigated the 'Days of the Dead Festival' in the British Museum in 2015, involving a VIP reception where members of the Mexican government mingled with BP staff. At just the right time for bidding on newly available oil leases in the Mexican portion of the Gulf of Mexico.
A British Museum employee told Art Not Oil on the condition of anonymity:
'The feeling from the majority of staff on events such as these is 'why are we doing this'? … There is no doubt in anyone's mind that the project is due to the whim of a funder, … we don't have a choice in the matter.'
Sponsorship is in effect a way of running public institutions for corporate benefit – a soft and creeping privatisation. BP can intervene in curation, BP can apparently even instigate museum events and programmes as and when suits it, and BP can shape the museums' response to criticism and inquiry.
Privatising information
All these revelations were possible through a long series of Freedom of Information (FOI) requests. But the more public institutions are run in commercial interest, the less they are answerable to FOI. 'Commercial interest' is being used to evade disclosure by Tate, British Museum, and others. This is what activist art group Platform are battling in the Information Tribunal against Tate.
Last time the dispute went to trial, Tate tried to argue in court that disclosing information about the sponsorship would 'offend' BP or undermine its trust in the gallery.
The campaigners won the previous case. But still, the gallery was only bound to disclose the amounts BP gave up until 2006 – which, incidentally, amounted for not more than 0.5% of Tate's total income. Hence the new appeal for disclosure on figures past that date.
What does it take to go BP-free?
Since then, in a major victory for the movement for fossil-free culture, it was announced that Tate's sponsorship by BP was ending.
BP spokesperson Shannon Wiseman claimed to us that Tate and BP's breakup had nothing to do with pressure from artists, protestors, or museum-goers or as a result of last year's informational tribunal. She said,
"We are facing an extremely challenging business environment and are reducing spending and taking many difficult decisions throughout BP. As a result we have reluctantly decided not to renew our long-term partnership with Tate Britain."
Tellingly, a Tate spokesperson provided a statement that matches BP's almost word-for-word.
Why is Tate really obfuscating sponsorship details? Does BP's influence end as the sponsorship deal ends? Judging by those press statements, we can be pretty certain it does not. And will the new Freedom of Information court case help expose how BP runs its sponsored museums? Let's hope so.
The Information Tribunal hearing is open to the public and takes place from 10am on 11 May at Court H, Residential Property Tribunal, 10 Alfred Place, London WC1E 7LR. Read the full report by Art Not Oil. Call on the new director of the British Museum to drop BP here.
Photo: Art Not Oil perform in the British Museum, credit to Natasha Quarmby