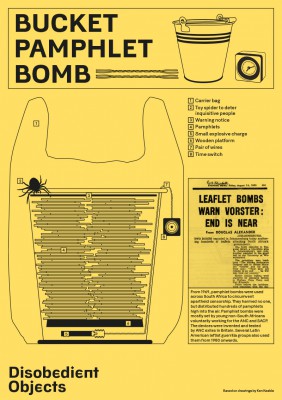 On first consideration, London's Victoria and Albert Museum – an institution with a colonial past and a collection that includes 'eye candy' for the upper classes – appears to be a strange choice of venue for an exhibition devoted to 'disobedient objects': that is, objects used by global political movements for radical and sometimes violent political action. However, the strategy of the exhibition's curators, Gavin Grindon and Catherine Flood, foregrounds the makers and context of these objects as opposed to simply presenting the objects themselves.
Grindon explains how the V&A is a good space to put on a show like this because it is a museum of art and design. This ambiguity allows for the objects to be considered in their own terms, as they do not have to adhere strictly to an art or design history's terms and narratives. The objects included in the exhibition are not products of commercial design or intended for an art market. Their makers are often highly skilled, but do not necessarily identify as career 'artists' or 'designers'. Produced within movements, they often also work under particular constraints of time, resources and political repression.
The curators had to work out how to incorporate both the social history and the aesthetics of an object while avoiding, on the one hand, presenting it as a reified art object and, on the other, treating it as one of pure social history or as ephemera. The difficulty in exhibiting 'disobedient objects' manifests in a number of ways.
The first is a dual system of labels. For each object the curators have written a label but there is also another in a brighter colour written by the makers stating whatever it is they think needs to be said about the object in that context. Second, visitors are offered a lot of context: videos, flyers and photographs are displayed that inform you about the political context and struggles connected to every object. Third, a series of 'how to' guides are provided that show the visitor how to make some of the objects – for example, a 'pamphlet bomb' or a 'book bloc' (see over) – offering another way to understand them.
The makers were very much involved in the curatorial process. The people who loaned (and those who used) the objects were invited to a series of workshops to decide collectively how the material should be displayed. The workshops were inspired by 'participatory action' research workshops.
'It is not about coming down as a sociologist or something and extracting value from these movements and then putting it in your own institution. The research should ask the questions that those people who are being researched want to answer and they should take away the benefit from that, not the other way around,' Gavin Grindon explains. 'So we tried as much as possible to do that, to approach this public museum, with its institutional resources, as a public space where we should be having these kinds of discussion.'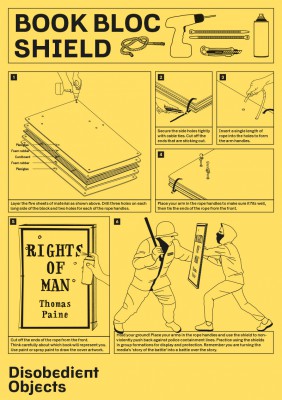 DC: How did the exhibition first come about? Did you take it to the V&A?
GG: I met Catherine Flood – my co-curator – at the British Library and I was talking to her about my research on objects and, as an art historian, how to write about objects within activist movements that are kind of objects of art and design. There's been a lot written about performance and plenty about music but not so much about material culture in movements. I thought that was really interesting.
I was trying to come up with ways to talk about the objects of movements that was true to those objects. I was talking to Catherine about this and I said, well, I have this idea of 'disobedient objects' and what I think that involves and she said: 'This could be an exhibition!' And we began developing this proposal for how you would exhibit a people's history of art and design, what would have to be different.
DC: And you got to title it too?
GG: There were some debates about whether there should be a subtitle or whether that was a good title. It is a quite theoretical title and some people have taken it as if we are making a theoretical statement about what are and aren't disobedient objects. And that's an interesting discussion to have but we think of it more as like an invitation to think about material culture and movements, not as a grand narrative or final word.
We wanted to avoid 'activist objects' because, on the one hand, that sounds like objects that belong to activists and 'activist' isn't necessarily an identity that works for a lot of the groups that are involved globally. We also wanted to pay attention, with some of the objects, to the moments where you don't necessarily identify as an activist, like the things that happen before that. The small micro-political moments of interaction which are entirely essential to social change and changing how you think of yourself and your place in the world, people's relationships to each other, but not necessarily this idea of a professional activist identity. We wanted to stay well clear of that.
So Disobedient Objects as a title let us dance around in that way, which you need to in dealing with material that people haven't talked about too much. You need to have a sense of openness with it.
DC: Was anything refused? Did anyone refuse to be part of the exhibition?
GG: No one refused, but people were rightly suspicious of this big institution. A lot of it was about personal trust; the process we had gave them control over the exhibition and their representation which helped. Some groups, say the Karnataka State Farmers' Association in India, who you might expect to have the strongest colonial critique of a museum like this, saw it fairly straightforwardly as a way to amplify, a means to speak with problems and opportunities like any other. Groups made up more of younger white, western art students had a more suspicious approach and those kind of theoretically-informed questions about recuperation and 'museumification'.
One of the things I found quite moving was one of these groups seeing their object not as just 'dead' in a museum but as being there, telling another story. Not just that it had space to speak, but they saw their object being put beside the Polish Solidarity movement's badges, Act Up's t-shirts, the students' statue from Tiananmen – things they'd been inspired by – and now felt they were part of that history of making. That their own actions now were important, a part of this living history, too and that the things they made, their struggle was something to be proud of.
We have some material from some Syrian artists who are in exile now in London. One of the things they said was that they suddenly saw themselves in the context of all these other struggles, beyond the glib thing about the Arab Spring. They said, 'It makes us feel that we are not alone.' This is a powerful thing to be part of – the wider story of art and design in social change.
Disobedient Objects is at the V&A from 26 July 2014 to 1 February 2015
www.vam.ac.uk/disobedientobjects