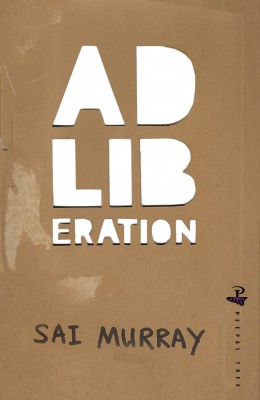 AAAAAAAAAAAAAAAAAArghhhh!—
—bolish all
celebration, commotion,
promotion of the notion
that we are free,
de owner of de plantation
now owns de penitentiary
(from opening of AAAAAAAAAAAAAAAAAARGHHHH!)
Sai Murray is a rare poet: an anti-capitalist and anti-racist campaigner, a pan-Afrikanist reparationist, a feminist, a gardener, cyclist, designer, mentor, collaborator, partner, and recently, father. Sai is also a poet-facilitator, working across diverse communities including young people, and adults grappling with mental health. His commitments feed Ad-Liberation's themes and also underlie its success: as Benjamin Zephaniah has said of this collection, "Some poetry reaches out and touches you; Sai's poetry stretches out and grabs you."
I spoke with Sai about the background to his writing and dynamic performance-poetry. The impulse for 'Ad-Liberation' was his experiences in the advertising industry. Talented with words and images, he aimed to go far. Yet once inside the belly of the beast, he crashed out – a physical and mental revulsion at what he saw and felt. Poems such as 'White Accent', 'Career Options of the Conscientious Adman' and 'Red Tops' take us there. The crash led to him looking for answers: he found them in the comedian Bill Hicks's searing pieces on consumer culture*, which then led, in Sai's words, to a devouring of Noam Chomsky. Then came Richard Pryor, Democracy Now!, Media Lens, Corporate Watch, Adrian Mitchell, Jackie Kay, James Baldwin, Audre Lorde to mention just a few.
2005 was a key year for Sai. He was deeply influenced by working with poet-mentors Kadija Sesay and Dorothea Smartt, and got involved in the Global Justice Forum, G8 mobilisations, anarchism and climate camps. For Sai, the word was transformed, turned from profit-making to a prophetic tool for a just world. For me, Ad-Liberation sits with other politicising volumes that Sai references, such as  Dance the Guns to Silence, 100 poems for Ken Saro-Wiwa, Flipped Eye, edited by Nii Ayikwe Parkes and Kadija Sesay (2005) and This poem is sponsored by… Poems in the face of corporate power by Corporate Watch, edited by Claire Fauset (2007).
Choose death, choose trendspotting, choose to die
57 million varieties to try:
Choice of a generation – choke on a Coke
Indian water, no tonic, down throat.
Slit neck swiftly with sleek Silk Cut
Spill sticky tar quick – red oil slick.
Swim with a tiger shark in your tank
Send out no ESSO-S, no listening bank
Do not pass Ogoni. Straight to hell. Suffer sHell – shock
from pump-action petrol pistol – glock.
(opening from Career Options for the Conscientious Adman)
Ad-Liberation tracks Sai's journey, and so can inspire our own. He writes with humour, angry-yet-calm honesty and also barefaced cheek. Comic wordplay runs through the volume, which Sai uses to build a picture of a complex web of interrelationships– how racism works with capitalism, how legacies of empire live on, how the manipulative language of mass media seeks our souls, how our planet's ecology is inseparable from social justice, how poetry and poetics can change the story, how individual experience forms consciousness. The poems use human everyday life: what it's like to perform to three people, or have a near miss falling off your bike. Or, to make sense of acutely shameful feelings about how White people see your Black father. By richly interweaving the personal and fallible with the dramatic and the political, the anthology doesn't fall into the traps which can be common pitfalls for activist art. You won't find bland propagandistic aesthetics here – Sai employs many techniques: from Haiku-like gems such as 'Move, Me?' and 'No Ifs, No Buts', to the many virtuoso pieces such as 'Reparation Song', 'My Son is a Terrorist', to the climate-justice themed hip hop parody 'Iceberg Baby', to the lyrical, moving 'Necessary Freedoms'.
I was particularly affected by the stark poem 'Congolese Collect Call' that uses the robotic voice announcing a failed phone connection to drive the political point. The piece 'Majority Monitoring' subverts equal opportunities forms and brilliantly eviscerates a society that needs them.
At heart, for all its humour, 'Ad-Liberation' is deadly serious. In our conversation, Sai referred to a course he studied on: 'Creativity, Dissidence and Women' in which the facilitator, the writer Nawal El-Saadawi, imparted how many non-Western cultures do not  have a disconnect between art and doing. Sai Murray's art is hungry for change, and for doing it now. This volume sustains and nourishes the hunger we have, and more importantly reveals the hunger we didn't know we were suffering from. And that leads to action.
NO IFS, NO BUTS
It lives in us all
One cut too deep, it rises
Blood. Revolution.
Jane Trowell works in arts-activism with the social and environmental justice group Platform.
Notes
'Ad-Liberation' is published by Peepal Tree Press, 1st October 2013
ISBN: 9781845232061