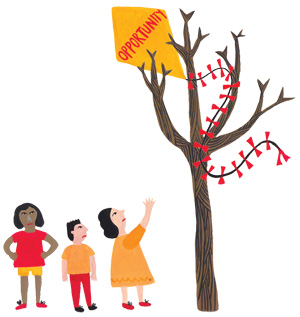 School will soon be out – but for many children and young people the holidays have a lot less in store, and for many parents a period of anxiety is looming. Last year, hundreds of thousands of young people were affected by the dramatic cuts in youth services, which bit as the summer holidays were approaching. The closures of childcare services and youth centres were the most visible examples, with the latter receiving particular attention in the aftermath of the August riots. The Guardian video of a Haringey teenager lamenting youth club closures and warning 'There'll be riots' seemed eerily prophetic. One year on, the sector is still in turmoil. How are services adapting to cuts and what are the most serious effects?
Jo, an early years worker from inner London*, is eager to explain the severe impact of playscheme closures in the area. Pointing out that children from poorer families often live in cramped housing and have much fewer opportunities for play, she says: 'Without playschemes and other activities over the holidays, inner city children miss out on a lot of important experiences – trips to the seaside, creative and messy play, interacting with their peers in a less formal environment, running, jumping, dancing.' She points to the key role of playschemes in emotional well-being and in identifying special educational needs before formal schooling starts, as well as the links made between a lack of play opportunities and a rise in ADHD (attention deficit hyperactivity disorder)-type difficulties.
With the government's austerity budgeting, the universal childcare to which parents are entitled – and which is so important to low-income families – is being dismantled. A report from the Daycare Trust last year showed 62 per cent of local authorities had been forced to cut childcare and playscheme funding, and 50 per cent were offering a decreased level of childcare provision. There has also been a sharp reduction in the number of places, which means three and four year olds who are entitled to 15 hours a week of free early learning education may not find a nursery, centre or playscheme to deliver it.
The situation is likely to get worse in the next few years as the bulk of the cuts are yet to come. The 'big society', rather than stepping in to fill the gap, is proving instead to be equally vulnerable to funding crises. As Jo explains, 'There isn't money in the voluntary sector to fill the gap – there's less grants and trust money to apply for and greater competition.'
The tough financial choices facing parents have hit disadvantaged families harder too. The average cost of a week's childcare increased to £96.85 in England last year, up from £58.45 ten years before. Some areas have seen a 50 per cent hike in just one year. For poor families, says Jo, turning to private childcare 'just isn't an option in the first place . . . Parents are forced to stay at home to look after their child with all of the complications, headaches and vilification that comes with claiming benefits.' The result? 'Probably a widening in the achievement gap between children from different economic backgrounds. We're likely to see an increase in children deemed to be living in poverty, children growing up in the city with increasingly challenging home lives as families are hit from various directions.'
For workers, the cuts mean increasingly precarious employment. Often employed on casual contracts and paid hourly, early years workers, the vast majority of whom are female, are feeling the pitfalls of casual employment – no sick pay, job insecurity – much more keenly. Against this background, organising in opposition becomes problematic, although small‑scale resistance is happening, with staff refusing the demand to do 'more for less' as employers try to avoid paying staff for all the time they put in.
Youth centre closures
The closure of youth centres has received more attention, particularly when union resistance spearheaded by Unite took place last year. In Oxfordshire, where the Conservative local authority's cuts were some of the most dramatic in the country, youth workers went on strike and protested outside David Cameron's constituency offices in Witney. The campaign eventually lost momentum, however. 'They basically ignored us. People felt drained and exhausted after the whole affair,' says the Unite community and youth workers chair David Ricketts.
Countrywide, 3,000 youth service workers have lost their jobs so far and, in the 'commissioning' atmosphere whereby grants are attached to performance targets, universal services such as youth centres have come off worse from spending cuts. Last year 20 per cent of centres closed their doors, and although some have tentatively reopened with volunteers, rafts of others have since had to close too – the most recent being in West Sussex and Somerset. Many local authorities are now targeting their reduced funds at early intervention 'hubs', designed to provide support for young people facing problems with crime, truancy, pregnancy or drugs. In this mindset youth clubs as a community resource, a place where young people can gain confidence, experience citizenship and explore non-academic talents, are deemed unnecessary.
This has the most impact on teenagers who could get into trouble, even if they're not already. According to Bill, an experienced youth worker in the south east*, the non-structured environment of a youth club is especially important for those for whom structured and organised activities don't appeal, even where they are available. 'It's precisely their informality that harder-to-reach young people respond to, and that's why open youth centres are so often frequented by those people. Youth centres offer a space for a group to operate out of, long-term community relationships, a social network and continuity. If the local youth centre closes, where can a teenager in care hang out with their friends? It's not the same for the middle classes.' They are the polar opposite of the flagship Conservative youth policy of national citizen service for 16 year olds, entering its second year this summer, which David Cameron enticingly described as 'non-military national service'.
The community-wide effect of losing these facilities is as hard to measure as their benefits, but experts have hit the headlines by warning of an increase in gang-related crime and serious impacts on the safety of young people in urban areas. In many isolated rural areas, teenagers are simply left with nothing to do.
Volunteers and charities
So why can't volunteers and charities step in to protect services? After all, youth work started in the charity sector. In the most part, according to Bill, independent youth centres are only viable with local authority support: 'You could run something without local authority funding but it would be too expensive for many young people.' Another factor is who would deliver the services. 'Some areas have a strong voluntary sector who could do it, others don't … In some cases, there isn't money locally to afford it, and if you put nothing in new projects can't get off the ground.'
This doesn't mean that people are not demonstrating plenty of passion and creativity to try to enable the sector to weather the storm. A good example of this can be found in Buckinghamshire, where the council pulled funding from 27 youth centres and around 100 youth workers were made redundant. Some of the centres have since reopened with a volunteer workforce. Working with them is a new social enterprise, which aims to reinvigorate clubs with activities as well as a committed group of managers.
Rafe's Place is named after Rafe Chiles, who died in 2004 aged just 23 but was a huge inspiration in the area for his work organising music nights and other events for young people. It has found a niche that involves local students at Buckinghamshire New University who want work experience managing and running youth activities at clubs in a partnership that focuses on 'two problems [becoming] resources for each other'. Once it becomes established, the group hopes the model can be replicated in other areas. One of its directors, Georgia Romeril, describes the need to engage young people in her local area of Amersham: 'They need something they're interested in and that inspires them. When the youth clubs closed they literally had nowhere to go, and young people get so much stick around here.'
The idea was conceived more than two years ago, before the cuts began to bite, with the aim of running projects that really appeal to teenagers, including street art, DJ lessons, music production and a summer community festival. Since the funding for youth centres was slashed, their work has taken on a new importance, with clubs approaching them to help run activities they can no longer afford.
While Rafe's Place is an example of a new approach going from strength to strength, mainly thanks to the relentless commitment of the team, it is designed as a parallel project to youth centres and is not involved in running them itself. The inherent problems of expecting a professional and funded service to be run by volunteers and charities remain. Youth clubs in the county are appealing for more volunteers. Georgia Romeril is well aware of the shortfall as her day job involves volunteer recruitment in the charity sector. 'You can't necessarily just run on volunteers because people are struggling themselves and just don't have the time in their day. Everyday volunteers are hard to come by and hard to keep.'
The same sentiment was expressed strongly in Norfolk after a BBC article on the 'big society' and youth clubs ended on a cautiously positive note, suggesting that although precarious, youth clubs in the area were being kept going by the passion and commitment of local people. A youth worker featured in the article, who had set up a charity to continue services after being made redundant, responded indignantly. She stated that 'funding was hard to come by' and that 'qualified youth workers are essential to youth centres due to the specific issues young people face and volunteers are not trained to deal with these'. In seeking training for volunteers, she said they had received 'no support'.
Worse to come
If funding is hard to come by now, it's going to get worse over the next few years. The National Children's Bureau warns that children's and young people's charities in England face funding cuts over the next five years that will exceed those faced by the voluntary sector as a whole. By 2016, funding is expected to be £400 million down on 2011 levels.
Resistance to the closures of both early years services such as nurseries and youth centres has continued with local campaigns to save certain projects, such as Heatham House in Richmond and Roundabout Nursery in Hackney. One youth worker suggested that whether organising against closures had any effect or not depended on the local authority – while the scattered re-opening of some clubs shows councils being prepared to be responsive, others stick resolutely to their slash-and-burn agendas.
Overall, the attack on youth centres has left patchy provision around the country. And like so many of the public sector cuts, it is economically disadvantaged young people who are most likely to feel the effects.
*Some names have been changed.
Illustration by Cressida Knapp.