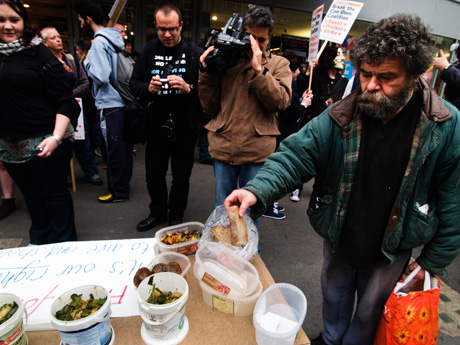 Westminster Council plans to use powers recently given to local councils to pass new by-laws banning people from lying down or sleeping in public places, depositing 'materials used as bedding' or distributing food for free in a half-mile radius in the Victoria area. Any of these offences will generate a £500 fine. The 'no free food' part of the by-law is the culmination of many years of animosity that the council has shown towards soup-run groups.
The by-law is just the latest attempt by Westminster to remove the poor from the borough. The infamous Shirley Porter, the city council leader from 1983 and mayor in 1990, played a significant – and illegal – role in cutting back social housing as a means of increasing the Conservative vote. After a near defeat in the 1986 local elections, Westminster's Conservatives set about replacing council tenants, students and nurses with owner occupiers, who they assumed would vote Conservative. They targeted marginal wards, selling off council flats as they became vacant – a policy that paid off with handsome Tory victories in 1990.
The people they displaced were either housed out of the borough or in asbestos-ridden tower blocks in Labour-controlled areas. Even after the policy had been exposed, and Shirley Porter and her cohorts were being chased by the district auditor for a multi-million pound surcharge, Westminster Council still aimed to sell off 500 council homes a year.
What now is Westminster's problem with soup runs? These involve small groups of volunteers, often but not always connected to churches, gurdwaras or other religious groups, who feed people on London's streets. At least 50 groups are engaged in feeding people across London every night. The soup runs, unlike the services funded by the council, feed anyone who turns up, with no restrictions such as immigration status. Research carried out by the London School of Economics in 2009 (partly funded by Westminster) recommended that they should be better coordinated and distributed more evenly across London but recognised their value.
Under the government's devolution of more power to local authorities, all Westminster has to do to pass a new by-law is 'consult' with local residents. The consultation closed on 25 March. The council received 500-plus responses and is currently looking at them to decide what to do next. That they have not pushed straight ahead with a vote can be taken as a victory for campaigners against the by-law. Westminster has a strong Conservative majority, and it is certain the vote will be won if it is put to the council.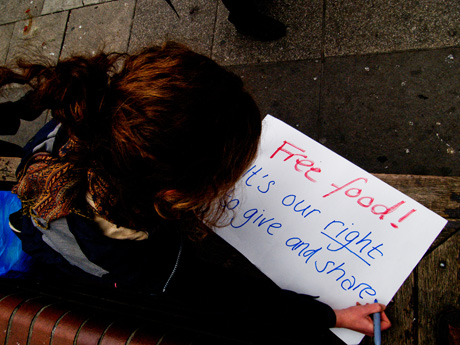 If Westminster does decide to ban the distribution of free food, many groups have vowed to continue regardless. The police may not be keen on arresting church-attending pensioners from the suburbs. However, what will happen if the other part of the by-law is passed, criminalising homeless people for lying down or sleeping, is less clear. The area the by-law covers is not clearly demarcated, so it will be difficult to warn homeless people that they may be committing a crime.
There is already the archaic Vagrancy Act 1824, which allows police to arrest people should they be 'vagrant' – have accommodation available and refuse to go to it. In 2009 a freedom of information request by The Pavement magazine discovered that 1,220 arrests had been made in London under the Act. With the new by-law Westminster seeks to create an offence purely to make sure that someone can be arrested for sleeping in a public place because they have nowhere else to go.
Westminster has more homeless people then any other borough in London, with 1,600 people sleeping rough in the borough over the course of a year. Yet Homeless Link has estimated that its members, homeless charities, expect a 25 per cent average cut in funding and they will therefore have to reduce the number of homeless people they work with. At the same time, cuts in housing benefit will mean claimants will no longer be able to live in Westminster.
As more people become homeless, many for the second, third or fourth time, many will find their way back to Victoria's streets, back to the day centres and soup runs. With a rock-solid Conservative majority on the council, only the strength of public opposition can stop them using this by-law to push the poor out.
To join the campaign go to www.housingjustice.org.uk