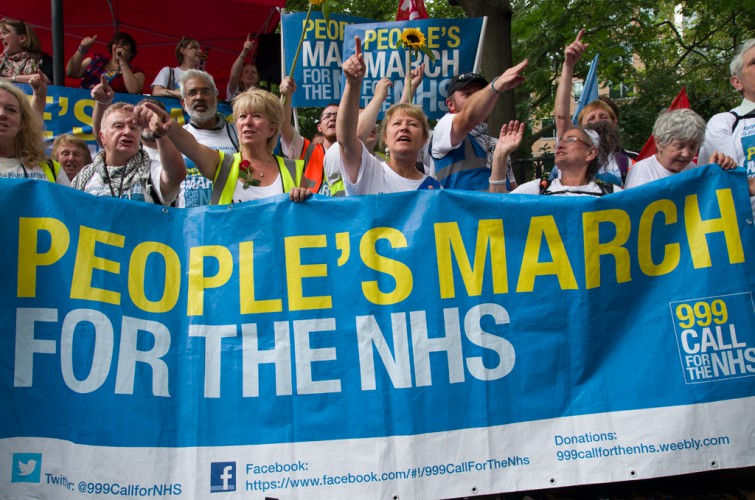 Campaigners from the People's March for the NHS. Photo: The Weekly Bull/Ron F/Flikr
One of the easiest ways to get a round of applause from an audience is to declare that we should 'get politics out of the NHS'. But in fact — as the NHS reels from another turbulent year — the alternative to a 'political' NHS isn't a paradise of benevolent doctors in charge.
As doctors are realising themselves, if we remove proper political accountability for the NHS as the 2012 Act did, we end up with unelected and unaccountable technocrats. We end up with corporate lobbyists and consultants deciding who gets what healthcare from whom. We end up with unelected government stooges launching inquiries into dismantling our publicly owned, tax-funded, extensive and highly skilled system, and replacing it with less fair, less efficient ways of providing less and lower quality healthcare. All of this is happening now.
Health Secretary Jeremy Hunt — since 2012, no longer responsible for securing comprehensive and universal health care for the nation — now hides behind minimally accountable local and national bureaucrats. At every new sign of crisis he tells us that the NHS is now following 'its own plan'. More on this later.
Meanwhile Hunt and George Osborne hold the purse strings — and frontline hospitals are getting squeezed into submission. The majority are now in the red, having lost up to a quarter of their income through a combination of cuts to 'tariff' payments, fines if they fail to meet targets, and private sector cherry picking of the cheap and easy procedures they used to cross-subsidise themselves with. Unsurprisingly, waiting lists are climbing inexorably, and increasing numbers of hospitals and clinics are failing quality inspections.
This is classic 'defund/criticise/privatise' stuff — but Hunt is busy picking fights with, and trying to silence, the doctors, nurses and other health staff: the very people who are best placed to point this out.
NHS hospitals — forced to compete with each other as well as with the private sector — are now discussing how they can shed unprofitable patients and procedures — something made far easier by the 2012 Act, which took away NHS hospitals' responsibility to provide a mandatory list of services.
The other set of local NHS bureaucrats, the Clinical Commissioning Groups (CCG), who administer funding locally, are cash-strapped partners in this increased gatekeeping of health services. Many now reward GPs if they postpone hospital referrals, even of cancer patients. It's getting harder and harder to get things like hearing aids on the NHS. And the largest CCG in the country, Devon, tried to deny all obese people and smokers the right to routine operations on the NHS. They failed, but experts saw it as the 'shape of things to come'.
Like other aspects of 'austerity', these attacks are not driven by necessity. The NHS actually returned billions in underspends to the Treasury in recent years. It's routinely rated the most cost effective system in the world, far cheaper than those of Germany and France, for example. Instead, the attacks are driven by an ideology that abhors the idea that we have a right to the healthcare we need, provided by the state. And it's also driven by visions of the profit streams to be wrung out as the state withdraws and a more expensive, less equitable system expands into the void.
Expenditure on running the NHS as an inappropriate 'market' is conservatively estimated to be £5bn a year, though some put it as high as £30bn. From the banker-friendly PFI system of financing hospital buildings, to the endless paperwork as every patient appointment is coded, priced and internally billed for, to the lawyers and consultants creaming off a hefty fee from every single commission and tender — imagine if these billions were spent instead on frontline care.
A plan for the market: towards a 'pay NHS'
Yet this is not the direction the 'NHS plan' — the one Hunt uses to bat away political criticism — is going in. After a reorganisation 'so large it could be seen from space', there's another stealth reorganisation underway, put together by NHS Chief Executive, the ex-United Health boss and long-time Blair privatisation advisor, Simon Stevens.
Stevens' 'new models of care' are being rolled out through a hydra of supposedly local 'vanguards', 'success regimes' and 'devolutions'. After the spectacular failure of the poster-child for full-scale hospital privatisation, Hinchingbrooke, and the political backlash against Lansley's 2012 Act, Stevens now talks of collaboration and integration, not competition – of collaborative hospital chains, not standalone Foundation Trusts. But collaboration and integration with whom? And to provide what?
For one, local decision makers are being pressured to hand decisions over to private firms, including 'lead providers' like Optum, a subsidiary of Stevens' old firm, United Health, and to shift away from expensively trained staff to 'an army of volunteers' and an array of dubious technology.
Stevens' 5 year plan also sets out how 'at their most radical' his new care models are based on the approach of firms like the US's firm Kaiser Permanante — where an annual sum is paid to your insurer, who partners with hospital and 'community' providers to ensure that all the financial incentives depend on keeping you out of hospital — with hefty 'co-payments' expected from you if you do manage to find your way through the hospital doors.
This is marketed as 'preventative medicine', which of course we do need. But reducing the availability of hospital beds and hitting patients who use them with fees is the wrong way to ensure people do more to look after their health.
Earlier this year, a BBC editor who'd drunk a little too much of the Kaiser Kool-Aid analysed it thus: 'The scheme involves an all-out attack on unhealthy lifestyles …"We do not need hospitals", one member of Liverpool's CCG exclaimed – with only a little exaggeration.' Liverpool, like other regions, is facing the closure of a hefty chunk of its hospital provision.
As revealed in a leaked correspondence, junior health minister Lord Prior also thinks that we could close half of our remaining hospital beds, despite already having the second lowest number in Europe).
And in July Prior — hiding in the relative obscurity of the House of Lords — quietly proposed an inquiry into moving towards a 'pay NHS', or at least some 'co-payments'. Prior has attended a string of US meetings with private firms on 'how to set up a national health insurance scheme'. Cameron has yet to properly disavow Prior's inquiry.
Introducing such a scheme nationally would of course cause outcry. But do it locally, and throw social care in to muddy the waters, and the politics changes somewhat. Hiding behind the rubric of 'personalisation', many regions and some of the sickest patients are now trialling personal health and social care budgets, where you can shop around for providers — and face lengthy renegotiations and the prospect of having to make top-up 'co-payments' if your 'annualised care package' doesn't cover the care you turn out to need. It's hard to see how this is different from the old Thatcherite vouchers idea — and Stevens plans to roll out to 5 million of us by 2018.
Last rites for the NHS?
For the last few years, demoralised staff — the backbone of the NHS — have been leaving in droves. But as the stakes finally rise impossibly high, as even NHS bosses talk of charging patients £75 a night for hospital beds as a way of solving this manufactured crisis, green shoots of a vociferous fightback have also emerged.
Campaigners have banded together, and new networks like the NHS Campaigners Network and Health Campaigns Together have been set up. They are not only calling for more money to get the NHS through its current crisis, but also, an end to the expensive market madness. It's possible; Scotland have done it, and in terms of delivering that change, there's a growing consensus of support amongst grassroots groups for Allyson Pollock's NHS Bill,  backed in parliament in July by both Caroline Lucas and the new Labour leader Jeremy Corbyn.
Since May, campaigners and health staff alike have realised that there is no option but to fight, and that the NHS will not survive 5 more Tory years unless they do. So they have redoubled their efforts to see off the twin threats of privatisation and cuts. There have been successes. After occupying an anonymous looking CCG building in Bristol, local campaigners won their battle to stop Virgin taking over childrens' health services in the City.
Most notably, junior doctors — the backbone of our hospitals — have had enough. For the last three months they've been taking to the streets in their tens of thousands to protest the imposition of a contract that considers working at 10pm on a Saturday no longer an 'anti-social' hour worthy of recognition and reward. Pay could fall by up to 40%, BMA negotiators have suggested. But it's not just about pay. The doctors have recognised they — and their patients, who don't want tired doctors — are the sacrificial lambs in a bid to make hospitals a more attractive proposition to corner-cutting privatisers.
Campaigners and health staff know that the question is not 'whether to reorganise the NHS' but what kind of reorganisation we want. The one currently underway, towards an even more fragmented, profit-driven, two-tier health service, with timely access to quality services increasingly restricted unless you have the means to pay? Or one which restores the NHS to its core values: a comprehensive, universal, high quality, timely, publicly funded service? This is what the public understand, and love about the NHS. Politicians who hide behind others as these values are eroded are not taking the politics out of the NHS, they are throwing it to the wolves. And it's time we stopped them.
Caroline Molloy is the Editor of Open Democracy's OurNHS. Part of this article originally appeared on Open Democracy. 
OurNHS is currently raising money to continue its output of stories on the NHS as it enters a crucial period in it's history.