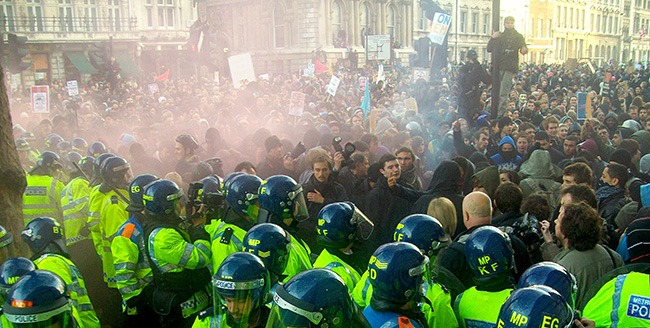 "I was there, in Parliament Square. I was angry, like many others. I had lost my voting virginity to Nick Clegg, and he went and cheated on me, with a dirty Tory. He told me that University education would be free, if I voted for him, and then he colluded with the conservatives to triple tuition fees. Yet, that anger was also infused with excitement. Surrounded by thousands of people, forming a collective, we shouted, and sang, 'Westminster is ours, Westminster is ours, Fuck off back to Eton, Westminster is ours.' And it was, for a little while.
That excitement soon turned to fear, when I saw lines of armed police, helmets on, faces covered, in disguise, dehumanised, and highly organized. I felt like Britain had become a very tiny Island; suddenly surrounded by a deep dark sea. I immediately wanted to leave. I was with a few mates, Dev seemed a don at this and I felt assured, for a while. But it was not long until scraps with the police erupted, and the cunstabularies kept closing in. People ripped up metal fences to use against the police, who were batoning the people at the front of the crowd. I tried to stay away from the front line. But at some point, during the disorder I lost my friends and I was alone.
I tried to find an exit, but I was met with a wall of violence. I tried another, but there was a wall of silence. I tried to tell a policeman that I wanted to leave, and that I had a health condition that was being exacerbated by the stress of being here. I had seizures. He ignored me. I asked another. He ignored me. It was then I realised I was talking to just another brick. It was then I realised I had been disempowered. I no longer wanted to protest, I was scared for my safety, I was scared into leaving, and I couldn't even leave."
British filmmaker Chester Yang uncovers the shocking reality of police powers in post-9/11 Britain in Kettling of the Voices. Following British students Brian and Ethan, two students protesting against the government's hiking up of tuition fees, we bear witness to troubling levels of surveillance, and both a media and a police force that seem a little too comfortable with the notion of banning political protest.
To purchase tickets visit the East End Festival website