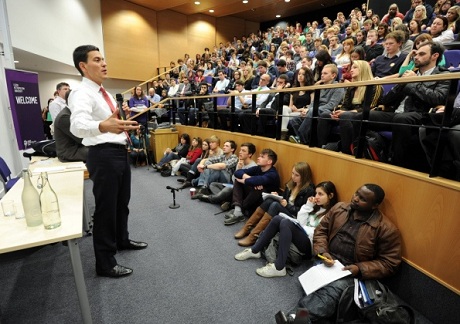 David Miliband's article in this week's New Statesman tries to define itself against the arguments of those typified by Roy Hattersley, for whom New Labour was a botched job at fixing what wasn't essentially broken. From this perspective, Labour doesn't need to engage in much navel gazing about its direction, it needs to get back to basics – to further the goal of equality through the good old fashioned levers of central government like universal entitlements, redistribution, and collective provision of services.
It's a vision that Labour's core vote and activist base finds comforting, earning from Miliband the soubriquet 'Reassurance Labour', in the sense that it takes for granted that the relevance, values, and mission of the party is clear and it just needs to be re-asserted with more purpose. It's a view that makes us feel good. But what are the chances of making good on this vision, either in terms of winning elections or making its proposals stick in government?
There's much in Miliband's alternative with which I – and I imagine a majority of Red Pepper readers – would disagree. But he's right to suggest that simply rehashing old top-down social democratic recipes don't amount to a credible position in the 21st century.
Labour spent the majority of the last century out of government, and even when it won elections it seldom proved possible to deliver on the expectations of the electorate. And especially today, when politicians of all stripes are increasingly held in contempt by voters, is it we really likely that we stand on the cusp of a massive popular extension of central government power? Doesn't the rise of parties of the right across Europe suggest popular support is swelling behind the neoliberal divestment power from bureaucratic interference and political control?
So Miliband is right that this is no time for social democrats to feel complacent about the task ahead of them, and that some serious intellectual heavy-lifting is in order if our values are to be translated into an effective alternative institutional framework for society. But different kinds of 're-thinking' are possible. 
Miliband's own warmed-up revisionism narrows the horizon of options to the predictable mush of neoliberal consensus – and its superficially appealing vocabulary ('reform', 'localism', 'decentralisation', 'growth') is essentially a series of Trojan horses for the further incursion of private profit and continued erosion of democratic accountability.
Labour – Old or New – has no ready answers for the left to take down from the shelf. Nor will the debate take place exclusively or primarily in the diminished ranks of its membership. The Green party and climate activists, nationalists, unaffiliated trade unionists, Occupy supporters, UK Uncut, women's groups, anti-war activists and thousands more will also play a key part in this debate.