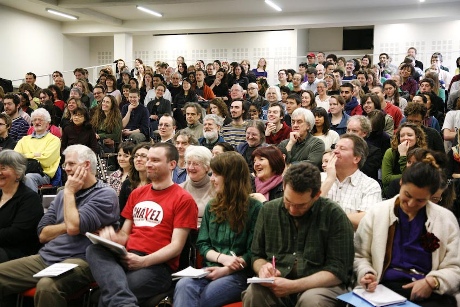 On 5 March a unique event will take place in London. It will bring together the spirit of the World Social Forum with the ripples of resistance emanating from Egypt, Tunisia and the student protests here in the UK. And although its been organised by a group of campaigning NGOs, it's got a fantastically diverse programme exploring the connections between a range of issues, and not just focussed on one or another group's campaign objectives. That's one reason why Red Pepper was so keen to be the event's media partner.
Personally, I'm looking forward to a few really interesting international speakers. Samir Amin is an Egyptian Marxist who's been challenging capitalism from a third world perspective for most of his 80 years. He advised several of Africa's most socialist-minded leaders and continues to write prolifically today.
Bolivia's ambassador to the UN, Pablo Solon, will also be fascinating. Bolivia stood virtually alone in opposing the stitch-up at the UN climate talks in Cancún and he'll be at the centre of a debate about the way forward on climate change.
Red Pepper's own Hilary Wainwright will be speaking on challenging the cuts, and also considering what a more radical democracy might look like, alongside OpenDemocracy's Anthony Barnett and Alice Cutler, co-author of Do It Yourself: A Handbook for Changing Our World.
There'll be a debate on how far Latin America has managed to move away from neoliberalism, and one on whether 'clicktivism' can really change the world. Lynne Segal and Nina Power will discuss the role of women's oppression in making the 21st century capitalist economy work, and Red Pepper contributors who are speaking include Patrick Bond, Costas Lapavitsas, Kate Soper, Sue Branford and Jeremy Dear.
But judging by last time (6 Billion Ways happened once before in 2009), it's the slightly less traditional bits that really make the event so special. Join David Rosenberg on a radical walking tour of the East End. See some iconic photos from the actions against big oil's sponsorship of the arts (Liberate Tate). Go to an interactive workshop on the history of money. Watch Requiem for Detroit, a fascinating film about that city's disastrous post-industrial decline and the tiny shoots of recovery brought about by community-based urban agriculture.
I won't get to it all of course, and neither will you. But what I remember most from two years ago was just how buzzy the whole thing was. Of course, as I suggested above, the political atmosphere has changed in two years. But that may well make for an even more interesting event. We certainly still need spaces to build the movement, and in many ways, that's the importance of something like 6 Billion Ways. There's quite a lot of political events happening at the moment, but this is shaping up to be something to make time for.
The event is free, but register online at 6billionways.org.uk/register