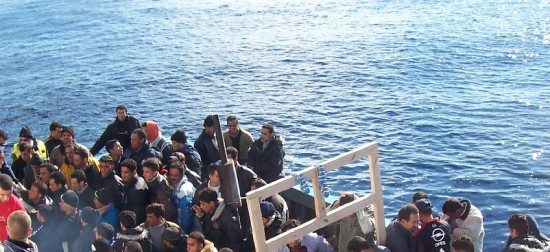 Recent headlines remind us how desperate the situation is for many people migrating to Western Europe, said participants. Whatever the reason for travel, whether to flee persecution and war or to join family members and find work, nobody should be left to die at sea. In fact, a closer look at the push factors for migration only brings responsibility closer to home – with a critical view of foreign policy, environmental policy, neoliberal economics and the role of multinational corporations.
Supporting people on the move
Weary travellers camp in the 'jungle' at Calais where NGO's and the grassroots Calais Migrant Solidarity try to help meet people's basic needs. Practical support including English language classes are welcome along with light relief – a visit from a cricket team recently broke the boredom. Could your group take a solidarity trip or send materials such as tents, blankets and bikes?
At detention centres
Applying for asylum in the UK is an intimidating process and the threat of detention looms at all times. Earlier this year detainees went on hunger strike and protested against being treated like animals. Noisy demonstrations from the outside at least send a message that they haven't been forgotten by all and in June this year protesters breached the fence at Yarls Wood women's detention centre. Surround Harmondsworth, the biggest detention centre in Europe on 11 July and Yarls Wood on Saturday 8 August.
Anti raids
Immigration officers in London conducted 33 raids per day in 2014 on homes and businesses to make arrests and gather intelligence. The Anti Raids network encourages people to organise resistance in their local area, they publish multilingual information on knowing your rights, and write:
'We have a vision. A city – a country, a world – with zero tolerance for attacks and harassment by cops, home office "enforcers", or private security. Where if the uniformed bullies turn up to smash someone's door in, barge their way into a workplace, or stop people in the street, they get surrounded by neighbours and passers-by who know the score and won't take their bullshit.'
Earlier this month residents in Pekham sent two immigration enforcement vehicles away.
Against vouchers
After a successful campaign in 2002 by refugee welfare groups and unions the impractical and unfair voucher system was scrapped, but unfortunately by 2006 the system was reinstated. So today asylum seekers are given £35 per week in vouchers to spend at certain supermarkets only. No change is given from the vouchers which leaves people without cash to use public transport, launderettes, pay phones or local independent shops, for instance. It makes life particularly difficult and forces people to spend time walking long distances to supermarkets. This is just one area where a campaign victory could make a big difference, another is the reinstatement of legal aid – recent cuts here mean that most migrants are left without legal advice.
Housing
Contact your local housing support network if you could offer a temporary spare bed for someone living in destitution, such as the Bristol Hospitality Network or the Cardiff Destitution Network. Or there could be a shelter near you looking for volunteers.
The Black Liberation Collective is the group's working title, see the Facebook page here. Amongst other things they are currently producing videos to show the reality of life for migrants in the UK and exploring the possibility of launching a rescue boat mission.
Reclaim the Power's mass action camp took place in the shadow of Didcot power station from the 29 May to 2 June 2015. The weekend involved training and workshops and a day of action against the fossil fuel industry.