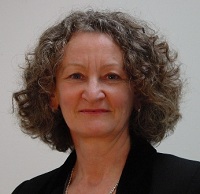 Last week we travelled to Green Party HQ in Shoreditch, London to interview Green Party mayoral candidate Jenny Jones. We wanted to get her views on some of the big issues facing Londoners – and her broader worldview.
While she did little to refute the case of those who call the Green Party's understanding of capitalism 'wishy washy', she did have some interesting things to say about housing and pay ratios.
Below you can listen to the interview in five bite-size sections and read our commentary and responses under each one:
The City, anti-capitalism and the Occupy movement
It's fair to say that Jenny was a little evasive over how she might begin to change the relationship between the City and the rest of London. She did say that she wanted do away with the City of London's 'Corporation' status (which make it a borough with its own separate rules), but she gave little detail of how this might be achieved. She also mentioned supporting loans to small businesses.
On the Greens as an anti-capitalist party she said 'we are anti-capitalist because we believe in fair trade not free trade'. According to Jenny, when the Greens' leader Caroline Lucas said the party is anti-capitalist, what she meant was that she 'just wants a fairer society'. This doesn't necessarily suggest, in and of itself, that the Greens are in any sense anti-capitalist at all. Jenny admits that this sounds 'wishy washy'. (Perhaps we should ask Caroline?)
She wants this fair society because in an unfair society, 'even the rich aren't happy because you have riots'.
When she talked about the Occupy movement, we asked how she reconciled the contradiction between being part of this non-hierarchical movement that has spoken out against political parties and being part of the Green Party.
Jenny argued that party politics is a different route to the real democracy which the Occupy movement believes is the problem, and added that 'you can't get more non-hierarchical than the Green Party'.
Police and protest
On the police force, her big concept was politeness (Excuse me, sir, do you mind if I arrest you, knee you in the chest, strangle you and racially abuse you?) She also said the police should have showed kindness to Mark Duggan's family.
In her final analysis, the problems could be solved by more lefties joining the force. Hardly heavyweight.
Transport
This is the area where Jenny seemed strongest. A Green mayor would reduce bus and tube prices and keep any future increases below the level of inflation, she said. This, she added, would be funded by putting up the congestion charge, particularly for the most polluting vehicles, then after three years introducing a pay-as-you-drive system.
Boris cut the road safety budget and this has lead to more injuries. Ken Livingstone, meanwhile, has offered Jenny the job of promoting walking and cycling.
She added that air pollution is currently shocking in London and that it's way over the EU limits. She would ask that fines be imposed by the EU to help combat the problem.
Housing
This was another strong suit. Jenny described the current housing system as dysfunctional and called the government's council housing sell off 'stupid'.
She believes social cleansing is 'already happening' and that the government is 'making it worse'. To tackle the problems, she wants to build 15,000 affordable new homes every year – but these would only be affordable for those on around £23,000 a year.
Those at the lower end of the income spectrum, she says, would be helped by encouraging councils to build more social housing. She would also encourage the use of community land trusts, which Boris promised but did not deliver.
Greens in power
In this final part we talked about the Greens' record in office here in the UK.
She admits that the Greens have the luxury of opposition almost everywhere – but where it's possible to act like all other political parties, they've done just that. She admits this in as much as she argues that the only other option than following the mainstream agenda is to resign.
She says the difference is that only the Green Party has a philosophy, and that this ensures that they stick to manifesto promises when in power. But at the moment we're seeing the results of the Tories' neoliberal philosophy – and the Lib Dems' Orange Book philosophy too.
Finally she addresses the Greens' performance in Brighton. She said it was important as it demonstrated the Greens' ability to take tough decisions. And she defended the council on their decision not to challenge the government over its cuts agenda, adding that challenging it through an illegal budget would have been 'good for no-one'.
This left the question of how the Greens are different once in office largely unanswered. She was, however, categorical when she said that council tax levels in London would be kept at current levels on her watch.