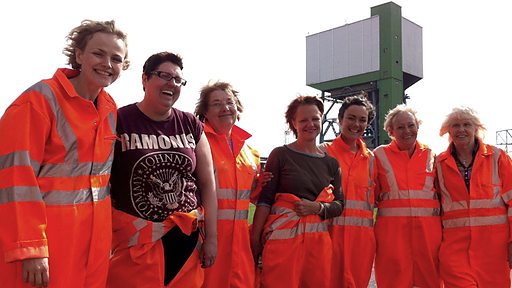 Some of the cast and crew of Queens of the Coal Age with the women whose story it tells. Left to right, Maxine Peake, Lorraine Cheshire, Elaine Evans, Justine Potter, Rachel Austin, Betty Cook and Anne Scargill
When I meet Maxine Peake, who is in London filming a new series of the BBC drama series Silk, she is immediately apologetic about having so little time, this being a snatched hour one Sunday. The pressure could have been interpreted as a sign of her popularity, but she insists that it is also a feature of reduced rehearsal time. Filming 'is now like a memory test every day', learning lines at night and early mornings, 'an intense four months when you can't do anything else'.
We so seldom consider the actor as a worker that this sort of thing can come as a surprise. While we may be vaguely aware of the large number of unemployed actors living on the margins, we are generally oblivious to the pressures that cuts and the constant squeeze on budgets impose on a working actor.
'Obviously as an actor you want to be working,' Peake tells me. 'You can't moan about it because people would say that you could be doing something else, like working in the NHS. It is a different type of work and I am not badly paid.' But friends, who previously could get by doing bits of TV and theatre, 'can't do that any more, as the money is getting less and less and the jobs are closing down. Actors aren't getting paid, and they are struggling.'
She always knew it would be difficult making a living as an actor but it is getting worse. 'It is ridiculous. I know that I am in a profession where 99 per cent are out of work but that does not make excuses for or justify what is happening.'
Out of shape, a bit quirky
Peake, a committed socialist, grew up in a working-class family in Bolton, where she went to the Westhoughton High comprehensive. At 10, she was obsessed by Victoria Wood. 'It was when she was just starting out and it was her I wanted to follow.' Wanting to act or be a comedian, she went to Salford Tech on a 'sort of all-dancing and all-singing course' and had a miserable time, as it was not what she could or wanted to do. Most of the others were dancers and singers, with sweat pants and jazz boots, but there were a few, like her, 'out of shape, a bit quirky', a 16-year-old with Doc Martens boots.
She did A levels at a good sixth form college and then tried for drama school. Unsuccessful at first, she persevered, getting into RADA in 1995. RADA was enjoyable, although at times tough and 'a bit of a culture shock. When I went there I wasn't the only northerner, but I don't know what it's like now. I think it may have gone back to what it was beforehand, when you had to have money to go. But RADA has substantial budgets, gets a lot of sponsorships and can take students they want to have, rather than only those who can afford it.'
In Peake's case, RADA put her up for the Patricia Rothermere scholarship. So, as she says with a grin, she was paid to go to drama school by the Daily Mail. 'When my grandad came down and met them, they had quite strong debates as my grandad was a Morning Star reader.'
In her final year she auditioned for Victoria Wood's TV sitcom Dinnerladies. 'I didn't even think about getting the job. I just thought I would be sat in the same room as Victoria Wood. Whatever happened after didn't matter because she was my hero.' She was called back, though, 'and I went in and got the job' (at this point her voice lifts) 'which never really sunk in. I was in the room with people who I could never imagine being with. It was quite extraordinary really.'
From Shameless to Shelley
Peake's subsequent TV work included doing 27 episodes of Channel 4's Manchester-based drama Shameless, playing the Moors murderer Myra Hindley in a 2006 TV film, and, most recently, appearing as Martha Costello QC in three series of the BBC drama Silk and Grace Middleton in The Village. Her theatre work has included various performances at the Bolton Octagon, among them a part in Early One Morning, a play about a soldier shot for desertion and 'cowardice' in the first world war, and at the Exchange Manchester, where she performed Shelley's Masque of Anarchy to sell-out houses at the Manchester festival last summer. In 2014, she will star in a 'radical reimagining' of Hamlet at the Exchange, where she is now an associate.
'I used to feel that I should be doing things in London, and of course I will do so, but I want to be working in the north,' she says. She is scathing about what she sees as the class pressures of working as an actor in London: 'In effect you have to have a private income to feel easy… I was talking to a producer about the struggle that many actors have just to get by and he said, "When you've paid your school fees…" I said "Wait a minute!" But that's what it's like. I even notice that where I live in Salford. A friend, who had not worked for four years, started a job and I asked her how it was: "All they talk about is school fees and decking!"'
Asked what were the origins of her socialism, Peake instantly responds: 'My grandad.' He was in Palestine after the war and joined the Communist Party, having been shocked by there being a people without a country, an experience that stayed with him always.
'I lived for some time with my grandparents and all sorts of people would come round and I was exposed to a whole range of people. When the miners' strike was on my grandad was driving here, there and everywhere, down to London and back to Leyland. For them it was about principles and for a child it was a no-brainer. There was a girl at school whose parents were socialists and I can remember coming home from school, sitting on the wall having discussions. We were ten. We watched [the anti-nuclear film] When the Wind Blows and were experts about what to do when the bomb went off. I was just obsessed with politics at that age.
'In 1997 I was at RADA and people were cheering and there was a shout, "He's in. He's in!" I remember going to a phone box to talk to my grandad. I was so upset and asked him what we were going to do. I am upset just thinking about it.' Almost in tears, she tells me he only died last March. 'He was amazing. He was 85 when he died, he knew lots and was never bitter. I miss him. I thought that I am going to be lost politically, as when something happens I need to ring him.
'He went just before Thatcher and I was upset because I thought that he had missed the boat but with the media coverage I was so pleased that he had not been listening and watching all of that. That would have killed him listening to all that nonsense.'
Ordinary women
As well as acting, Peake has recently turned her hand to writing plays. Her first, Beryl: A Love Story on Two Wheels, was broadcast on Radio 4 in November 2012. Its subject, Beryl Burton, was a cyclist in the 1950s and 1960s. Peake had met Beryl's husband, Charlie Burton, as an 84-year-old who still cycled 20 miles a day. Beryl had rheumatic fever when young and thought that she couldn't do anything athletic but had wanted to be a cyclist. Charlie said he would take a back seat and be her mechanic and her coach and she went to do time trials and compete in Eastern Europe. She died from a heart attack aged 58, when delivering invitations by bicycle for her birthday. 'The fact that she got to the age of 58 was amazing. I thought she was one of the finest athletes that the country had ever had.'
At the end of 2013, Peake had a second play, Queens of the Coal Age, broadcast on Radio 4. She wrote this about when Anne Scargill, Dot Kelly, Elaine Evans and Lesley Lomas occupied Parkside, the last Lancashire pit to close, in 1993. Poignantly, two days before the broadcast, Lesley unexpectedly died.
'I play Anne,' says Peake. 'I'd not wanted to be in the play, but Anne insisted. I couldn't refuse. I enjoy the writing but it's a hard thing with 44 minutes for a radio play, while on screen things can be said with an action or a shot.' She is concerned to write about 'ordinary women doing extraordinary things' and her ingredients combine friendship, camaraderie and laughter. Gwyneth Williams, the controller of Radio 4, holds her in high regard.
Asked how she saw herself as a woman – is she a feminist? – Peake seems tentative when replying: 'Yes. I suppose that I never really think of it, but yes, I'd say I was a feminist. I just think it's about equality. I don't want feminist to be a dirty word.' And with a laugh she adds, 'I just think that women are better than men. I'm sorry, but we are more capable and stronger. I want women not to be frightened of the power that we've got. It seems that women are petrified of their own strength, as though they are being told not to display it. It's in my business as well. A lot of actresses today say they're a feminist and the next day they've got their boobs hanging out, saying its all about power and being feminine. But I don't agree – maybe I am old fashioned.'
On International Women's Day, Saturday 8 March, Peake will be speaking at a Women Against Pit Closures rally at the National Union of Mineworkers HQ in Barnsley. 'It is 30 years since the miners' strike and there will be stuff on telly but I am dreading it, dreading it,' she says. 'Dreading what the message will be. I want someone to tell the truth about the strike and about how horrific it was.'
The final scene in Queens of the Coal Age has a police officer saying to the women as they leave the pit after three days underground, 'You lost!' 'Yes, but we went down fighting!' they reply.