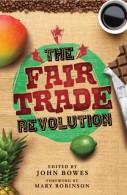 'A slightly-less-exploitative trade reform' would be a more accurate title for this disappointing volume, which is only likely to be of interest if you've spent most of the past 15 years living under a rock. Reflecting the Northern power structures from which the initiative originates, this collection includes contributions from the great and good of the increasingly corporate Fairtrade world, charting its development over the past two decades.
Sadly, there is virtually no representation of producer perspectives in this compilation. Instead when I pick it up, the book falls open at a picture of 'Maria and her mangoes'. As I read on, stereotypes are hardly challenged; there are frequent romantic and condescending depictions of hard-working producers struggling to overcome their poverty.
In fact, the book alternates between reading like a corporate social responsibility (CSR) report for Cadbury's and a public relations exercise for the Fairtrade Foundation. The prize for the most entertaining claim in its pages goes to the Fairtrade Foundation's Harriet Lamb for her assertion of Fairtrade's contribution to world peace: Tropical Wholefood's recent move to source raisins from Afghanistan.
It's hard to imagine the intended audience, but the book repeatedly frustrates, finally broaching interesting subjects such as the contradiction between fair trade and developing countries' dependence on export-orientated agriculture, only to quickly gloss over them or present a grossly simplified account.
Arguably, what the Fairtrade movement needs is rigorous debate around the process of mainstreaming that has taken place at an increasingly rapid pace in recent years, as well as a challenge to the current under-representation of producers within the decision-making structures of Fairtrade and a broader discussion of the inherent limitations of a consumer-based, rather than political, movement.
Instead, the aggressive mainstreaming strategy pursued by the Fairtrade Foundation and its international equivalents is consistently defended, while several of the contributors equate Fairtrade and trade justice. This reflects a gross misunderstanding of the initiative, utter naivety as to how a genuine transformation of the international trade system could be achieved, or a deliberate attempt to mislead innocent readers.
So in short, if you read Red Pepper, you probably won't want to read this.