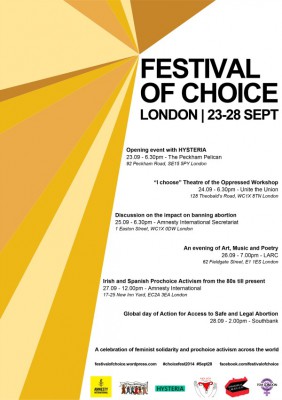 All over the world feminists and human rights organisations are marking 28 September: the international day of action for the decriminalisation of abortion. In London six feminist and human rights organisations, including Amnesty International UK, Central America Women's Network, 15M Women's Assembly, Hysteria, My Belly is Mine, and Speaking of I.M.E.L.D.A., have organised the Festival of Choice from 23 and 28 September.
The Festival of Choice encourages people to join the discussion on abortion and works on an inclusionary basis. The varied programme has something for everybody and is all over London. 'It is an opportunity to celebrate the solidarity and activism of women and girls and to strengthen and support the prochoice message, locally and globally'.
The week consists of 6 events, with all but one free to attend:
*Tuesday 23 September – Opening Event with HYSTERIA from 6.30pm at The Peckham Pelican, 92 Peckham Road, SE15 5PY, London
*Wednesday 24 September – 'I choose' Theatre of the Oppressed Workshop from 6.30pm at Unite the Union, 128 Theobald's Road, WC1X 8TN, London
*Thursday 25 September – Discussion Forum: The Impact of Banning Abortion with screening of 'Life at any price' from 6.30pm at Amnesty International Secretariat, 1 Easton Street, WC1X 0DW, London 
Register for free here
*Friday 26 September – Art, Music and poetry from 7pm at the London Action Resource Centre, 62 Fieldgate Street, E1 1ES, London
*Saturday 27 September  – Irish and Spanish Prochoice Activism from the 80s till Present from 12pm at Amnesty International, 17-25 New Inn Yard, EC2A 3EA, London
*Sunday 28 September – Action on the International Day for the Decriminalisation of Abortion from 2pm at Southbank
Click here for a full event programme. Some events require you to register in advance.
For more information on the Festival of Choice contact mybellyismine@gmail.com or rose@cawn.org or visit our Facebook page or Website.