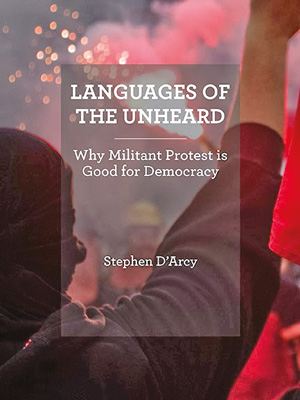 In the age of the Arab Spring and austerity politics, the ability of political systems worldwide to effectively redress the grievances of the people they purport to serve is more than ever in doubt. Militant protest has become a familiar feature of the global political landscape and the UK is no exception.
Yet largely absent alongside the recent surge in protest has been adequate analysis and debate of its merits. It is into this partial vacuum that Stephen D'arcy's utterly convincing Languages of the Unheard makes a welcome appearance. The purpose of D'arcy's book is to develop a normative theory of 'sound militancy' that is not only defensible but also a civic virtue. In doing so he draws on the writings of Martin Luther King, an admirer of the 'marvellous new militancy of the 1960s'. D'arcy, however, discards King's separation of sound from unsound militancy on the basis of a distinction between violence and nonviolence and instead proposes that the crucial contrast is between democratic and undemocratic.
The 'democratic standard', as D'arcy terms it, asserts that sound militancy should create new opportunities to resolve grievances when reason-guided public discussion cannot; it should encourage agency among those most directly affected; it should enhance the power of people to govern themselves; and it should limit itself to acts that can be defended 'publicly, plausibly and in good faith as duly sensitive to the democratic values of common decency and the common good'. Darcy's most controversial but nonetheless persuasive argument is that, providing it satisfies the criteria of the democratic standard, violent militancy can be justified.
The second half of the book is devoted to the application of this standard to examples of militant action, ranging from black bloc to armed insurrection. It further illustrates not only the theoretical soundness of the standard but, more importantly, its utility. For as much as Languages of the Unheard is a valuable contribution to an increasingly expanding body of social movement scholarship, its true value lies as a tool with which militants can better design their strategies to reflect the democratic and political values they seek to defend.