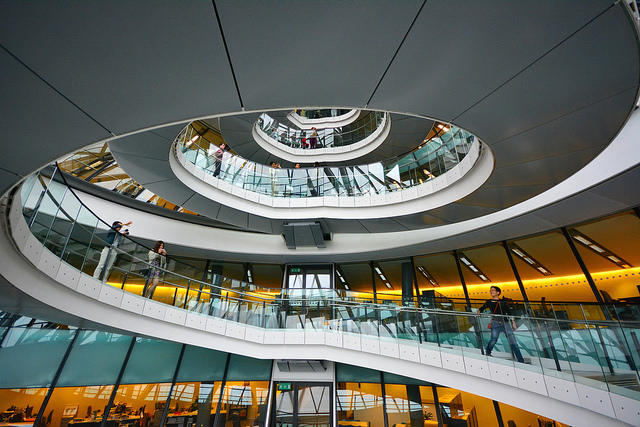 Inside London City Hall. Photo: Martin Pettit on Flickr.
Three Labour Party London Mayoral candidates have received campaign donations from property developers, according to Property Week. Tessa Jowell, David Lammy and Sadiq Khan have between them received £46,500.
Although widely criticised, donations from businesses are commonplace in politics yet this latest revelation should cause extra concern considering the wave of property developer-led 'regeneration' projects currently taking place across London. Such regeneration projects often result in the displacement of low and middle income families and the widening of economic and social inequality.
As Oliver Wainwright reported in the Guardian earlier this year, property developers in the capital are exploiting planning systems to bypass their legal obligation to provide a specified amount of affordable housing (typically 30-35 per cent of developments with more than ten homes). In many cases councils are failing to adequately challenge property developers and in some instances are actively working with them to override opposition from those negatively affected.
The lack of affordable housing in London, where rents are double the national average and where the median price for a one bedroom flat is £1,155 a month, has reached crisis levels. According to Shelter, 59 per cent of a typical London family's income is spent on rent. In a recent report the charity also pointed to how the high cost of housing has a profound affect on all aspects of life, from relationships to how we view the future.
Of the three candidates in question, Lammy is arguably the most vocal in his commitment to affordable housing and in June he announced plans to build 30,000 social homes were he elected Mayor of London. Yet with the news that Lammy received £15,000 from Galliard Holdings, the company behind Galliard Homes, which specialises in providing 'market leading luxury homes,' one is forced to wonder (and worry) about the full extent of his redevelopment plans.
Siân Berry, who is standing for selection as the Green Party's London Mayoral candidate, earlier tweeted that 'mayoral candidates should not be accepting big donations from property developers.'
Berry also told Red Pepper that the need for separation is essential considering the decision-making power of the Mayor when it comes to redevelopment. This is especially relevant, she added, since the London Plan (the statutory spatial development strategy for Greater London that is written by the Mayor of London and which London boroughs need to abide by when creating local development plans) will be up for review next year and developers have a 'huge interest' in ensuring it is favourable to their interests.
For Housing Action Southwark and Lambeth (HASL), one of the many groups that have in recent years sprung up to fight for decent homes for everyone, news of the donations did not come as a shock: 'It's no surprise to us at HASL that Property Developers would find potential allies in Labour Party candidates. Time and again, the Labour Party has shown itself to be a major engineer of the gentrification and forced eviction of thousands of London residents.'
The donations, then, further serve to highlight the potentially destructive relationship between politicians and property developers (a possible instance of regulatory capture) and make a mockery of the candidates proclaimed commitment to solving the capital's housing crisis—indeed, private property developers are repeatedly exacerbating the housing crisis.
Yet so too do they further reinforce the deep chasm that exists between the likely leader of Labour, Jeremy Corbyn, and many of his senior colleagues in the party. If as expected Tessa Jowell is the politician tasked with reclaiming City Hall from the Conservatives, it is hard to imagine her generating anything near the same level of support and engagement enjoyed by Corbyn, even if she is Labour's 'best hope in London.'
In fact, when considering her links to a property developer, her admiration for Tony Blair, and her general indistinguishability from a political class held in such low esteem, Jowell arguably represents much of what 'Corbynmania' rejects.
Jowell, and for that matter Lammy and Khan, may be in the same party as Corbyn, but they share few of his values and nor it seems do they understand how deep London's problems run. A vote for Labour in the London mayoral election may well be the best way to prevent Boris Johnson's successor being a fellow Conservative, but it offers little promise of actually solving London's problems.
In contrast, the Take Back the City campaign and potential mayoral election candidates such as Berry are focused on popular participation, progressive solutions to the housing crisis and, ultimately, helping to turn London into a city for ordinary Londoners.
In light of the spectacular and unheralded success of the Corbyn campaign—achieved in spite of the Labour establishment—a bet on an outsider may well be worth the long odds once again. After all, if recent events have taught us anything, it's to expect the unexpected.