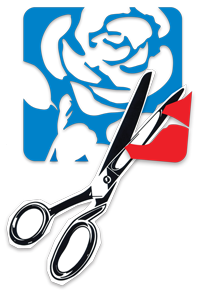 The revelation that local councils would face an average cut of 28 per cent in central government funding by 2014/15 was shocking enough. It was especially so since the burden of increasing social care needs means that, according to the Local Government Association (LGA), the funds available for spending on other key services such as repairing roads or running libraries and leisure centres would effectively fall by 90 per cent in cash terms.
But averaging out the impact of the cuts ignores the dramatic political imbalance in exactly how communities and local government secretary Eric Pickles' plans are being implemented. The Guardian reported that 'councils in northern, urban and London boroughs with high rates of deprivation predominantly run by Labour have seen their budgets cut by almost 10 times the amount lost by Tory-administered authorities in rural southern England'. And whereas the average loss per head resulting from the cuts stands at £61 nationally, in the 50 worst affected areas (42 of which are run by Labour, and where one in three children is in poverty) the loss stands at a massive £160 per head.
This isn't even the end of it. George Osborne's autumn statement revealed that the cuts will now have to continue until 2018, such has been the failure of the chancellor's economic strategy. Not surprisingly, the dawning realisation of what this means for some of the most hard-pressed families in the country has brought howls of outrage. The leaders of Newcastle, Liverpool and Sheffield city councils wrote a stark letter to Pickles warning that the cuts were creating 'dire economic consequences' and could lead to 'the break-up of civil society' with increasing 'tension' and 'social unrest'. A similar view was expressed by Sir Albert Bore, the leader of Britain's single largest authority, Birmingham, who said the cuts would mean 'the end of local government as we know it'.
Contrary to government claims, such reactions can't be put down to Labour exaggerating the problem for political gain. The independent Audit Commission found that 'councils in most deprived areas were worst affected' in the two years of spending cuts witnessed so far. The LGA's Conservative chairman, Sir Merrick Cockell, has described the cuts as 'unsustainable' and accepted that it's 'unrealistic' to pretend they won't hit services, while Kent's Tory leader, Paul Carter, says his county 'can't cope' with further cuts and 'is running on empty'.
Labour's approach
But the situation facing Labour councillors is especially acute, since not only are the funding cuts political, but the burden of current and projected needs in working class communities are enormously greater. People elected Labour councillors not merely to administer plans determined by central government but to represent their interests at the local level. Howls of outrage about the cuts from these councillors are one thing but voters are increasingly beginning to ask what they are planning to do to protect the hard-pressed people they represent. Is there an alternative vision for local government in the areas with high levels of economic deprivation, and if so, what practical steps can the Labour Party take where it is in power locally?
Labour's approach thus far has been to identify central government as responsible for the painful choices facing Labour councils, but to accept that these savage cumulative cuts are effectively a fact of political life, at least this side of a general election. The priority, therefore, has been to protect levels of spending on essential social care, on which the most vulnerable depend, and then identify the 'least worst' options for reducing other costs. This inevitably means a reduced level of 'non-essential' services once all scope for 'efficiency savings' has been exhausted.
The responsibility of power, we are told, means taking 'tough choices' to avoid still worse consequences. However, such an approach – described by Neil Kinnock in 1980s as the 'dented shield' – assumes that, for now at least, Labour councillors have no choice but to become the instruments through which Pickles will deliver cuts to deprived communities. Blairite 'modernisers' such as Lambeth's Steve Reed, who have successfully pushed the 'co-operative council' agenda (see page 13), openly admit that this new policy model recognises the need to 'deliver better with less'. They have used the language of mutualisation to pursue the fragmentation of service provision in order to create the basis for competitive markets with social enterprise and voluntary/third sector involvement in the initial stages.
While the language of empowerment, community and decentralisation has provided an ostensibly attractive agenda – with historic echoes of the genuinely grassroots co-operative tradition – the underlying logic promotes the aim of remodelling local government to allow for a much diminished role in the direct delivery of services. Those expecting a Labour government to restore local government structures and finances to the status quo ante are likely to be disappointed. As with so much else, Labour may oppose the scale and pace of the cuts today, but will not make promises to reverse those cuts the Tories have already implemented or set in train.
Hapless accomplices
Of course, many councillors want to demonstrate that they are more than hapless accomplices of Eric Pickles' cash‑grab from local services. They have been seeking ways of implementing any progressive measures still possible given the 'inevitability' of working within financial parameters determined by Whitehall. So, for example, a dozen or so Labour authorities have committed themselves to becoming living wage employers, by stipulating minimum pay standards in the course of procurement from contractors. Islington has been commended for its creation of a 'Fairness Commission', bringing together academics and social policy experts with councillors in open public deliberation to take evidence on inequality in the borough and make practical recommendations for directing what limited resources are available to tackle the problem. Critics have dismissed such measures as 'window-dressing'.
A number of Labour councils have also been actively exploring co-operative initiatives around renewable energy. In Preston the local authority has suggested that erecting wind turbines on council-owned land would put £1.5 million a year into the council coffers. Worthwhile though it may be, however, the anticipated revenue does not avoid the immediate budget crisis, which has seen the council decide in principle to demolish the city's architecturally significant and well-used bus station because it says it cannot afford to maintain it.
The stock response to the argument that Labour councils could refuse point-blank to deliver the coalition cuts is that any alternative, deficit-based 'needs budget' would lead directly to Eric Pickles assuming direct control over local budgets and implementing cuts with no thought for those most in need. It is true that no course of locally-determined resistance can ultimately succeed without direct confrontation with central government based on a mobilisation of local communities nationwide. But were Labour to spearhead a national campaign of militant resistance involving local communities in determining their collective needs, the secretary of state wouldn't find it easy to suspend the entire apparatus of local democracy. And unlike during the epic rate-setting disputes of the 1980s, individual councillors no longer face personal financial ruin, since – although they can be debarred from office – the power to surcharge expelled councillors no longer exists in law.
Of course, the Labour left is significantly weaker today. Even those advocating a militant 'no cuts' stance recognise that it would require a strategy for building confidence and extending community support. But there can be no excuse for councillors failing to exhaust every option in their power to delay and contest the implementation of cuts – in the first instance by drawing on reserves and making full use of prudential borrowing powers – to buy time in which the forces of resistance in the community can be consolidated. Bold and determined resistance could inspire levels of popular support that could transform calculations of what is politically possible.
The full scale of the cumulative devastation to be wreaked at local level is only now beginning to hit home, despite the fact that, according to figures from the GMB union, there are already 236,900 fewer people employed by councils in England and Wales than in 2010. And the public resistance thus far has not shifted Labour councillors from passing cuts budgets.
Anti-cuts councillors
There have been some limited local exceptions, such as the two Southampton Labour councillors who refused to vote with the ruling Labour group to close a leisure centre they had explicitly promised to save at elections a few months earlier. Following their decision to form a rival group on the council, Labour Councillors Against the Cuts, they have been formally expelled from the party. Councillor Don Thomas, one of the two rebels, told Red Pepper, 'We have had hundreds of well wishers, over 300 emails locally and across Britain, plus loads of telephone messages and many letters of support. Our relationship with the unions is very good and there's now a tense but working relationship with the Labour group. We are going through the budget proposals with the city's chief financial officer with a view to developing alternatives.'
A similar story lies behind the emergence of a small group of anti-cuts councillors in Broxtowe, near Nottingham. Here, this hung council is run by a joint Lab-Lib ruling group. Councillor Greg Marshall explains how, at the 2011 borough elections, he was one of two councillors who successfully sought selection, and was subsequently elected, on a clear anti-cuts basis: 'The first real test was the budget in February 2012. Three councillors opposed the budget, which among other measures increased council house rents by approximately 8.5 per cent.' Since then, 'there has been some support from other Labour councillors who say they have sympathised with the position some of us are taking. This has over time seen a change in positions on issues around council house rents and social care, and hopefully these changes will be reflected as we develop budgets for 2013/14.'
Although such instances of resistance are relatively isolated and fragmented, the Labour Representation Committee is attempting to build a strategic network of anti-cuts Labour councillors.
Grassroots resistance has failed to grab any national headlines thus far. But things may be beginning to change. The decision of Newcastle Labour leader Nick Forbes to announce the total axing of the city's arts and cultural funding, for example, has brought together a coalition of incensed workers, community activists and high-profile arts figures. Birmingham, meanwhile, is facing the complete destruction of its youth services, with more than 1,000 job losses and further areas of council provision threatened with being 'decommissioned' in the future.
The stakes are also about to be raised significantly. Labour councils are going to have to make specific choices as people are thrown into extreme financial hardship due to the latest benefit 'reforms'. The circumstances might be the result of central government policy, but will they employ bailiffs to evict families who have fallen behind on their rents due to the new benefit cap? Will they prosecute people who fall into arrears due to the removal of council tax benefit?
Anti-cuts councillors could be more imaginative about forms of practical resistance. For example, they could consider technical measures beyond options presented by council officers – such as drawing up a charter of immediate defensive measures to which Labour councils could sign up, in dialogue with tenants and residents associations, unions, community activists, charities, faith groups and others with experience of working with real social needs. This might consist of working with the unions to ensure that services are kept in-house, not privatised; protecting council tenants through a moratorium on all evictions; developing long-term debt repayment schemes for council tax bills or social housing rents; implementing licensing standards, including de facto local rent controls on privately-rented accommodation; and so on.
Town Halls under Labour control could be transformed into local centres of community resistance, turning themselves into smaller-scale versions of the type of resistance the Greater London Council presented to Thatcher in the 1980s. Unless Labour can actively demonstrate that it is on the side of working people in actions and not just words, then its councillors will be treated with the same contempt as representatives of the other mainstream parties. And local government might never recover.