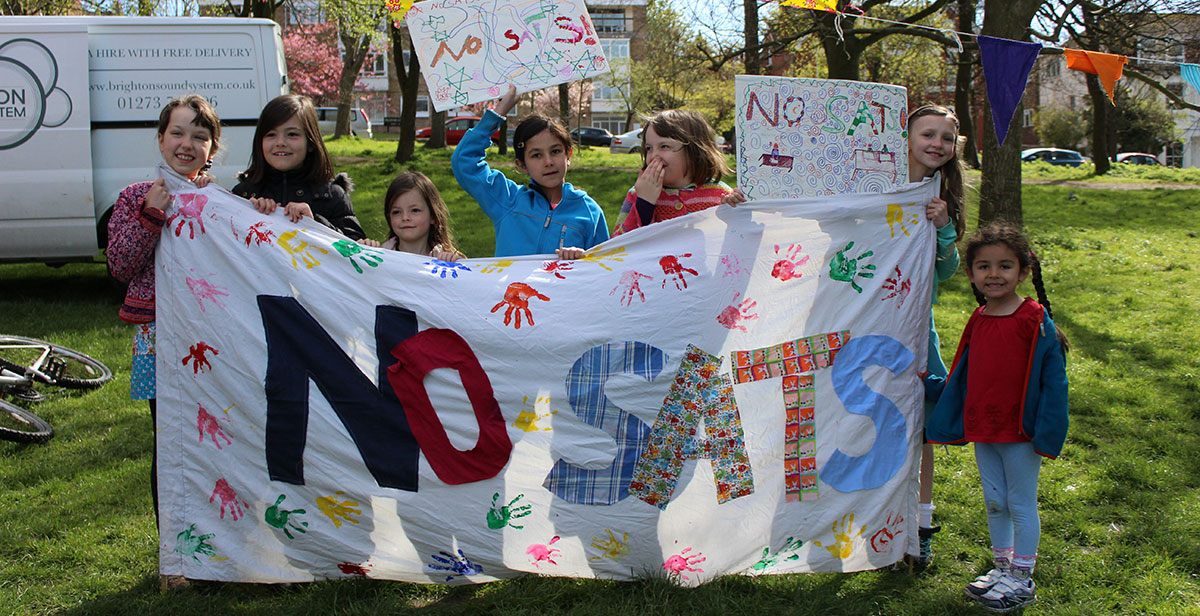 Some of the children 'on strike' today. Photos: Amy Hall
Thousands of primary school children across England got a taste of direct action as parents and carers kept them out of school in protest at Year 2 National Curriculum Tests (SATs).
The Let Our Kids Be Kids campaign is being led by a group of year 2 parents fed up with the testing of their six and seven year olds. The 'kids' strike' aimed to be 'a day of fun learning' in support of a SATs boycott. Campaigners are calling for a return to teacher-led assessments that 'value individuality and creativity'. Year 6 parents, whose children also take national tests, also joined the campaign, along with others worried about the government's plans to make all schools academies.
Academy schools are independent from local authorities, funded directly from central government. They can be part of academy 'chains' and do not have to follow the national curriculum. They can also have sponsors, including faith groups or businesses.
The strike came days after the education secretary, Nicky Morgan, was heckled at the National Association of Head Teachers (NAHT) conference in Birmingham and head teachers threatened to strike over the academy plans.
Teaching unions have also been outspoken in their criticism of SATs. A survey by the National Union of Teachers (NUT) found that 86 per cent of teachers think that this summer's primary tests should be cancelled. The Key Stage 1 spelling, punctuation and grammar test was cancelled after it was leaked online. Teachers argue that this controversy, as well as changes to test content to make it harder, the way they are administered, and the lack of time to implement the new curriculum are just some of the reasons why the government should rethink its assessment of primary aged children.
The NUT has said it is considering a ballot for the boycott of the SATs in summer 2017. Christine Blower, NUT general secretary, criticised an 'exam factory approach', saying: 'Key Stage 1 and 2 SATs are an unreliable method of assessing either a school or a child's performance. They are producing a situation in which our youngest pupils are being subjected to age-inappropriate expectations. This is making children stressed, and switching them off from school – many are telling their parents that they feel as if they are failures.'
Stress and anxiety
Childhood stress and anxiety among children was one of the concerns raised in Brighton as over 500 people gathered for a rally in Preston Park, just north of the city centre. Over 8,000 children aged under 10 years old are thought to suffer from suffer from severe depression.
In Brighton, the morning's activities focused on creativity, including singing and storytelling workshops, games and music. Events began with short speeches from the local organisers, education campaigners as well as illustrator, cartoonist and UK children's laureate Chris Riddell.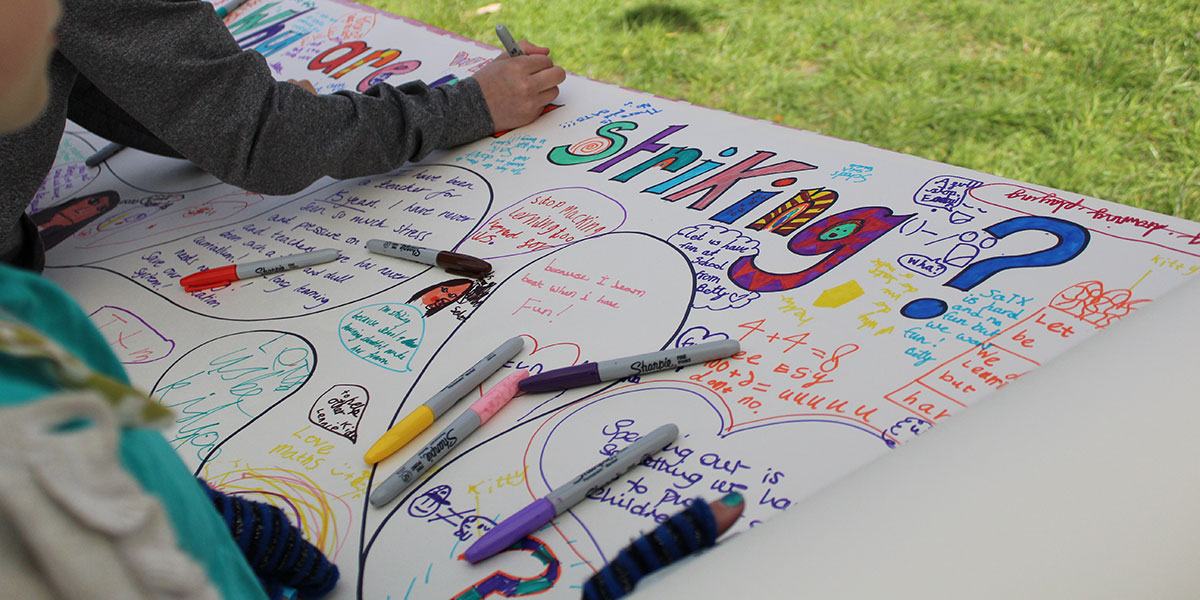 Jane Clout was there with her grandchildren Callum and Billy, who are in years 2 and 3. She said she had already seen the harm caused by SATs testing. 'From having a very positive educational experience, lots of creativity and enjoying school in reception in year 1, year 2 has basically harmed both of their personalities because of the pressures that the SATs test create,' she says. 'I know they say that the children shouldn't know it's happening but of course they do because an awful lot of their education has to be towards passing.
'I know children who have been in tears felling like their failures, children who have nightmares about school and cry on the way,' says Clout. 'The teachers are under pressure, under stress – there's less time for the sort of education children of this age need.'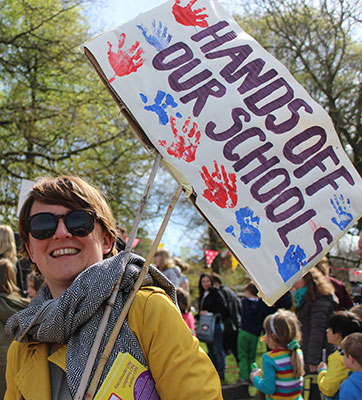 Catherine Fisher (pictured right), of the Hands Off Our Schools Brighton campaign against forced academies, was one of the parents who spoke at the rally. 'When I heard the announcement about the forced academisation I was so furious,' she said. 'When you talk to people about whether they think their school should be run by a private company, nobody wants that.'
'We're getting a good reaction from parents which is demonstrated by the amount of people here in the park who have come out and taken their kids out of school against quite a lot of pressure not to – parents are really standing up and wanting to oppose what's happening.'
Free learning
As well as big events across the country, some parents chose to spend the day learning at home, outdoors or visiting museums. Many parents who could not keep their children off school because of work commitments lent their support to the campaign on social media, along with teachers and headteachers.
In London a petition with over 45,800 signatures supporting a SATs boycott was delivered to the Department of Education. 'I'm a teacher who is fed up [of] training children to pass tests when I signed up to be an educator of children, to take them on a journey of creative learning and discovery,' wrote 'Claire M', who signed on the 38 Degrees website. Another petition, started by year 6 parents and calling for a SATs boycott and teachers' strike has received over 2000 signatures so far.
The 'kids' strike' is a taste of political action for young children who don't often get the chance to speak out, especially on such a national scale. While some criticised parents for 'politicising' children, others felt that the power of collective action was an important lesson to learn.
'I think it's very important to teach children that they're very lucky that they live in a country where you can express their views and feelings and they can hope for systems to be changed if they come together collectively,' said Iona Jane Harris. 'I think it sets a really good example.'
Catherine Fisher said that parents from her son's school debated this issue on Facebook. 'I want to teach my children that if they believe something isn't right then they should stand up against that,' she said.
Find out more about the national campaign against Year 2 SATs at the Let Our Kids Be Kids website and the campaign against academies at the Anti Academies Alliance.