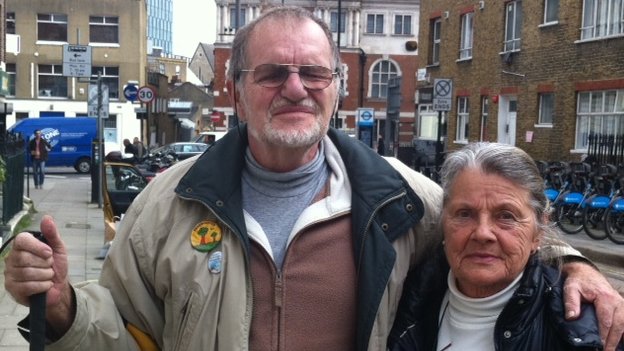 Dietrich Wagner was blinded by a water cannon in Germany four years ago – now Boris Johnson is buying Germany's cannons second-hand
When the Mayor of London, Boris Johnson, announced that he would be ordering three water cannons for the Metropolitan Police it came despite widespread opposition. 20 out of the 25 Greater London Authority (GLA) members have spoken out against the purchase, and the Mayor's own consultation received over 2,600 responses – only 59 of which were in favour of water cannons compared to 2,547 against.
The main reason that so many people are concerned about the introduction of such cannons is simple, it's because they are weapons. The impact that they have on crowds is totally indiscriminate, and they have been known to injure and blind those who are unfortunate enough to find themselves on the receiving end.
This was underlined by an otherwise supportive report from the Association of Chief Police Officers, which noted that 'the full-pressure jet from a water cannon is capable of causing serious injury or even death'. The point is backed up by Joanne McCartney, the chair of the London Assembly's police and crime panel, who has highlighted the damage they can cause and said that there is 'no convincing argument' for their deployment. Moreover, the committee that she chairs has accused the mayor of 'preventing a full and proper national public debate' on the issue.
'The full-pressure jet from a water cannon is capable of causing serious injury or even death'
Unfortunately Boris sees it differently. In the past he has described their deployment as a 'moral issue' and said that politicians should not refuse the police something they needed for their operations. The fact that the police are pushing for them should be neither here nor there. The police are often pushing for additional powers and equipment. Politicians are elected to represent the public and not merely to agree to whatever the police ask for.
There are already far too many examples of police officers abusing their power and using unnecessary force to break up protests. One high profile example was student Alfie Meadows, who suffered life-threatening injuries during a student protest. There is also no reason to believe that giving the same officers access to water cannons will make these abuses any less common.
In 2010 even Boris was opposed to the introduction of the cannons, saying that he did not think it was right to get into an 'arms race' with protesters. Similarly, in 2011 Theresa May said, 'The way we police in Britain is not through use of water cannons. The way we police in Britain is through consent of communities.'
Of course, the big event which has happened since then is the London riots of 2011. The disruption may have stopped but the tensions that caused it are still prevalent. There is absolutely no reason whatsoever to think that water cannons could have stopped the riots, or can deter future unrest, a point already conceded by Johnson. What is needed to avoid a repeat of the riots is not a more militarised police force, but a far-reaching cultural and political change and a focus on the real issues that fuel these divisions, like economic inequality, austerity and cuts to public services.
As part of the consultation, West Mercia chief constable David Shaw said, 'There is no intelligence to suggest that there is an increased likelihood of serious disorder within England and Wales. However, it would be fair to assume that the ongoing and potential future austerity measures are likely to lead to continued protest.' This is an important point; not only are water cannons dangerous to the public, but they reinforce the notion that it is legitimate for the police to use excessive force to suppress peaceful and democratic dissent. Protest and free speech are the backbone of any democratic society and those rights need to be protected from the threat of increasingly oppressive policing.
Over the last few years the Metropolitan Police has been hit by scandal after scandal, and there is already widespread distrust of them as an organisation. That will only increase with the introduction of water cannons. Their introduction should not be viewed as an isolated event – we have already seen a significant increase in police powers and a move towards greater surveillance. The introduction of water cannons will set yet another negative precedent and be yet another move towards oppressive policing and the criminalisation of protest.
Andrew Smith is a spokesperson for Campaign Against Arms Trade. You can follow him on Twitter at @wwwcaatorguk.