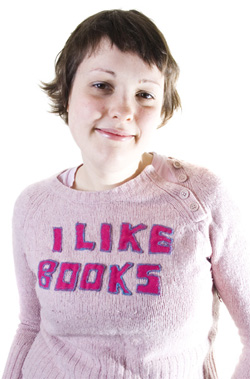 So You Think You Know About Britain?
Danny Dorling
Kind, reasonable, sane and very much evidence-based, this book is a valuable reminder that the view of the country given out by tabloid newspapers and irresponsible government speeches is false and unhelpful. Danny Dorling's work has changed my life because he is able to argue reasonably (and more coherently than I ever could) for a kind of society that would be fairer, more functional and more socially responsible. The last chapter 'The future is another place' inspired my last stand up show. Plus it's got loads of funny footnotes, too.
Impro
Keith Johnstone
This book was given to me as a Valentine's gift by my childhood sweetheart. It's largely about how to improvise onstage but it's almost a manual for creative thought and behaviour. It taught me all about spontaneity and confidence as well as storytelling. The book's driving message is about finding and then trusting and keeping your own sense of authenticity in your creative work.
Fahrenheit 451
Ray Bradbury
I first read this aged 13 and I found it thrilling and empowering right from the Juan Ramón Jiménez quote at the start: 'If they give you ruled paper, write the other way.' That sense of creative defiance set something off in me. Clarisse and her family, who are seen as suspicious and radical because they talk to one another and go on walks together, were my favourite characters. I love how it feels dystopian and realistic all at once, and I think it's a very poetic book in style but also full of action like a bloody good film.
Slapstick or Lonesome No More
Kurt Vonnegut
Finding the books of Kurt Vonnegut was like finding a much-needed friend. The tone of his writing connected with me and I think it has inspired me more than anyone else's. All of his books, even ones that seem deeply sad or dour, are underpinned by a kindness and deep love of other human beings. He taught me about socialism and humanism in a sincere and meaningful way, while staying silly and also keeping his chapters short, which is a big plus point in my opinion. This is my favourite of his.
V for Vendetta
Alan Moore
Alan Moore is another very inspiring human being. His integrity and intellect are poured into everything he writes and it's very helpful to have them around. I love this graphic novel, and my favourite part is this: 'Everything is connected. You must understand that knowledge is not all your heritage. It includes also courage and belief . . . and romance. Always, always romance.' It gives me courage and helps me feel more audacious about trying to make the world closer to how I'd like it.
The Easter Parade
Richard Yates
A lot of the fiction I love is terse, American and sad, and written around the middle of the 20th century. Richard Yates is the most wonderful example. Everything he has written is good, but there's something most devastating about The Easter Parade. It's about two sisters who want to be happy and are not. I really love the way that Yates can pace a novel over a character's entire life, showing them to have little control over their flaws and their circumstances. 
Collected Stories
Raymond Carver
For similar reasons to choosing Richard Yates, I love the work of Raymond Carver. I know it's a bit of a cheat to choose his collected stories but I don't know how I'd choose one volume of his over another. I love how sparsely written but affecting his work is, and I'm a sucker for someone writing within a quite tragic universe. I think it's masterful and unparalleled what he manages to do with short stories. 
The Whitsun Weddings
Philip Larkin
I think this is the most lyrical of Larkin's volumes of poetry, and it was the first I bought (with a book token I won as a nerdy teen in a creative writing competition). I just think it's fantastic, and I can read it again and again. It's very sad, and full of sympathy and not cynicism, which I think he gets wrongly accused of. It's not in this volume but I've been thinking a lot recently of a quote from one of his uncollected poems 'The Mower': 'We should be careful/Of each other, we should be kind/While there is still time.'