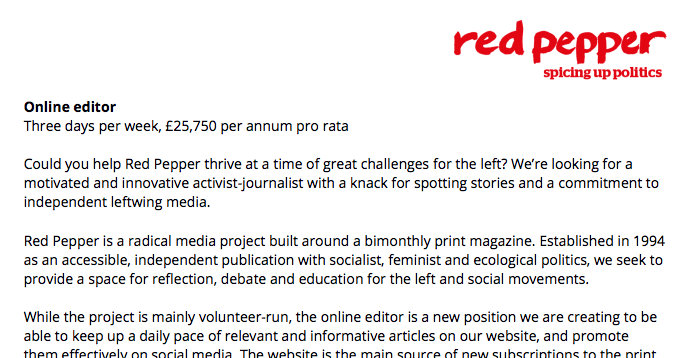 Online editor
Three days per week, £25,750 per annum pro rata
Could you help Red Pepper thrive at a time of great challenges for the left? We're looking for a motivated and innovative activist-journalist with a knack for spotting stories and a commitment to independent leftwing media.
Red Pepper is a radical media project built around a bimonthly print magazine. Established in 1994 as an accessible, independent publication with socialist, feminist and ecological politics, we seek to provide a space for reflection, debate and education for the left and social movements.
While the project is mainly volunteer-run, the online editor is a new position we are creating to be able to keep up a daily pace of relevant and informative articles on our website, and promote them effectively on social media. The website is the main source of new subscriptions to the print magazine, so your work would play a vital role alongside the subscriptions coordinator in keeping Red Pepper viable.
It is also a chance to make a journalistic impact out of proportion to the magazine's small size, as 'hit' articles on the website have drawn in very large numbers of readers in the past. To be clear, we don't want to produce clickbait, instead aiming to employ someone with a keen eye for what a must-read article would look like on a given day.
For the full job description and details on how to apply, click here.
The closing date for applications is 23.59 on 1 September.
Note on remote working: This job is based in our London office. Requests for some remote working will be considered but the postholder will need to spend some time in the office every week.