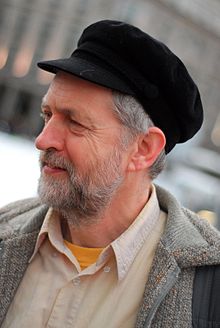 Prior to Jeremy Corbyn's bid to stand in the Labour leadership contest, the debate over strategy in Labour was utterly sterile – full of media cliches about the 'aspirational middle classes', welfare 'scroungers' and the need for stricter immigration controls. For millions of people across the country – inside and outside the Labour party – the hunger for an anti-austerity alternative has been palpable.
That is why Jeremy's candidature has been widely welcomed. He has widespread respect across the left for his principled and consistent defence of socialist ideas, his internationalist commitment to global justice, and his rejection of imperialist war and nuclear weapons.
It's not only Labour party members that want to see Jeremy allowed to stand in the leadership contest. The debates that will be conducted in the full glare of the media would hugely benefit from a credible advocate of a break from the neoliberal consensus that dominates politics in Westminster.
But Jeremy needs the nominations of 35 MPs before he is able to take part as a candidate in the election. Whichever candidate Labour MPs intend to support once the contests begin, they have a duty to allow the fullest possible discussion on building the alternative to Tory austerity and attacks on trade unions, the welfare state and public services.
Below is a model letter you can adapt and send to Labour MPs encouraging them to nominate Jeremy:
Dear ___________
I am writing to you regarding Jeremy Corbyn's decision to seek nomination for the Labour Party leadership. Jeremy's announcement has undoubtedly electrified the leadership race. In the first 24 hours of his campaign, he managed to secure the nominations of ten MPs, 2,800 people signed an online petition asking Labour MPs to nominate him and an incredible 10,000 people 'liked' the Facebook group 'Jeremy Corbyn for Labour Leader', more than all the other candidates put together. This is a clear indication that there is a thirst for a real debate amongst grassroots Labour Party members. It is now in Labour MPs' hands whether that debate takes place, or whether we have a leadership election where large swathes of our membership feels unrepresented and ignored.
As has been witnessed already, an election where the candidates broadly agree on the main issues only increases the public's cynicism for the political process. It casts the Labour Party in a bad light after the shock of the general election not to be seriously discussing the issues raised by that defeat. For that honest, serious debate to happen, it is vital that Labour Party members, supporters and affiliates are able to pick from a broad range of candidates representing the full range of opinion within our party. Jeremy will stand on a platform against austerity and in favour of a democratic economy which provides housing and services for all, while arguing for a fair immigration system and in favour of nuclear disarmament and humanitarian foreign policy. On those issues, Jeremy speaks for a substantial section of the grassroots of the party. If Jeremy is unable to overcome the substantial barrier to entry and make it on to the ballot, then we will not get that choice and the quality of the debate will suffer as a result.
It is in all of our interests to have an open and extensive leadership debate, one which is about the future of our party and how we move forward, stronger together towards the next general election in 2020. Whether Jeremy is your preferred candidate or not, there is an overwhelming case for including a voice like his in this leadership contest. At this stage, it is not necessarily about who you are voting for – and we saw in the 2010 race how many MPs 'lent' their nominations to candidates in order to ensure a proper debate. That can be explained to both the candidate you intended to nominate and the wider electorate. In doing so, you will be putting the future of the party at the top of your list of priorities.
If you agree with me that a serious debate is needed and are able to offer your support to Jeremy's campaign, I would very much appreciate it if you could let me know and cc in info@jeremyforlabour.com
Yours sincerely,
____________
You can use writetothem.com to write to your MP for free.
For more on the campaign see www.jeremyforlabour.com. There is also an e-petition here.