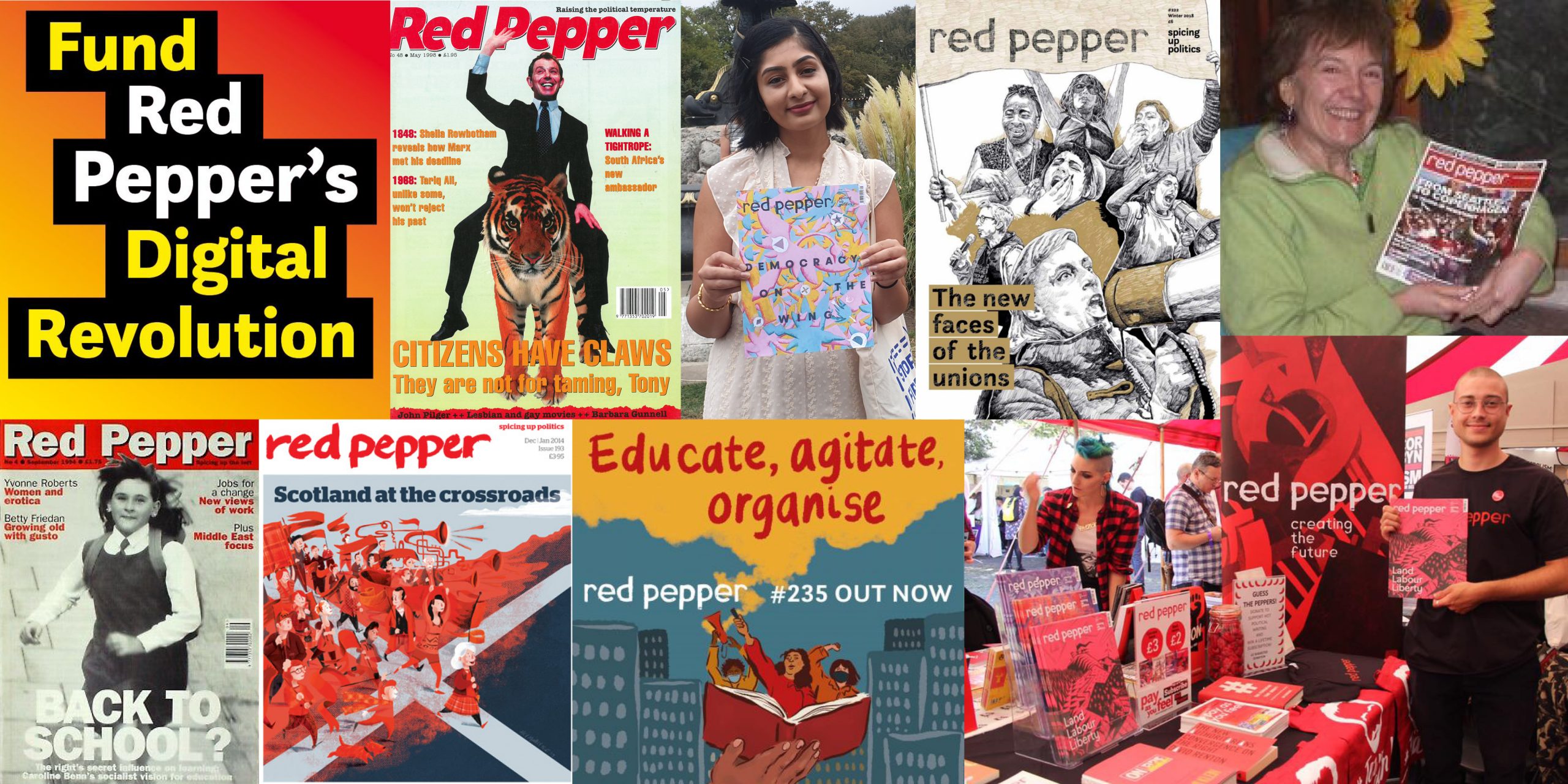 Dear Subscribers,
This month's exclusive subscribers' content is a little different from usual. We're writing directly to you, the cornerstone of the Red Pepper community, to explain frankly where we are as an organisation and exactly what we have planned for the future.
It is an absolutely crucial time for independent, socialist media. With Labour being led from the right, authoritarianism and censorship on the rise worldwide, the need for radical socialist change – and diverse voices to express that need – is greater than ever.
Last week, we sent you one of the most important emails we've ever written, launching a new Crowdfunding appeal to raise at least £20,000. This significant sum is needed to completely overhaul and update our digital systems: build a new website with a subscribers' portal; digitise, archive and preserve our entire back catalogue; expand our ability to host video, podcast and photo-led content; create new political education resources; and drastically improve our ability to expand to new audiences, strengthening our movement.
If you are already ready to donate, please visit the Crowdfunding page now. Read on to learn about the history we're fighting to secure, and the ambitious road ahead.
Securing our radical history
Red Pepper has been campaigning for radical socialist politics since 1994, and always with very little money. We have prioritised a low-cost subscription model, ethical advertising policy, independent editorial line, and open-access website. Budgets have been stretched, pounds found down the backs of sofas, favours and volunteer time offered by generous friends.
We always have been, and always will be, supported and funded from the grassroots. While other socialist publications folded, and the wider media landscape became increasingly monopolised, the sheer grit and determination of our editors, subscribers and community has kept us going. We share a beautiful belief in the power of an independent, accurate, internationalist and radical media to challenge established power, and to support struggles everywhere for an egalitarian, democratic and sustainable society.
Today, left-wing media and movements are increasingly publishing, educating and organising online. Our website, launched on May Day 1996, was once at the cutting edge of this move. Harold Pinter authored our first ever post, analysing how the US 'runs roughshod over international law' in Cuba. While we remain steadfastly committed to printing our flagship magazine, we must make better use of available digital resources – and protect our incredibly valuable online archive.
That website is now on its last legs. Our wider digital systems need a complete overhaul. We are trapped in a vicious cycle: a clunky site that's difficult to navigate; even harder to edit and manage and simply not designed to draw in new subscribers. Existing ones, like you, cannot easily update details, adjust payments, or get in touch with our team. While our friends and allies at other progressive publications have seen a surge in subscriptions over the last few years, our moribund tech is holding us back.
Building on strong foundations
A team of new editors and board members, working with longstanding colleagues, have done an incredible job of growing Red Pepper over recent years, including through extremely testing lockdowns – which damaged sales and prevented in-person events – and now as production and distribution costs dramatically rise.
Nonetheless, we have managed to increase writers' fees and pay editors a small stipend for their tireless work, ensuring an increasingly diverse range of perspectives, particularly from working-class writers. That we are a print publication not beholden to debt is a fantastic achievement in the current climate – testament to your unwavering, quarter century of support, and our improved management systems.
We continue to recruit new contributors, and to increase our reach, expertise, and energy for stimulating rich debate on today's pressing political concerns: war, militarism, and growing far-right authoritarianism; rising inequality, nationally and globally; the destruction of the NHS and systems of preventative public health; the overriding global threat of climate change. We work for you, our essential supporters, for our international online readers, and to fortify our movement.
We have listened to your survey responses, read your letters, and responded to your advice and requests. We've switched to compostable magazine packaging and increased our educational emphasis with new regulars like the jargon-busting Key Words, inspired by Raymond Williams. Regional hubs are in the works. We aspire to follow through on more of your ideas, and to build an even stronger platform for a brighter future: for a citizen- and worker-led transition to a green economy; for a publicly-owned economy based on participatory democracy; for real national, regional and local democracy beyond the British state; for feminist and queer liberation, and for so much more.
For all of this, we need you. You have sustained the Red Pepper community over the past 28 years. Now, we are asking once again for your help in securing our history and radically expanding our impact for the next quarter century, through our Crowdfunding campaign.
If we don't hit our £20,000 target by 3 May, we won't receive a single penny. We have drawn up a precise budget, and know the exact amount we need. It is not a small sum, but we know our community can propel us to it. If everyone who subscribes to Red Pepper donated £10 today, we would immediately surpass our target – and could immediately get to work.
Please, donate to our Crowdfunder today and help us reach our target of £20,000.
We know times are tough, but we're faced with no alternative. We truly are so grateful for your support. Whatever you can afford to give will help us. Simply sharing our campaign with friends, family and comrades, which costs only a few moments of your time, will also be hugely effective in propelling us towards our goal.
With a well-resourced, independent media, everyone wins. We thank you, deeply, for your ongoing support, and hope that you continue to put your faith into our community, our movement, and our work.
In solidarity,
Hilary, Siobhán, Jake, and the entire Red Pepper team