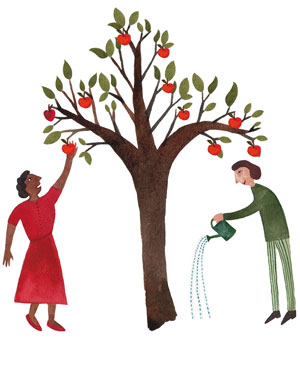 We've heard a lot lately from leading politicians about the need to promote a humane version of capitalism, one in which the mechanisms of the market are governed more by morality than greed. For parties of all colours, co-operatives are increasingly being espoused as potential agents of this transition, their expansion seen as a perfect way to moderate the excesses of the current system.
Their elevation within the political debate coincides neatly with the UN's decision to make 2012 the International Year of the Co-operative, a move that seeks to raise public awareness of the contribution that these enterprises make to both society and the economy.
Among the UK political parties, it's the Conservatives who have seemingly travelled the greatest distance. Under Cameron the Tories have publicly sought to overcome the image of their long-held suspicion towards this system of organisation. The promised co-operatives bill seeks to consolidate existing co‑operative legislation, and the coalition government aspires to having a million public sector workers owning their own co‑operative firms by 2015.
However, the government has taken several steps recently that suggest that its commitment towards co-operatives might not be as strong as it likes to claim. These include the decision to reject the remutualisation of Northern Rock in favour of its sale to Virgin Money, the awarding of a £90 million NHS contract to a private firm rather than the social enterprise Central Surrey Health, the cutting of funding to renewable energy co-operatives across the country and the shelving of plans to create more co‑operative Sure Start centres and housing trusts.
'The whole thing is just another attempt by the Tories to make them seem more reasonable and hide what they are really doing. It's window dressing,' argues Martin Tiedemann, campaigns officer for the Co-operative Party (COP), which has had a formal tie to the Labour Party since the 1920s.
'This is best revealed by their approach to the public sector,' he says. 'Rather then making bold use of the values, accountability structures and ownership models of the co-operative movement, they seem to be simply using the label "mutual" whenever they want to mask their wider programme of privatisation.'
Tiedemann maintains that the Labour Party is better positioned to champion the co-operative ideal. 'The last Labour manifesto contained 24 policy commitments that had been put forward by the COP. And we feel that this commitment will continue under Ed Milliband. He's a COP member [and has] given his public backing to the efforts by Labour councils in places such as Oldham, Rochdale and Lambeth to enable co-operatives to have a greater role in the provision of local services.'
As the political parties fight over who best embraces the co‑operative ideal, employees and consumers across the country are increasingly making up their own minds on the attractiveness of co-operatives. Whether measured by number, membership or contribution to the economy, co-ops have expanded in size and importance over the past three years.
'While the rest of the economy has stagnated, co-ops have grown by 21 per cent,' says Ed Mayo, secretary-general of Co-operatives UK. According to his organisation, there are now 5,450 co-op businesses in the UK with a total of 12.8‑million members, 236,000 employees and a combined £33.2 billion turnover.
Mayo says this increase is attributable to two main factors. 'First, there is growing demand among consumers for fair businesses they can trust. And second, because co-operatives are answerable to their members rather than the demands of outside shareholders or the whims of the stock market, they appear to be more resilient in a crisis and can operate for the long term.'
There are many ways to organise a co‑operative. But what each has in common is the belief that members should have a say in how the business is run and the right to share in its profits. As the Calverts co-operative (see below) illustrates, co-ops are still able to create greater egalitarianism in the workplace while competing successfully against traditionally organised businesses.
---
A better business
Based in the heart of east London, Calverts, a print and design business, has been operating as a co-operative since its inception in 1977
'Calverts arose out of an industrial dispute with IRAT services, the design and publishing wing of the Arts Lab,' says co-op member Siôn Whellens. 'A number of employees suddenly found themselves being made redundant. Believing that there was a market for their work, wanting to preserve jobs and desiring to work in a radically egalitarian way, seven of them decided to set up a common ownership, collective type of worker co-operative.'
The early success of the co-operative in creating decent jobs for the seven founders convinced them that the business model was sustainable and Calverts currently has 14 members. No equity investment has ever been sought. The business has preferred to reinvest surpluses and use asset finance and loans to purchase machinery, reasoning that this relatively expensive capital is a price worth paying for autonomy and equality. In keeping with its egalitarian origins, Calverts still has a flat management and pay structure. So everyone from the cleaner to the finance director earns the same hourly wage and each member has an equal voice in the way the business is run.
'This makes it a really good place to work,' argues Siôn. 'We have better terms and conditions than most people in our industry. We also operate with a culture of openness, respect and equality, invest in member education and skills development, and enable members to take a high degree of personal responsibility within a context of collective self-management. Because of this, our staff retention is more than twice the industry average, which means that as a business we've acquired and held onto a great amount of creative and technical expertise.'
Conventional business wisdom would assert that both the model and the ethos that underpin Calverts – a common asset base, worker ownership and control – are doomed to failure. But although the business has faced challenging times, it has not just survived but prospered in a tough and rapidly changing industry that has seen many conventionally organised businesses go under. The co-op has managed to ride three recessions without a single employee losing their job through compulsory redundancy (although in the early 1990s there was a temporary increase in hours from 35 to 37.5 – the extra 2.5 hours being unpaid).
Calverts also achieved its success while trading ethically. The co-op has been involved with green innovation in design and print since its earliest days when it worked with the Paperback Co-op on the first recycled papers in the UK market. It has applied an ethical dimension to its supply chains too, looking to buy everything from a co-operative or fair trade source.
According to Siôn, the success of the business over the past three decades has been achieved without much help from government. 'Co-ops haven't been treated with informed and consistent seriousness by either Conservative or Labour administrations. For example, the state‑funded Business Link service was notoriously "co-op blind". Also, co-operation is not much taught in business schools, even though half the world's population depends on co-ops for their livelihood. Co-operative development expertise and education continue to be funded from the movement's own resources, such as the Co‑operative Enterprise Hub.'
This is not something that Siôn believes will change much in the future. 'Historically, there's been little liking for worker ownership on the British left and trade union movement, which I can't see changing. On the right, the Conservatives' recent conversion is, as yet, shallow – there's not much evidence they really "get" co-ops, preferring to see them as a variant of charities, when in fact they're the opposite. So I think the success of the movement will continue to depend on the solidarity, vision and hard work of its individual members and businesses.'
Illustration by Cressida Knapp.