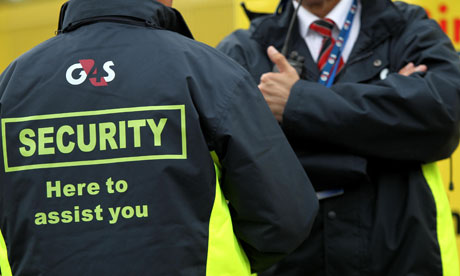 G4S, the giant private security contractor, is perhaps best known for making a total hash of the London 2012 Olympics, when its staff simply failed to turn up. It is also currently being investigated by the Serious Fraud Office for overcharging after claiming it had electronically tagged people who turned out to be dead. In 2010, Jimmy Mubenga died after being restrained by G4S guards during a deportation. G4S-run private prisons, meanwhile, were reported this week to be in chaos.
This is just a brief glimpse of the firm's long record of making megaprofits for grim failure across the world. And yet, and yet. G4S has just won a collection of contracts to deliver the £300 million 'Help to Work' scheme, the Tories' latest punitive programme for unemployed people. The security firm will be in charge of enforcing 'community work placements' – in other words, unpaid workfare.
Under the headline 'G4S back in favour at Whitehall', the Financial Times reports that the government has lifted a ban on the firm bidding for public sector work, essentially allowing G4S back into the fold. The reasoning given is that there just aren't enough other bidders to give the contracts to – and the other big players, Serco, Atos and Capita, all have awful track records too.
This is the end result of privatisation: a multi-billion pound oligopoly of incompetence. And all the main political parties are equally dependent on the privateers – who can forget that, just months after the Olympics, the Labour Party employed G4S to do the security at its own party conference?
Of course, G4S is far from the only problem with 'Help to Work'. Aimed at the 200,000 people who have been on the Tories' failed Work Programme for two years, the scheme forces them to either work for free or sign on at the jobcentre every day. Missing a day will get them sanctioned and their benefits suspended or stopped altogether. This is a scheme clearly designed not to 'help people into work', but to push them off the unemployment benefits they are entitled to.
Awarding the contract to G4S reinforces the impression that this new scheme will be even worse than workfare as we know it, more resembling the court-ordered punishment version of 'community service'. As with Atos, however, the involvement of G4S offers a weak point when we are taking aim at the whole apparatus of stigmatisation that is replacing the social safety net.