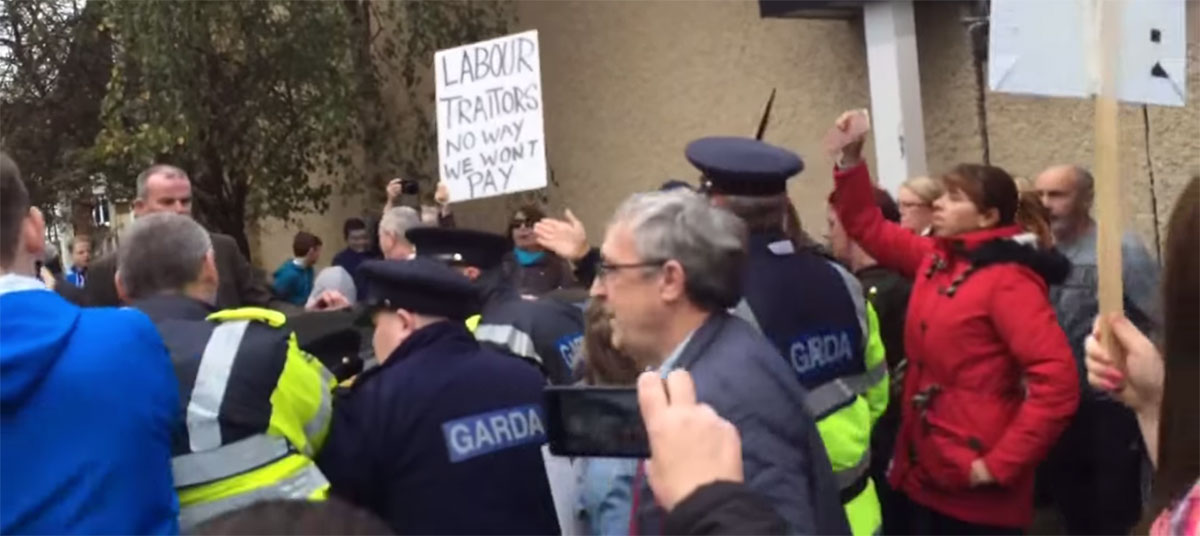 A still from a Youtube video of the Jobstown protest
Anti-austerity protesters in Ireland are facing possible life imprisonment as the state cracks down on the huge non-payment movement against water charges.
The 'Jobstown 23' were charged over their involvement in a sit-down protest that saw Joan Burton – leader of the Labour Party – delayed in her car in the West Dublin suburb of Jobstown in November last year. The angry protesters in the historically pro-Labour area called her a 'traitor' over Labour's support for austerity and the water charges as part of the current coalition government.
Back in February, those involved in the Jobstown protest were arrested in a series of dawn raids, with protesters including the Anti-Austerity Alliance TD (MP) Paul Murphy apprehended by up to 10 police officers. They now face trial for 'false imprisonment' – an offense which carries a maximum sentence of life.
Despite Labour collapsing in the polls and provoking past supporters into acts of civil disobedience, it has not relented on its stance. Instead the attitude to the Jobstown protesters is just one of the government's attempts at overt suppression of the movement. One politician from centre-right party Fine Gael, the other part of the government coalition, has even stated that Ireland is 'facing an ISIS situation' from the protesters.
There is now, for example, a court injunction banning protesting within 20 metres of a water meter installation. Five demonstrators found to have violated this ruling have been given jail sentences ranging from 28 to 56 days. The United Left's Joan Collins has been charged with contravention of the Public Order Act for her participation in an anti-austerity protest, where it is alleged she caused 'apprehension for the safety of persons and property' by 'loitering in a public place'. In Collins' own words, 'I was simply standing on a public footpath.'
A Dublin-based Garda (police) team named Operation Mizen has, according to the Irish Daily Mail, 'spent six months monitoring protesters, compiling profiles and gathering intelligence on their whereabouts', as well as 'closely monitor[ing] social media and track[ing]…the leaders' of the anti-austerity movement. The unit is set to be expanded nationwide.
The government has tried to brush aside accusations that this adds up to 'political policing'. Yet it has emerged that Garda commissioner Nóirín O'Sullivan questioned candidates for the position of deputy commissioner about their views on 'left-wing extremism', 'left-wing politicians', and the Jobstown protest. One interviewee, assistant commissioner John Finton Fanning, said he was 'uncomfortable' at this infringement on his legal obligation to remain politically unaffiliated. He was later told he did not have 'the breadth of strategic thinking' necessary for the job.
Police have even denied the Anti-Austerity Alliance a permit to collect donations door-to-door in Dublin, on the grounds that the funds 'would be used in such a manner as to encourage…the commission of an unlawful act'. Paul Murphy told The Irish Times, 'the Gardaí are acting in an overtly political manner to decide what the Anti-Austerity Alliance can and cannot campaign for'.
With 57 per cent of households yet to pay their water charges, it is clear why the coalition government has launched this campaign of intimidation, spying and criminalisation of protest. But with a turnout of 100,000 at Dublin's last anti-austerity march, it is equally clear that these tactics are counterproductive. Our task is to make their failure manifest at the 2016 election, and exonerate the victims of politically-motivated policing.