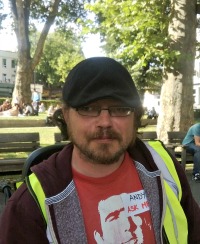 Who are DPAC?
We're a campaign of disabled people not for disabled people. We came to life outside the 2010 Tory party conference, and since then we've been the primary group gathering snapshots of what disabled people are facing and getting together those ready to resist and take direct action.
On a daily basis hundreds of people contact us about getting involved or to tell us what they're going through. Usually people associate disability with welfare but actually we're talking to people about social care, transport, healthcare and more. The broad scope of the cuts means that people are really at a loss of what to do.
What do you mean by 'disabled'?
The government says you're disabled if you have a physical, sensory or mental impairment that affects your ability to do certain things. We say that if you self-recognise as a disabled person, or as a person with an impairment, then actually it's society's barriers that disable you. The more support systems that you have in place then the less disabling society becomes. Support services remove barriers and allow us to contribute and exist on the same level as everybody else.
As these services are whittled the barriers become evident and have a central place in people's lives. It's not enough to say that people should try harder to be 'less disabled', we need to change people's mindsets on that. The government's focus is completely wrong at the moment, it's focussing on people instead of the barriers. We still can't find our place and we're being moved further and further to the margins.
Why direct action?
We moved into taking direct action, mostly because we believe the traditional forms of resistance such as lobbying, petitioning and research are more common, but there had been no direct action for a long time until we came along. Traditionally disabled people have been at the centre of direct action movements, as far back as the late 19th century.
We want to continue that tradition, so we've occupied government buildings, shut down city centres, and we went to the deputy prime minister's home to hold a street party with UK Uncut. So we're very much about taking the argument into the places and spaces where the government are. We need to join up across our networks to say 'we resist and the line in the sand is here'.
DPAC recently supported the anti-fracking campaign in Balcombe (pictured above) and you often work with UK Uncut, for instance on the campaign to save legal aid, is that part of a deliberate tactic to cover different issues?
Absolutely. Last year we received a lot of support from UK Uncut and this year we've branched out to work with the big disabled activist networks, such as the War On Welfare petition; the Mental Health Resistance Network, who recently won a court case against the workplace capability assessments that were discriminating against people with mental health conditions; and Black Triangle in Scotland. For our week of action this week we've reached out to these groups to make sure it's not just about DPAC but about all disabled people.
One of the biggest philosophies for the disabled movement this time around has been the willingness of environmentalists and anti-cuts activists to embrace the idea that if they do recognise the barriers and try to address them, then actually disabled people can make a powerful contribution to campaigns. It's not just a nod to accessibility or a nod to inclusion, it's about taking real steps to make sure that all those barriers are removed so disabled people can contribute on the same level as everyone else.
It feels really different, because the last time the disabled movement reared its head in the 80s and early 90s it was very isolationist. Despite being politically active at the time against Thatcher and capitalism, disabled people were not really connecting with the broader movement. This time around the grass roots activist movements on the streets are so willing to embrace and support our actions that it's made a huge difference in terms of what we can achieve together.
Do you have any hope for the next election?
This week we're launching a manifesto which is directed at the Labour Party's election campaign because we want them to repeal some decisions that have already been made. However, if we believe that reformist parliamentary opposition is the 'be all and end all' then we're in for a very quick and hard landing. We need to create alternative spaces that are confrontational and about asserting our power.
Direct action is not about being hidden away, believing that other people can speak on our behalf, or that it's their role to change things. It's our role to come out and be seen and heard and to say to everyone that, despite what you've been told, this is the reality on the ground for disabled people. We don't get enough space in the media for that counter narrative.
We don't invite talking heads to our events, we turn the mic to people who show up and invite them to speak about their experience and what they want to happen. There are loads of places people can go to sign petitions etc. There are very few places disabled people can go to say 'I challenge the government and I take this space', then suddenly there's no denying you and you have to be heard.
Find out more about the national protest.
On Twitter: #reclaimingourfutures