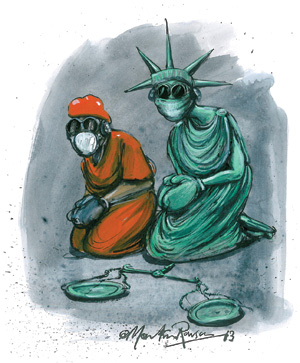 At the end of last month, Amnesty International warned of 'a terrible day for British justice' after the justice and security bill, which extends so-called 'secret court' powers into the main civil courts in England and Wales, passed through the House of Lords.
The bill has nothing to do with 'justice' or bolstering our nation's 'security'. It's about providing cover for government mistakes.
'It is wrong in principle, and will not deliver justice,' wrote the international lawyer Professor Philippe Sands QC recently. 'It will be used to shield governmental wrongdoing from public and judicial scrutiny under conditions that are fair and just. The bill threatens greater corrosion of the rights of the individual in the UK, in the name of "national security".' Sands resigned from the Liberal Democrats in protest at their support for the 'secret court' proposals along with Dinah Rose QC and Jo Shaw, a former parliamentary candidate who led the campaign against the bill within the party.
The bill's provisions allow for so-called 'closed material procedures' and the use of special advocates, currently deployed by specialist immigration and intelligence tribunals, to be extended to the mainstream civil courts. Secret evidence (not made available to the claimant, let alone the public) would be relied upon to defend serious allegations in cases involving national security issues. The only people allowed to be present would be the judge, the government and a government-appointed special advocate. Claimants might never know the full allegations against them.
Critics fear that the provisions could mean that a claim for habeas corpus, an ancient common law right for a prisoner's release from unlawful detention, could fail without the detained person knowing why, because evidence used against them is deemed so sensitive it must be kept secret.
While the architect of the proposals, Ken Clarke, originally insisted that this wouldn't happen, the Cabinet Office last month confirmed that secret court proposals could be invoked in habeas corpus claims where a 'judge has found that their use would be in the interests of the fair and effective administration of justice'.
The prospect of secret courts needs to be understood as part of a relentless onslaught on our legal rights. Within days of the bill passing through the Lords, devastating cuts to the civil legal aid scheme were brought into effect, slashing £350 million from the £2.2 billion scheme and removing entire areas of law from the scope of publicly-funded law (employment, housing, immigration, welfare benefits and so on). A few days after that, justice secretary Chris Grayling was at it again, unveiling another round of cuts worth £220 million.
He is proposing that people with a disposable income of £37,500 or more will not be entitled to state-funded legal advice if they are arrested and charged. Plus, if you are eligible for legal aid you will not be able to choose your lawyer as you can now (you will have the duty solicitor instead). Grayling is also floating the possibility of a 'residency test', so that migrants to the UK do not get 'automatic access' to civil legal aid.
The government's 'Transforming Legal Aid' consultation contemplates a regime of competitive tendering for defence lawyers, with tenders subject to a price cap of 17.5 per cent below the existing rates. The idea is to reduce the number of contracted legal defence firms from 1,600 to around 400 providers. That's 'transforming' as in demolishing.
Finally, this latest consultation envisages scrapping legal aid for prisoners challenging decisions relating to their treatment or the conditions of their confinement (saving the taxpayer £4 million). Phillippa Kaufmann QC and Edward Fitzgerald QC argued recently that the legal status of prisoners is 'a mark of [a country's] civilisation and humanity'. The pair state that Grayling's cuts are 'yet a further demonstration that he and his government have no respect for the rule of law, that they are happy to trade such a fundamental democratic principle for what is nothing more than a small amount of political capital'.
Illustration: Martin Rowson