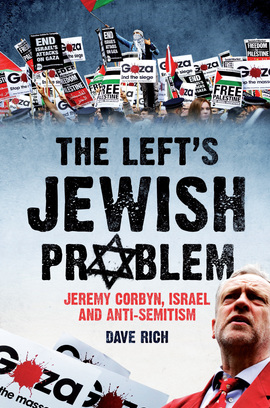 Dan Rich's book is timed to add weight to the charge that antisemitism is endemic on the British left. This accusation has been mooted periodically in the past, but with Jeremy Corbyn becoming the Labour Party leader it has assumed unprecedented prominence in the ideological battleground. For pro-Israel advocates and Labour's right, the prospect of a break with the party's traditional support for Israel is yet another reason to depose him. Corbyn's pro-Palestinian sympathy, argues Rich, reflects an ideological trend that began in the late 1960s and has mutated into the driving force of the current leftwing opposition to Israel. His interpretation is welcomed by Nick Cohen in the Observer (11th Sept.) as an 'authoritative history of left antisemitism, which is all the more powerful for its moral and intellectual scrupulousness.'
It is the book's conceit that it is a history of the British left's ideas on Palestine/Israel that lends it some interest. For despite adopting the familiar Zionist strictures on the left, Rich's attempt to construct a contemporary history of leftwing thinking on this issue provides a basis on which to assess his interpretation. Ironically, his account begins by exempting Zionism from any historical explanation, arguing that it is not enough to characterise it as a political ideology committed to the creation of a Jewish state in Palestine. It is a 'right' to a nation state rooted in a Jewish identity that, he implies, is eternally fixed. However, since on the basis of 'rights' and 'identity,' the Zionist claim could be easily matched by the Palestinians, he introduces another factor. The Jews' connection to Israel, he states, is a 'deep instinctive bond.' Having made Jewish and Zionist interchangeable, he abruptly changes tack to allege that the left is guilty of conflating the two. He is particularly condemning of those who are not merely critical of Israeli policies but are opposed to Israel's existence as a Jewish state. This does not require however, as Rich misleadingly suggests, that Israeli Jews cease to exist as a national group but that as a distinct nationality they coexist within a multiethnic state that does not privilege any ethnicity or religion. An anti-Zionist position along these lines was articulated from the Palestinian left as well as by the Israeli radical left group, Matzpen, from the late 1960s.
To account for the left's attitude to Israel, Rich barely refers to what Israel does. He omits, for example, to discuss its military occupation; the fragmentation of the West Bank through the expansion of Jewish settlements and army check points; the demolition of Palestinians houses; the land confiscations; the bombings and siege of Gaza, etc. He also shows no interest in whether the concepts used by the left such as 'settler colonialism' and 'imperialism' have any correspondence to reality, though the book purports to be a critical examination of leftwing thinking. In place of the left's analytical tools, Rich substitutes his own categories, attributing to the left the argument that Zionism is not an 'authentic' and 'legitimate' nationalism. Neither of these two characterisations forms part of leftwing critiques of Zionism, which are based not on abstract and arbitrary judgements but on Israel's antagonistic relation to the aspiration of the Palestinians, and of the vast majority of the peoples in the Middle East, to rid themselves of political oppression and gain control of their resources.
Rich conceives of a history of ideas to be much like a stream of consciousness, with the left's more recent views on Zionism simply deriving from previous leftwing ideas on Zionism. Not for a moment does he consider that Israel's conduct may be a factor in the shaping of the contemporary left's negative view of Zionism. He prefers to explain it as an ideological trickle-down from the antisemitic discourse of the Stalinist state. Undeterred that the Western New Left of the late 1960's overwhelmingly rejected Stalinism and its legacy, he asserts, without any supporting evidence, that 'Soviet positions on Zionism and Israel played an important role in an anti-Zionist discourse that could filter down, albeit diluted, into the British New Left's understanding of Zionism…' Rich even discerns a soft spot for Stalin and therefore for antisemitism in Corbyn. The proof for this is that the Labour leader addressed a May Day demonstration that 'included marchers carrying banners with images of Joseph Stalin.' Rich declares: 'Anybody who truly stands against antisemitism "in any form" ought to recognise that Stalin was an anti-Semite, but if Corbyn was aware of this contradiction when he made his May Day speech, he didn't show it'. A risible argument, but revealing.
Alongside Soviet Marxism, the Young Liberals' embrace of the Palestinian cause, in the early 1970s, is cited by Rich as the other major influence on the left. The Young Liberals, he writes, 'connected anti-Zionism to anti-apartheid from their very first involvement in the issue…' and thereby, 'established an enduring template for left-wing anti-Zionism in Britain.' They tarred Israel with the apartheid brush because that had proved successful in their campaign to isolate South Africa. But here, too, Rich's omission of the political context is significant. The Young Liberals' association of Israel with apartheid would not have gained traction had Israel not maintained close economic and military ties with South Africa for nearly two decades. By 1979, over a third of the apartheid regimes' weapons was supplied by Israel. The affinity between the two states was not a slur invented by the Young Liberals, it was proclaimed by Israel's prime minister, Yitzhak Rabin. On welcoming John Vorster, the South African prime minister and former Nazi sympathiser to the Israeli parliament, in April 1976, Rabin spoke of the 'ideals shared by Israel and South Africa; the hopes for justice and coexistence.'
The influence on the left's perception of Israel that has been probably the most significant over the past forty plus years, Rich does not mention. Since 1967, there has been an avalanche of NGO and intergovernmental humanitarian agency reports on the West Bank and Gaza which despite their focus on the violations of individual rights rather than on the structures of oppression have provided a constant flow of information on the Israeli military occupation's destructive impact on the life of the Palestinian population. One of the gaping holes in Rich's hollowed out history is his silence on the political impact of these reports. Yet he cannot avoid altogether their documentation of Israel's blood stained record.
When referencing events where Israelis were the victims of Palestinian violence, Rich informs his readers of the precise numbers killed. By contrast, he only once puts a figure on the number of Palestinians killed and that is for the month of March 2002. In that month, he states, 247 Palestinians and 117 Israelis were killed, figures he presumably believes do not indicate such a disproportionate ratio of deaths between the two sides as to raise any questions in readers' minds about Israeli conduct. However, giving the data for the numbers killed only for March gives an erroneous impression of the balance of forces and of the scale and barbarity of Israel's attack. The Israeli military offensive that year began on March 29 and continued until May 7. Over this period, the Israeli army reoccupied several Palestinian cities and entered refugee camps, killing 497 Palestinians, injuring 1447 and leaving 1700 homeless. In relation to Israel's 22-day assault on Gaza in December 2008/January 2009 (1400 Palestinians killed, including 300 children), Rich's compassion is aroused not by the overwhelmingly civilian deaths and injuries and by the widespread devastation to homes and infrastructure but by those he perceives as victims of the subsequent protest demonstration by Palestine solidarity campaigners outside the Israeli Embassy in London. He reports that it 'left fifty police officers injured and caused extensive damage to nearby shops…' Moreover, 'the organisers of the demonstrations showed no contrition' and, mounting the summit of his moral high ground, Rich concludes: 'Nor did they acknowledge, publicly at least, the impact that the violent demonstrations may have had on the mood of London's Jews.'
Rich's acute sensitivity and his 'moral and intellectual scrupulousness', do not extend to even a glimmer of recognition of how Israel and the West have impacted on the Palestinians and their Arab neighbours. In the world that he depicts, disappearing Palestine has already disappeared and Israel has now to be defended from forces inspired by militant Islam and the left. The unveiling of new and ever nastier enemies is, however, unlikely to work for long as a distraction from Israel's military occupation and its creeping annexation of Palestinian land that is entrenching a system of apartheid.
Paul Kelemen is the author of The British Left and Zionism: History of a Divorce,