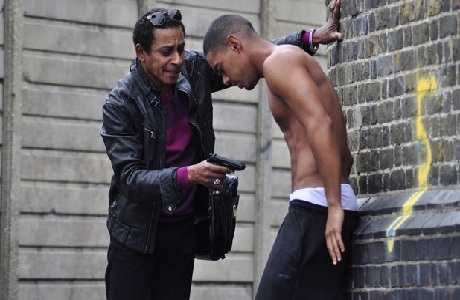 'We are all products of our environment'. The tagline of Ben Drew's (aka musician Plan B) debut film suggests viewers might expect a realistic, polemical account of life on the periphery of Britain's underclass. Ill Manors, however, fails to interrogate the antagonistic oppressive political system that ushers in the social ills featured, including the illicit drugs trade, gun and knife crime, and prostitution. The film represents a missed opportunity and is a frustrating watch: at this point in time, it could and should have made a potent political impact.
In his essay 'Narrate or Describe', philosopher Georg Lukacs clarifies the distinction between naturalism and realism in literature. Naturalism is detail-oriented, but shows no grasp of the social dynamics of the life it is portraying. Realism explores social relationships within a narrative structure that allows contradictions within the fictional world to build into revealing action. Ill Manors fits firmly in the naturalism corner: is it pure description.
The film, set over seven days on a council estate in Forest Gate, features six interweaving stories about eight characters connected to the drugs trade.
The action revolves around Aaron (Riz Ahmend) and his best friend Ed (Ed Skrein), who have both been raised in foster care. The two become embroiled in a vicious moneymaking scheme to retrieve a stolen phone that begins with prostitution and ends, shockingly, with the sale of an abandoned new-born baby. Set to a soundtrack of urgent hip-hop music, which gives backstory to the characters, we see Forest Gate inhabitants trying to succeed, survive, and liberate themselves from their circumstances, with tragic consequences.
Drew recently told The Guardian that his characters 'act the way they do because of the shit that happened to them that wasn't their fault'. Yet, while the surface details of the world feel accurate, the acting is strong and the narrative structure and themes interesting, Ill Manors ultimately represents a crisis of working class morality, as opposed to a critique of ineffective political agendas. It is 'gritty' drama in a social vacuum.
Notably absent are the political institutions marginalising the working class every day. The characters seem to exist in a context untouched by austerity cuts. There's no interaction between the kids and the authorities at school and viewers are left wondering about teachers' attitudes to their students. Unemployment is not even touched upon, and there's little sense of characters being embedded in the socio-political climate that forces entry into the drugs trade. Shamefully, the setting fits nicely into a particular political ideology that already regards council estates as natural habitats for theft, drug dealing and abuse, benefit fraud, youth delinquency and financial improvidence.
The characters' living environment is not enviable, but this language of realism neglects the distinctive injustices faced by those trapped in marginalised, crime-ridden housing estates. Instead, it emphasises some of the ills these people face while ignoring other, more lasting harms; substandard housing, class discrimination, and police harassment and abuse motivated by racial animus.
Drew is not the first, or only filmmaker to offer a problematic portrayal of working-class existence. But his approach comes at a significant cost. The exaggerated behaviour of a demographic, regarded by some Conservatives as the genesis of social problems, will distort the genuine political issue of social exclusion. Worse, by staying above the fray of socio-political and ideological conflict, the film seems to have commanded guilty yet unequivocal applause from liberal sectors.
Worryingly, the film is being held up as the article of faith by commentators seeking to contextualise social problems. Camila Batmanghelidjh, the founder of Kids Company suggests in The Observer that Ill Manors is 'an incredibly accurate portrait' of the lower reaches of British society. Decca Aitkenhead in The Guardian confidently states that, 'social commentators are already talking about its political significance, and reviewing last year's riots through the prism of its lens.' However, it is impossible to subscribe to either assertion when considering the films semantics.
Ill Manors provides voyeuristic material to an educated, liberal and middle-class audience. Cinematically and conceptually, the film shifts energy and intention away from thinking via visible political and institutional frameworks and into the socio-cultural domain. This is where social inequality is defined by delinquent behaviour, cultural abstractions and financial improvidence. The approach to the various social issues, which now fall under the derogatory label of 'the underclass', encourages us to believe that the worst social injury these people suffer are self-inflicted.
Film is more than just a visual experience. It has the capacity to affect political imagination. This is why we find filmic political engagement so compelling. But in order to achieve this, we need to look to the details of political institutions and public policy. The important opposition is between government and society, not the individual and his or her moral or cultural code. It's clear that Drew is trying to create a consciousness, but effort alone is not enough.
What is needed is solid political justice, not intellectual handwringing over the behavioural aspects of the supposed underclass. The narrative message that personal (mis)behaviour determines life's opportunities smacks of the pervasive Tory discourse of meritocracy. Such arguments reduce lived reality to a conflict between the working-class and their behavioural decisions. The landscape of social inequality in Coalition Britain is much more complex than that.
You can find the official website for Ill Manors at: http://www.illmanors.com/#scene-0