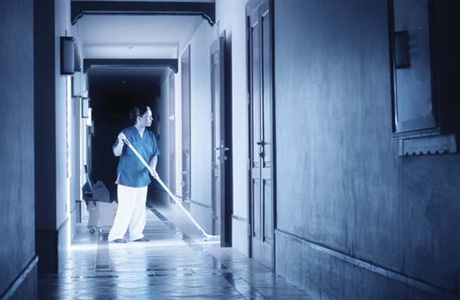 Photo: LL28 Photography
A crowd has gathered outside the British Medical Association (BMA) headquarters in London. Red flags fly in the wind as lively demonstrators hand leaflets to passers-by. Campaign literature explains their reasons. Despite the BMA being a trade union and campaigning body, the cleaners of the buildings from which it functions are subcontracted to a company that pays a poverty wage of £6.08 per hour. They are part of the army of thousands of cleaning staff who serve the capital in poorly-paid and insecure jobs for little-known contract cleaning companies.
The BMA outsources the cleaning of its buildings to the global 'facilities management' company Interserve. It offers the perennial outsourcing excuse that as a client it has no responsibility for the conditions of those employed by Interserve. In turn Interserve blames poverty pay on the contract conditions set by its clients. It forms a cycle of diminished responsibility.
Yet despite the argument that the money for pay rises can't be found in such a highly competitive market, organised cleaners – and there has been a momentous increase in organisation in recent years – won't back down. The fight is a moral one.
In the case of Interserve, the company recorded profits of £65 million last year; its directors shared a pay pot of £4 million. It has found itself taken to employment tribunals time and time again for pocketing staff's holiday pay and for unlawful deductions in wages. Its chairman, incidentally, is Lord Blackwell, a Tory peer.
Hidden and ignored
'A lot of these workers are hidden from public view and the companies like it that way. These workers really exist in the dark,' says Stuart Dobson*, a regional organiser for the Industrial Workers of the World (IWW) union, which has been at the centre of several cleaners' campaigns. 'That's another thing about the demonstrations – a demonstration's not as powerful a tactic as a strike obviously but it's very empowering to workers who feel hidden, who feel ignored.'
Many are migrant workers with insecure immigration status or language limitations, who do not have a support network in the UK – something that companies in the sector exploit. Stories abound about excessively hard work, cuts, dodgy contracts and long hours. Companies have been accused of a 'bullying' mentality.
One of the biggest problems is pay. Poverty pay has always existed but rising living costs are resulting in worse living conditions. The recent VAT increase has been compounded by significant price rises for necessities such as utilities and transport, particularly in London where fares have gone up substantially. Meanwhile, benefit cuts for in-work claimants will squeeze many low-paid workers even further. For the many working taxpayers with no recourse to public funds – mainly migrant workers – even the limited relief of in-work benefits is unavailable.
Suzanne Fenno*, a cleaner in London, describes the realities of life on the minimum wage: 'You sit on a train, and you see people who are earning more than you . . . This is a very expensive town. We have a workforce who are unable get a travelcard, that can't put food on the table for the kids. There are people who can't come to work because they haven't got the means to come.'
Big issue for unions
Organising low-paid workers has become a big issue for the larger unions. The Justice for Cleaners campaign involved Unite, Unison and the GMB, who had learned from the experience of the Justice for Janitors movement in the US. The Latin American Workers Association (LAWA) has also been very active since the movement began.
Union activity has been closely aligned with the Living Wage Campaign of Citizens UK (locally London Citizens), and campaigning has led to a string of successes. The Greater London Authority is a living wage employer and calculates the living wage rate annually. It currently stands at £8.30 per hour in London and £7.20 nationwide. Tube cleaners organised with the RMT transport union and in 2010 all London Underground cleaners, regardless of their contractor, won the living wage. Thirteen different London universities are now paying cleaners a living wage. Other victories include signing up London hospitals and universities, major city financial firms and making the 2012 Olympics pay the living wage.
Such successes have challenged assumptions about union organising. Once the outsourcing battle was lost many unions decided they were unable to represent contracted staff. Some of the poorest paid employees, such as cleaners, were denied union membership, facilities and staff time. Continued outsourcing has meant that unions are being forced to find ways to organise with all employees if they wish to remain a relevant force in public sector institutions.
Some union reps already recognised the moral, as well as the strategic, imperative for organising with outsourced workers. At London Metropolitan University a pay review in 2010 provided an opportunity to demand a living wage for all workers. Management agreed to meet with cleaners, catering and security staff, who were all on poverty pay, and conceded to Unison's demands for a living wage.
At the time of this victory relatively few of the workers affected were unionised. But those cleaners and caterers who got involved continued to organise on the back of this success and membership rapidly increased. Ninety per cent of catering staff are now in Unison and they have since achieved further pay increases for some staff.
In March cleaners at London Met took part in their first public demonstration. They were taking action in support of their colleague Stephane Marais, who was suspended after he walked out of a meeting with management because there was no union representative present. Recognising this as an attack on their recent unionisation, cleaners stated they were 'all Stephane' and wore masks with his face at the demo. Stephane was swiftly reinstated.
Similar successes have been achieved at SOAS and the University of East London. At the University of London's Senate House, where negotiations to secure missing overtime payments and a living wage dragged on for months, cleaners organised their own unofficial walk out. They were supported by local Unison activists, if not by the union. This action resulted in them winning the living wage and back pay.
Sustained organising
Max Watson, chair of Unison's London Metropolitan University branch, says the key to success was building relationships of trust. Long term alliances have given previously unorganised workers the chance to build up their own activist base, elect representatives and become self-sufficient: 'There are a variety of experiences but it's been most effective where organising has been on a sustained basis. There are places where the living wage was won but activists left no legacy of unionisation, so the wins could be undermined. Winning and moving on doesn't work.'
Cleaners are now proactively fighting for further improvements. At SOAS they have been demanding access to pensions, holiday and sick pay, the same basic rights as in-house staff. Low paid workers organising with the RMT are calling for an increase in the London living wage to £10 per hour and for cleaners with contractor ISS to be brought in-house when the contract expires in March 2013.
Despite the advances made by unions there are still many cleaners who receive poverty pay. A recent campaign against John Lewis showed discrepancies exist even within companies. Cleaners at the Oxford Street branch secured a pay rise after strikes and demonstrations gained media coverage but now staff at other branches are asking why the benefits haven't extended to them.
Recognising the gaps in cleaner organising, the IWW and now the Industrial Workers of Great Britain (IWGB) have started organising with cleaners, arranging protests outside the Old Bailey, London Guildhall, Société Générale and Thomson Reuters week after week.
A campaign has been started at the flagship Peter Jones store in Sloane Square, also part of the John Lewis partnership. A series of meetings have been held with the management by IWW workers demanding pay equal to what Oxford Street workers now receive. They turned to the IWW because, as one cleaner put it, 'We think they can help us out, because they helped them over there to get to where they are at the moment.'
Campaigns have not been easy – striking and holding demonstrations and sit-ins is risky for employees. In recent years unions have fought for reinstatement of workers sacked for union activity. In other cases, such as at Société Générale, employers have given with one hand, agreeing to a living wage, while taking away with the other, in the form of cuts to staff and increased working hours. A new campaign was instigated to fight the changes.
Immigration status
Both the IWW and the IWGB are committed to solidarity with all workers regardless of immigration status. They seek to foster community links through social and cultural events and self-help initiatives around language, immigration or housing help. Other unions have also recognised the challenges facing migrant workers. Some branches of Unison have paid for language lessons for their members in recognition of the problems even highly skilled workers can face if they don't speak English.
Some employers have counter-attacked with alleged collusion with the UK Border Agency (UKBA). Members of the IWW have experienced deportation threats, dawn raids and going into workplace meetings only to find UKBA officers waiting for them.
Stuart Dobson says UKBA's apparent role in policing workers (see page 10) is symptomatic of the border regime: 'It's intended to keep people frightened. It's intended as a mechanism to stop people organising. That is how they're using it.'
The sector is being changed, target by target, but it's a slow process. The cleaners' campaigns have not halted what the PCS union aptly described as employers' 'grotesque race to the bottom'. Cleaners at the British Museum, who organised with PCS and Unite, went on strike in October over plans to contract out their work.
Despite the continued outsourcing of low paid workers, the cleaners' movement has made significant gains and in the process reignited trade unionism. Real success will come if this is replicated in other low paid sectors without a tradition of union representation. As Stuart Dobson says: 'We are seeing bigger sections of the working classes call for more militant action, call for economic action. And the thing with the cleaners is that their bravery is absolutely inspirational. You're dealing with people on the lowest pay, lowest job security, outsourced, contracts changing all the time. What I think you'll see is other groups of workers following suit and saying, "Well if they can do it, we can do it as well."'
* Names have been changed