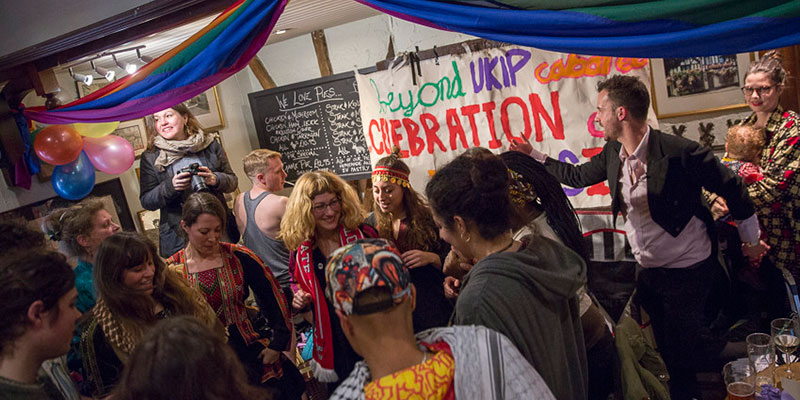 The Beyond UKIP Cabaret. Photo: Mike Kear
When I first heard about the diversity cabaret at Nigel Farage's local pub in Kent, I loved the idea. It had all the components of a solidarity-building, boundaries-breaching, antifascist action that I wanted to see. It was seeing beyond electoral politics, beyond UKIP, and not just in an action but in society and in the relationships that live between people.
The creation of 'safer spaces' that I really came to understand through anarchist climate politics is a cornerstone and filter for organising wherever you are and it keeps pushing us. The moment you think you do have a 'safe space' it's likely that it's falling short, so, the idea of a 'safer spaces' policy and practice is about taking it further, making spaces safer to try and have 'everybody in and nobody out'. This was the meaning of the action at the George and Dragon last Sunday.
I have been union organising in mainly minimum wage, casualised job sectors, on and off over the last ten years in the north west, south east – including Thanet, Farage's target constituency – and London. I started organising in 2004, the year Poland entered the EU. Since the cabaret I've been trolled on Twitter with racist comments about 'going back to where I fucking come from'. It's Wimbledon, by the way, and I'll be there in about 45 minutes. What else you got? Since the EU became a legal job market for Poles, Polish has become the second most spoken language in England and some 600,000 (some estimate 1 million) Polish people have come and settled here, escaping free market 'shock therapy' and poverty in search of 'chleb' – 'bread'.
Cake and Freedom
Cheap labour, wherever it's from, presents bosses with more leverage and workers with less. It's competition, it drives down wages, it creates the conditions for racism, anti-immigration sentiment and union-busting. Organising up in Rochdale, we were told of swastikas daubed on the toilet doors at a major hauliage company. Directly employed workers were being undermined by agency workers who were being given overtime at a flat rate, meaning the direct workers weren't getting extra income they had always relied on. They were feeling a direct economic impact. Some were telling me that they couldn't afford Christmas presents for their children because all their overtime had been taken by agency workers. Unite, then the Transport and General Workers Union, knew the consequences of the exploitation of migrant labour due to its' own history of over 100 years of organising, rooted in the docks and Irish migrant worker experience, and organisers took on the task of resisting economic racism at the grassroots.
It was my language skills that got me the work, and since then I've been acutely aware of what migrant and British workers in the lowest-paid jobs in the country have been going through. It's abuse on an industrial scale, literally, and people's new 'rock and a hard place' is being stuck inside a Bermuda triangle of precarious wage-slave labour, the sack and the benefit sanction. It feels like there's no way out. It's 'faster faster faster' and for less less less. But it's not just and never can be only about confronting 'the cost of living': when politicians talk about improving life for 'working people', it's about not just being 'working people' anymore, it's about the impact wage labour as a whole has on our bodies and lives, our time, our families, our identities. Wage labour for the vast majority is a ransom. Its dehumanising and antisocial by its very nature.
You forgot work and your own body
We will never dismantle capitalism and structures of oppression as long as we do not control our own labour. If we cannot meet each other, talk to each other, have the time to devote to what we find meaningful and fulfilling, sleep well, eat well, it's hard to see how we'll end the class system and move towards genuinely socialising housing, energy, land and food systems, education and our climate. Control over our own labour, our bodies and our time always seems to be absent from discussion about 'the commons', with the commons being 'out there' somewhere and not 'us'.
When the means of reaching a commons needs to be mass and participatory, but so many of us are too busy working and fearing the sack or the force of the punitive welfare regime, the kind of activism we involve ourselves in can end up being inaccessible and can reproduce structures of capitalism and class within it. If we don't take down the myth of human-climate value being defined and bought and sold by work, then we'll never be able to take down the reality of it. We'll just keep on rearranging the deckchairs on our self-reproduced Titanic and power will never be ours because we'll be working all the time to give it away.
UKIP friends?
Many of my neighbours are UKIP supporters and I feel I have a lot in common with them. If they knew I've been involved in what they think was an attack on someone they admire and their family, they would be horrified, but if they'd maybe been present, and seen what really happened, they may have had fun. The UKIP spin on the day's events has been pernicious and resulted in death threats. The pub Farage was in, down the road and not where we had our Cabaret, was not 'invaded' and his children were not there when people did appear to have entered the pub to give him a leaflet and he certainly left on his own, followed by a woman thought to be his wife.
My role in the Beyond UKIP Cabaret felt like a culmination of everything that ever meant anything to me. Where else could you wear a Palestinian traditional dress with a Clapton Ultras scarf and a Polish anarcho-syndicalist union membership badge? It allowed me to be a trade unionist, Polish, English, anti-fascist, connected very deeply to Palestine, an anarchist, a football fan, climate activist, anti-war activist, a feminist and someone familiar with and appreciative of Islam and its different interpretations.
We're calling you
Hearing the call to prayer inside Farage's pub, surrounded by LGBTQ people in feather boas, a Roma activist, a Holocaust survivor, socialists, atheists, people from all walks of life, really listening to it and respecting it, was genuinely amazing. Doing it in a pub you could argue is haraam (forbidden by God) but also fi sabilillah (in the cause of God) so it's a long debate probably, but having this, present, delivered by someone amongst people being fully who they are, not 'dressing up' as the papers called it, was very very real.
So much of 'politics' plays with identity silos and 'single-issue campaigns' and winning political territory through alliances and compromises. It's routinely disingenuous and we have to stop and ask the question – does the political activism we engage in really let people be all they are? Does it really let you be who you are?
The Beyond UKIP Cabaret let everyone be who they are. No ifs, no buts. Come as you are. Everybody in, nobody out. The response to the question of 'Why doesn't UKIP like us?' asked from the front mike has part of it's answer, in material, economic exploitation – a struggle for survival, for safe spaces – as much as it has in culture-making, our beliefs in who we and others think we are and who we think threatens that.
Our cabaret couldn't intervene at an economic level, despite my Polish language class designed to overcome divisions in a workplace, starting with the basic: 'Hello – Czesc!' and 'What's your name?' followed by 'Are you agency or direct?', 'Same job, same rate!', 'Down with zero-hours contracts!', 'Let's get together', 'Let's unionise', 'Everybody Out'. But I wanted to show that today's racism has its roots in economic competition and exploitation; that it's a symptom of oppression under capitalism. Fellow workers aren't the enemy. The fight has always needed to go back to the bosses and those exploiting the situation, and not for just a bigger slice of the ever melting pie, and votes in one direction or the other, but for the whole bakery, once and for all. Farage and his party don't offer that.
No more political party conga
The problem is in the 'solution' we're fed. Following a leader, following a party, putting our faith in 'him' or 'her' is not going to win us real change. That doesn't mean you can't vote or be in a party but it's got to go further than this. The very structure of this process is wrong. We need more contact with each other. We need to achieve a satisfaction of our needs and more through collective as well as individual liberations.
Social movements around equality, work, housing, land, environment, health, education, and freedom of movement are struggling to do this. We need to stop reproducing the alienation and competition and oppression which we experience on a daily basis. And that means really looking at each other and what we do, our desires and our saddness. Systemic change requires a systemic approach; if we want everything for everyone, then we need action and experiences and relationships that can be everything for everyone. The Beyond UKIP cabaret aspired to communicate that.
Total Pub
Another massive help was that usually when you take an action it's hype hype, stress stress, confrontation, some kind of win, and then off to the pub. This time, it started and ended right there, in the pub, in what migrant workers I've worked with call 'the Englishman's living room'. Or our living collective living room. It's true it won't be a space for everyone, particularly people who don't drink for whatever reason. But, in principle, if we can't come to accept each other, if we can't have queers, HIV-positive people, Muslims, Jews, Christians and people of any beliefs or none, and migrants or any identities, dabke-dancing together, in a pub, then it's not my revolution.