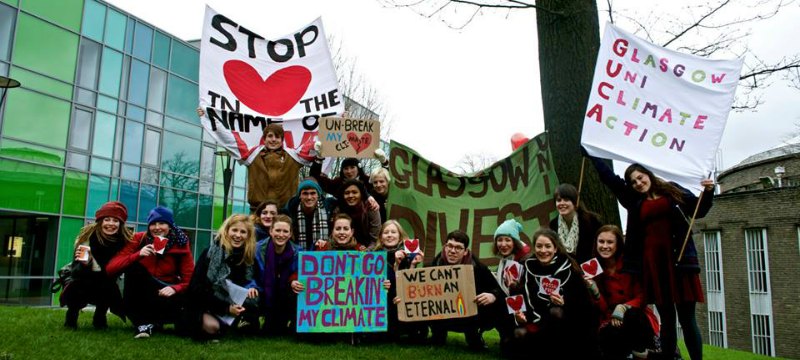 On October 8, we became the first university in Europe to stop investing money in companies like Shell, BP and Chevron, due to their role in driving climate change by unearthing more fossil fuels than the Earth's atmosphere can safely absorb.
Bill McKibben's movie 'Do the Math' inspired us to launch our own fossil free campaign and we started with a petition to gather student support. Throughout the year we organised a panel discussion, hosted film screenings and published articles in student media. We held regular actions on campus, staging fake oil spills and dropping banners from university buildings. Gaining a public profile for the campaign meant that we had more power to leverage with the university. With more at stake, we were taken more seriously.
Our first small win came when we convinced our Student Representative Council (SRC) to present our cause to the University Court, the decision-making body for financial management. This meant our proposal would be officially considered by the university! When the SRC brought our motion forward to the University Court, a working group was founded to inform itself about divestment and share its conclusions with the court.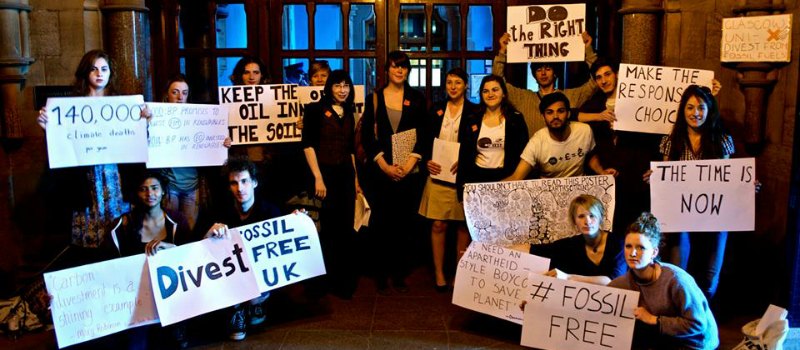 To have any real chance of being successful, we knew that we had to convince this working group. So we worked day and night to adapt a very extensive research document on climate change and arguments for divestment from a Canadian (Thanks 350.org Toronto!) into a UK context. This was extremely labour-intensive, but in March we were able to hand over the document, along with our petition, to the Secretary of Court.
Unfortunately the court delayed the decision due to unanswered questions on divestment. This was devastating. The next session was due in October, giving us very little time after the start of term in late September to build up momentum.
When the time finally came, we had to do everything at once. After quickly training up our new team members, we created public pressure by holding a demonstration, issuing press releases, and telling everyone to flood the university's social media accounts. At this point we were unable to approach decision-makers directly, this was taken out of our hands.
But the University of Glasgow proved that it was not deaf to its students' concerns about climate change and their university's role in it. It took a committed stance and extended its response to climate change to the management of the university's finances.
The minutes published by the Glasgow University Court reveal that we won the campaign on our moral argument. The minutes state that, '[The Working Group] supported the ethical case for disinvesting from the fossil fuel extraction industry… the group had been strongly persuaded by the quality of the arguments presented.'
Very often, divestment campaigns lose traction by getting sucked into financial arguments. Considering the fact that 80 per cent of proven fossil fuel reserves have to stay underground in order to avoid the most dangerous effects of climate change, the fossil fuel industry's net worth is overvalued. Divesting from fossil fuels is therefore financially prudent. But financial arguments are not where our power as a movement lies. It's wrong to profit from wrecking the climate – that's the reason for our campaign, and that's what we should be arguing about.
Photos by Laurie King