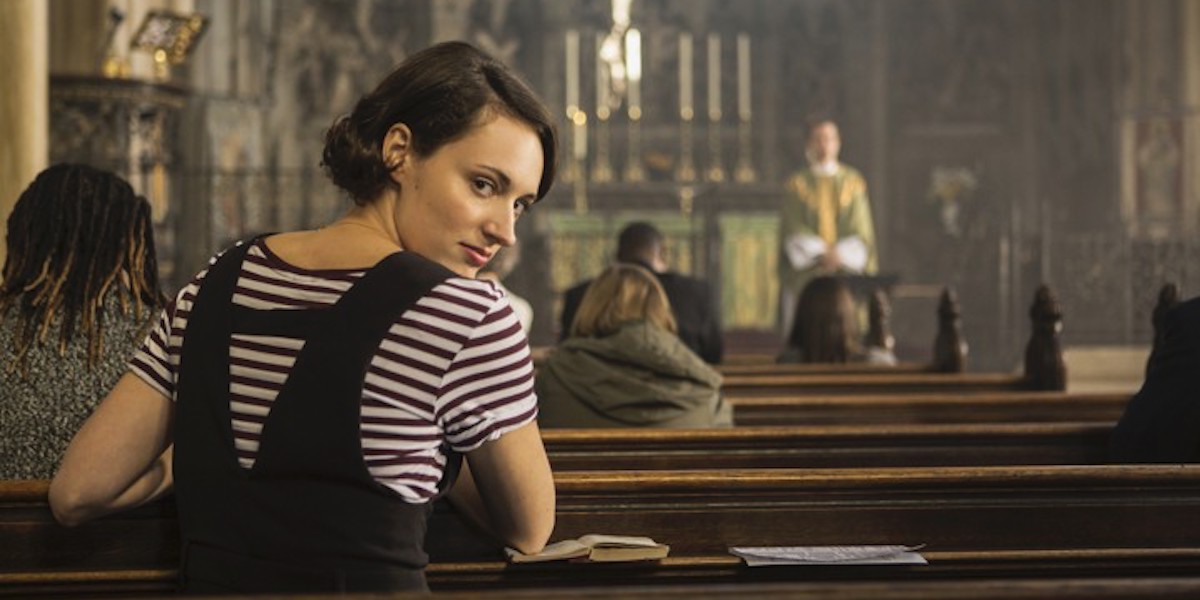 Phoebe Waller-Bridge, creator of Fleabag. Photo by Luke Varley.
Writing recently in The Guardian, Ellen E Jones stated that the award-winning television series Fleabag (BBC) was 'a work of undeniable genius. But it is for posh girls.' The series' creator, Phoebe Waller-Bridge, replied that 'to criticise a story on the basis of where the author had come from, or how privileged the author is, undermines the story. It's not like my privilege created Fleabag.' This exchange was the latest debate to illuminate issues of class inequality on and in British television.
Just a couple of weeks previously, the axing of The Jeremy Kyle Show by ITV, after 14 years on air, made headline news. The cancellation followed reports that a guest, Steve Dymond, had taken his own life after failing a lie detector test on the programme. It came after concerns had long been raised about the exploitative nature of the show.
While seemingly focusing the class conversation at opposite ends of the social spectrum, and on different genres, these two debates point to the same questions: whose stories are told on television, from what perspective and for what purpose?
Shaping expectations
While audience viewing figures are central to industry arguments regarding what viewers want, it is important to note that popularity does not correlate to social positivity or corporate responsibility. Television does not hold up a mirror to the nation and world but rather shapes audience expectations, beliefs and norms. Helen Wood, co-editor of Reality Television and Class argues that 'class is a structuring feature of television.' What television programmes tell audiences about class plays out beyond the box, crossing the porous screen boundary into real-world beliefs, social exchanges and the structuring of society.
While representations of every class are influential and needed, stories told about people in British society with either very little or very substantial cultural capital and agency are particularly significant. The Jeremy Kyle Show and Fleabag can be broadly taken as examples of such extremes. While Fleabag undoubtedly reveals a story of grief, desire, self-doubt and emotional turmoil – universal experiences – the show fails to represent how the protagonist's privilege cushions her from the consequences of decisions that might otherwise result in homelessness, poverty, social isolation and stigmatisation. While one argument for such omissions is that they would detract from the story, they could augment it. Class-aware nuance might have brought a whole new level of social consciousness and complexity to the character of Fleabag and her story‑world.
There are glimpses of it. In the very first episode, Fleabag turns up at her father's door and drunkenly laments, 'I have a horrible feeling that I'm a greedy, perverted, selfish, apathetic, cynical, depraved, morally bankrupt woman who can't even call herself a feminist.' The last episode of series one also saw Fleabag admitting, 'I've fucked [my café] into liquidation. And I fucked up my family. And I fucked my friend by fucking her boyfriend.' Yet she remains able to pay her London rent, keep her business and socialise through the financial support provided by her family.
Fleabag's highly privileged life is represented as 'the norm'. But that's what privilege allows. When privilege is understood and represented as normal, it is seen as both benign and situated as the yard-stick against which everyone else is measured.
Following her mother's death, Fleabag's father is able to buy her and her sister Claire (Sian Clifford) tickets to feminist lectures and later, counselling sessions. While these privileges are dealt with in the show through irony that arguably critiques the substance of middle-class self-help narratives, the financial cost of mental health care goes unspoken. The representation itself is sharp, salient and not at fault in itself. But the system is.
When privilege is understood and represented as normal, it is seen as both benign and situated as the yard-stick against which everyone else is measured.
The Jeremy Kyle Show's success similarly operated via omission. Charlotte Scott, a former producer on the show, refuted ITV's assertion that 'violence isn't tolerated', that participants are provided with 'ongoing support' and that the show provides an opportunity for people to 'resolve pre-existing disputes and personal issues on neutral territory'. Speaking from experience, Scott stated: 'Guests are wound up like a coiled spring before the show. It is an integral part of preparations – a process, sanctioned by the show's editors, called "talking up".' Scott also said that contributors were advised to stand over other guests, shout and point, and were separated for hours before filming so that the production team could 'play a Machiavellian game of "he said, she said" to ensure that feelings run high'.
In 2008, after witnessing an episode of Jeremy Kyle…Live! filming for an upcoming DVD, journalist Carole Cadwalladr reported chaos, spectacle and crowd jeering in response to an 18-year-old guest, Jamie Kosta. Jamie's mum Karen, a member of the audience, was invited to speak and noted Jamie's mental health problems. The conversation was abruptly closed by Kyle. Off-screen, Karen revealed to Cadwalladr that Jamie suffered from bipolar disorder and paranoid schizophrenia. The production team had been informed but still Jamie was put on stage and shamed.
Reflecting on the events, Cadwalladr stated: 'It is so wrong. I cannot believe how wrong it is. I am watching a vulnerable young man being publicly humiliated in front of his friends and neighbours and, for those lucky enough to receive the DVD for Christmas, the nation at home.'
Both of these shows have been important in telling stories about class not as the end point for discussions but as a starting point for audiences. When television producers fail to take responsibility for how their stories demonise (or protect) certain segments of society, audiences are more likely to follow suit. Representations of society must not be separated from broader cultural, institutional and historical structures. People cannot be understood without class context, yet this is what television often presents – stories of good versus bad individual choices, bereft of structural understandings.
Alternative visions
I both love television and genuinely believe it is the most powerful tool of our age in terms of influencing public opinion, educating audiences and enabling empathy. But I know that its stories – and decisions about who gets to make them – are not meritocratic. It is deeply unbalanced in class terms.
In their recent book The Class Ceiling, Sam Friedman and Daniel Laurison challenge the popular notion of 'legitimate fortune', demonstrating through 175 interviews with people in elite occupations (television being a key industry), that 'not only are those who earn the most, and who get to the top, disproportionately drawn from privileged backgrounds, but their success cannot be explained by "merit" alone.' The 2018 Creative London report Panic! Social Class, Taste and Inequalities in the Creative Industries found that only 12.4 per cent of people working in film, TV and radio were from working class social origins, only 28.4 per cent were female, and a mere 4.2 per cent identified as black, Asian or minority ethnic. It is no surprise that the types of stories written, commissioned, produced and transposed to screen demonstrate limited perspectives.
That is not to say that those from privileged class backgrounds cannot write stories and characters from other classes or vice versa. The issue is both one of unequal opportunity and of reductive constructions. As a political medium, television's various engagements with class – both on and off screen – are crucial in understanding its place and potential to enhance contemporary culture and society. Telling stories of everyday lives, popular television is able to reveal trends and aid in the construction of identity.
Charlotte Brunsdon, professor of film and television studies at Warwick, suggests reality TV 'intervenes' more than 'represents'.
Programmes such as Benefits Street (Channel 4), for example, have been understood as reflective of 'Broken Britain', yet its narrative construction aided a wider ideological project. Charlotte Brunsdon, professor of film and television studies at Warwick, suggests such television, most commonly reality TV, 'intervenes' more than 'represents'.
'Reality' is a format and style rather than a descriptor. When assessing television, we need to question not only who is being represented, but also how the style of a show troubles or fails to trouble the practice of meaning-making for viewers. As Stuart Hall noted in 1981, 'the popular' can be best understood through 'the double movement of containment and resistance, which is always inevitably inside it'.
It's important to keep the conversation about class on television going – and to keep thinking through the meaning of television as its technologies, creators, genres and audiences continue to shift and transform. New platforms like streaming services hold potential to reframe the types of stories being told. Channel 4's recent drama The Virtues written by Shane Meadows, and their female-led series of standalone dramas entitled I Am… hold as valuable examples in terms of representing and contextualising social structures in relation to classed stories and identities.
Other important movements in television are brewing. As a public service broadcaster, Channel 4's relocation to Leeds speaks to and of a changing industrial landscape. It seems that the government-imposed move is not only about the politics of place, but also about the politics of class. Announcing the move to Leeds, CEO Alex Mahon noted that the relocation would 'allow Channel 4 to live up to its mission of diversity and inclusion'. What might the move mean for the future of popular television in the UK? Watch this space.
Dr Beth Johnson is associate professor in film and media at the University of Leeds. Her book Social Class and Television Drama in Contemporary Britain is published by Palgrave.