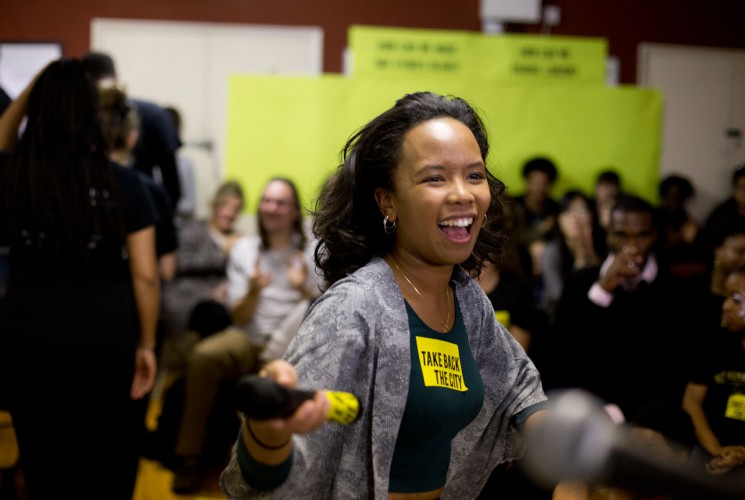 Take Back the City's Amina Gichinga, who is standing in the upcoming London Assembly elections. Photos Rohan Ayinde Smith
On Saint Patrick's Day just past, one of the many 104 buses to Manor Park was snaking its way through East London when the quiet atmosphere of its top deck was disrupted by the sight and sound of two poets performing their verse:
'Can you see us now, while you enjoy the fruits of our labour, our heads deep in every day struggle, our eyes reading along the lines of newspapers, written in a language made to conjure fear and conquer thought.'
The poem, 'Can You See Us Now,' speaks of a divided city and of the regeneration reshaping London, displacing its poor in the name of 'progress' and profit. Its public recitation was one of many imaginative interventions of a campaign to which its two young authors, Amina and Rohan, belong: Take Back the City.
Formed last year by a 'group of disillusioned Londoners,' Take Back the City is a campaign to give voice to London's economically and politically marginalised. It was founded on the belief that the economic and environmental difficulties that affect so many of those living in the capital—soaring rents, house prices and homelessness, low wages, air pollution—are compounded by a crisis of political representation, as elected officials all too often show little interest in helping to deliver the change London desperately needs. 'We can't rely on politicians to sort out the mess this city is in,' Take Back the City write, 'so we'll have to do it ourselves.'
In the upcoming London Assembly elections residents of the City and East constituency—which comprises the boroughs of Newham, Tower Hamlets, Barking and Dagenham, and the City of London—will have the option of voting for a Take Back the City candidate: Amina Gichinga, the poet from the 104 to Manor Park. Yet there is much more to Take Back the City than simply convincing people to cast a vote in their favour, as I found out when I met with Amina.
A tale of two cities
A charismatic black working-class woman from Newham, and a community organiser and singing teacher, Amina is the opposite of everything we have come to expect from politicians. Indeed, the last time City and East was contested in 2012 it was by eight men, seven of whom were white.
'Mainstream politics caters for a class of people that I don't know,' Amina says, 'and when I see the lack of integrity that they have, I don't think I want to know them. They are told from day one that they are going to be this person and that they may end up becoming prime minister. Where I'm from we don't have that. We have aspiration, but it's not like that. That opportunity is given to these people much more than people like me, from a working-class, black background.'
Along with the 'revolving door between corporations and politicians,' it is this lack of proper representation, Amina explains, that puts so many of her peers off politics. 'Everybody is really weary at the moment,' she adds, 'and I want to make people think that there is another way and that you are an asset and that you are valuable in this.'
For Amina, this weariness should not be mistaken for political apathy, especially among younger generations: 'A lot of older people think that young people aren't particularly interested in politics—this is completely farcical. It's about the fact that they don't feel represented, they don't know how to get involved, but they have great ideas.'
At a recent Take Back the City workshop at Oaklands School in Tower Hamlets, for example, students 'could see how gentrification was affecting their families—they were going though that themselves, or if it wasn't them it was their cousin. And they came up with solutions for these issues, like more council housing and subsidies for independent businesses. So it's not that they're not interested, but they don't see an avenue to channel this energy.'
It's Take Back the City's ambition to be such an avenue and to bridge the gap between political institutions and the people they represent. In putting this into practice, Take Back the City have ran participatory workshops at numerous schools and met with community and refugee groups and trade unions, drawing on the insights and ideas generated from experiences of living and working in London that are all to often rendered invisible by the political process.
I ask Amina what separates this form of engagement from the focus groups that since the late 1980s have become critical reference points for political parties, despite concerns that they promote a superficial approach to enquiry. Describing her own, largely alienating experience of such groups, Amina emphasises that Take Back the City's approach is about building a more meaningful and lasting exchange: 'We need to build a relationship with communities that fully integrates them into the process of creating the politics that they and we want. It's not about getting the ideas and running with them, it's about including everyone in that process.'
Local residents and campaigners at the Asta Community Hub for the launch of Take Back the City's election campaign
Take Back the City's approach to engagement also stands out through its use of artistic expression. 'A big part of Take Back the City is using expression and using art, music, and spoken word as a form of expression, and engaging people in a different way, because mainstream politics is typically a white guy in suit giving a speech, and we applaud and that's about it. We need to look at other ways we can get people engaged, because not everyone wants to listen to that.'
As an example of alternative ways to engage people in politics, Amina speaks of an event Take Back the City recently co-organised called 'A Tale of Two Cities,' an evening of spoken word and hip-hop that explored the experiences of young artists living and working in London. Impressively, over 800 people attended—another sign that Generation Y are interested in politics, providing its done differently.
Uniting the performers and many in the audience that night, Amina emphasises, was a 'common thread—a feeling that their communities are being dismantled and that they are being pushed out. They were reclaiming power in this space, and everyone was relating.'
'This is an avenue,' Amina continues, 'that we need to explore, but when you look at who is in mainstream politics you realise that they don't engage with this kind of art; they don't want to know, unless they are there for photo opportunities. They don't understand it because it's art from the street.'
Already sure of what the answer will be, I ask Amina if the relationship between art and social and political change is important. 'Through art comes creativity and good ideas,' she replies, 'and that's how we create political transformation.'
The result of Take Back the City's extensive outreach is a collection of over 1200 demands, the most popular of which—unsurprisingly for London—include affordable housing, a genuine living wage and the preservation of green and open spaces for all. On March 5, Take Back the City organisers and delegates from groups they have worked with got together to begin a process of deciding which demands will be used to make the 'People's Manifesto,' on which Amina will run.
A laboured task
It is clear from observing Take Back the City that the inclusivity Amina talks about permeates the campaign's actions and stems from a belief that in 'ordinary' people is an extraordinary capacity for political transformation.
In this conviction, their grassroots democratic approach to electoral politics and their crowdsourced manifesto, Take Back the City's model of politics bears some resemblance to the Spanish citizens platforms that have so captured the imagination of much of the UK left, including the Green Party. Whilst comparatively modest in size and in the scope of their reach, Take Back the City nonetheless provide an exciting example of what a revitalised, inclusive and radical electoral politics looks like in the UK context.
Progressive politics in the UK is of course primarily defined by Jeremy Corbyn's leadership of Labour and the attempts of his supporters to reorient it towards a more redistributive form of social democracy—a project that has drawn the involvement of a sizeable number of the previously non-party left. Had this not happened it is likely Take Back the City would have received more enthusiastic support from a left increasingly transfixed by Corbyn and the internal machinations of the party he leads.
As such, it's hard not to feel that this exciting campaign has somewhat slipped under the radar. Yet when speaking with Amina she gives a pressing reminder that when it comes to those bearing the brunt of London's hardships many haven't even heard of Corbyn. 'Labour's messaging,' she says, 'is not reaching every area that it needs to.'
Amina's criticism chimes with a warning that Take Back the City organiser Jacob Mukherjee gave earlier this year. 'The danger is,' Jacob told me, 'that the movement behind Corbyn orients itself towards those who are already political. The fact is there are an awful lot of people who are suffering the effects of inequality and injustice but who aren't particularly attracted to progressive politics at the moment, and in many cases don't think of themselves as political. The question we should all be thinking about is how do we engage, empower and mobilise these people.'
Momentum—the organisation that has emerged from the Corbyn leadership campaign—may go some way to achieving this, but its focus seems to be shifting towards transforming Labour and away from building a wider social movement that reaches out to the economically and politically marginalised.
For Amina, this is now more than ever necessary, 'as marginalised is a term that is beginning to encompass more and more people as London becomes less and less accessible and affordable.'
These people, Amina adds, 'are also the beauty of London; they are what makes London what it is. If they're gone, then London is not London anymore. So we (Take Back the City) are preserving this city, right?'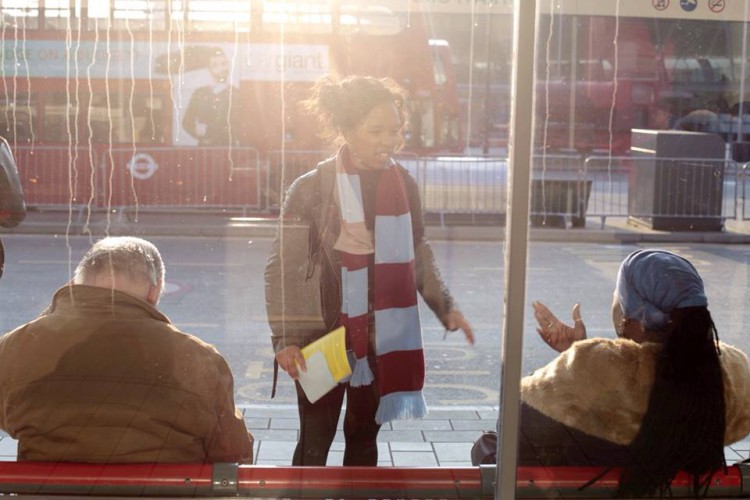 Returning to the subject of Labour, Amina talks of being on board with much of what Corbyn himself says, but any enthusiasm for the party is tampered by her experience of the Labour-dominated Newham Council: 'I've been brought up in Newham and there is a strong Labour council there, probably the strongest in the country. They keep getting elected time and time again, and because they're not getting challenged they're running riot in our borough. There are so many injustices happening. There are councilors that have properties that they are renting out and they're not even fit for habitation; so what does it tell us about Labour?'
Amina continues: 'Corbyn is one thing, but a council in a specific borough is a very different thing. And that's the thing about big political parties; you can't always control what one facet is doing. In Newham, they've completely lost any sense of who they're supposed to be representing—which are some of the most deprived people in the UK—and what they're fighting for. How can you decant people from estates then make deals with private developers to build luxury apartments?'
The housing policies of Newham council are by no means unique in London; the Labour-dominated Lambeth and Southwark councils have also faced criticism for much the same, including failing to adequately maintain council properties, forcing homeless families into privately rented accommodation, and overseeing a decrease in the number of 'affordable' homes in redevelopment projects.
As well as exacerbating London's housing crisis, these practices place in sharp relief the separation between the ideals and preferred policies of Corbyn and his supporters and those of many incumbent Labour politicians.
When considering the importance placed on party unity throughout Labour's history and in electoral politics more generally, it is likely that Labour will struggle to develop a political strategy and vocabulary capable of addressing this dissonance and relating the party to campaigns like Take Back the City. Corbyn's election may have opened up possibilities for a new politics, but in London the legacy of (New) Labour's past is still very much wreaking havoc in the present.
Causing a ruckus
Whilst Labour's actions across London have helped set the tone for Take Back the City's intervention, the campaign is more than simply a response to the party's failures. In its inclusive, empowering and radical approach, Take Back the City is inspired by a rich tradition of black, working-class and community-oriented politics that weaves it ways throughout UK history—always present and at times finding form on the electoral stage, as Take Back the City is now doing.
As to whether they can actually win in City and East this May, Amina is cautious and admits there are limits to what an organisation almost entirely powered by volunteers can achieve. The task is undoubtedly steep, with the incumbent, Labour's John Biggs, having been last elected with 62.97 % of the vote.
Nonetheless, Amina is confident that Take Back the City can cause a 'ruckus' and disrupt the air of inevitability that engulfs an increasingly destructive status quo, and in doing so show that politics can be done differently and by 'ordinary' people.
Yet beyond the immediate, Take Back the City's extensive outreach will likely have additional consequences. Just as Amina's own political journey began with a sixth-form politics class that encouraged her to think about injustice, Take Back the City's educative and empowering approach to politics may well have sparked something similar for many others.
For campaign updates and event listings follow Take Back the City on Twitter and Facebook.