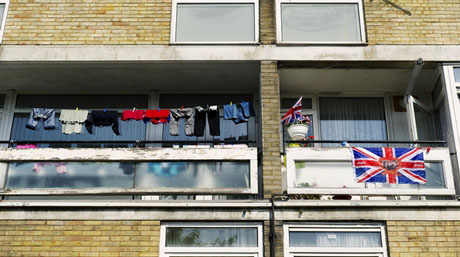 Photo: chrisjl/Flickr
Published with a fanfare last week the Coalition's housing strategy has been rather overshadowed by Osbourne's austerity statement on Tuesday.  But you can see the similarity immediately.  The foreword by Cameron and Clegg does not refer to the housing crisis.  It says the aim of the strategy is "to help drive local economies" and "create jobs" and to "provide a much needed boost to employment" i.e. it is about stimulating private investment and economic growth and secondly to "boost opportunity in our society".  It is not about solving or addressing the housing crisis; the focus is to get the house builders building again.
Subsidising the house builder
To achieve this, the priority is to "unblock the housing market", that is to say, attract private investment from mortgage firms to banks back into property.  With the usual Coalition speak, the strategy puts a fair amount of the blame for market failure on the previous government for being top down.  There is not a word of the market itself – the house builders and their land banks (containing up to 600, 000 units potentially) or the reckless sale of sub-prime mortgages that have left 800,000 in negative equity; nor of the landowners asking outrageous prices for land;  or landlords charging tenants exorbitant rents; nor of the banks that will not lend to small house builders – let alone any reference to the property lobby that has written the Government's new rules on planning and housing finance.
To kick start house building investment the Government is to offer significant direct and indirect subsidies and support to the house building industry.   Direct subsidies include Build Now Pay Later on public land; and a Get Britain Building Fund for small builders.  Indirect support includes an Infrastructure Fund, indemnities to mortgage lenders; planning deregulation; and reducing developer obligations for section 106 and zero carbon measures.
Brazenly, the strategy announces that the chairman of Berkeley Group plc, a company that specialises in market homes, has been appointed to provide advice on to maximise development opportunities on publicly owned land.
Housing need ignored
The subsidy to investors is hidden behind a headline claim that more mortgages will become available by reducing deposits from 25% to 5% for first time buyers, and getting more investment into private rented housing by providing incentives for developers to enter that market.  But will these measures mean that more people will get help with housing, or that housing need or homelessness will be addressed?
Yes for some – but for most people wanting to buy, prices and rents remain prohibitively high, and are likely to increase due to spiralling unmet demand.  Even if you are eligible for a smaller deposit through the new indemnity scheme, there is no guarantee of low mortgage interest from banks and building societies.  With economic confidence at an all time low, this is not a great time to take the risk of a mortgage of any kind.  And the small print is that the indemnities are for new build purchases not for the majority of transactions which are not new build properties.  This shows the extent to which the strategy is focused on house builder profit lines and not on meeting housing need.
Increasing housing inequality
Billions of wealth is locked up in land and property by companies, rich landowners and pension funds, and there is no shortage of land for development, but to get this wealth invested in affordable housing is the problem.  The Government strategy has failed to do this.  It has tinkered, but not dealt with the key blockages of land held off the market, nor the scandal of the house builders build and sell model, leaving local authorities and communities to pick up the bill for community infrastructure and management.  The deregulation of planning and warnings to local councils that should not make schemes "unviable" by making demands on developers will lower the bar on the quality of development even further.
The only answer to this is land value taxation and use of Compulsory Purchase, plus direct public investment in council housing and massive support for mutuals and cooperatives.  Strategic responses such as new towns/eco-towns and overspill towns have been forgotten.  None of this level of thinking is on offer, indeed it is studiously avoided.  In the case of council housing, the Government intends to sell off more by offering larger discounts.
There is strong promotion of neighbourhood planning and community led design but no grasp of the cost to communities of doing this.  It reads like a fantasy from Witney and Chipping Norton where there is lots of local cash with villages awash with retired executives.   This does not begin to rise to the challenge of meeting housing need in urban areas (where 80% of the population live), and where land is in short supply and usually costs a fortune to buy and bring back into use.
The strategy is billed as "ambitious" but in fact is cautious and conservative.  It describes itself as "working with the grain" of the market and that about sums it up.  It is the market that has failed – working with the grain just takes us further away from meeting housing need.