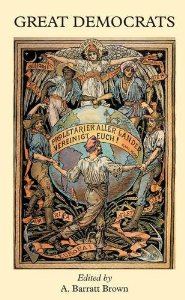 It is not often that a multi-authored collection of essays is resurrected after eighty years, but Alfred Barratt Brown's tribute to the champions of modern democracy, first published in 1934, more than deserves its republication.
The names of some of these brave and persistent campaigners are probably familiar only to specialist historians, but since we owe the rights we now enjoy to them, they ought to be better known. There is Joseph Arch, nineteenth-century champion of agricultural workers, and Joseph Sturge, who campaigned against slavery as well as in support of the Chartists, and Millicent Garrelt Fawcett, an early fighter for women's rights.
Best of all, there is Major John Cartwright, who sacrificed a respectable career to campaign for parliamentary reform. He was no timid gradualist. As early as 1776 he got to the heart of the issue : 'Personality is the sole foundation of the right of being represented, and property has… nothing to do in the case.' He is honoured in London WC1 with a statue and gardens, but how many people know why?
Other names are of course better known – from Rousseau and Tom Paine to Gladstone and Abraham Lincoln. Some of these inclusions are dubious, to say the least. Of the novelist John Galsworthy, St John Ervine is forced to admit 'He could scarcely be called a democrat', while L.P. Jacks struggles unsuccessfully to present Thomas Carlyle as a democrat. He was in fact one of democracy's most eloquent and forceful critics. Nor do the 'Christian Socialists' really deserve their place in this collection. And Disraeli presents the paradox of a politician who was not a democrat in theory, but by pushing through parliament both electoral and social reform did "more for the working classes in five years than the Liberals in fifty", as an early Labour MP put it.
Some of the contributors seem to have largely ignored the editor's request that they concentrate on their subjects' status as democrats.  There has never been a more brilliant and forceful radical journalist in Britain than William Cobbett.  He had to be included in this collection.  And who better to write about him than the great socialist historian and campaigner, GDH Cole?  But, alas, Cole tells us little about Cobbett's democratic credentials.  The same can be said of Oliver Baldwin's essay on another outstanding radical, William Morris, and of Henry W Nevinson's piece on Edward Carpenter – a strikingly independent figure who has regularly to be rescued from the neglect of posterity. On the other hand MM Postan addresses directly the thorny issue of Marx's view of democracy, and comes up with a carefully considered and plausible interpretation.
In his introduction Michael Barratt Brown draws attention to two obvious limitations of his father's selection: it is predominantly English and predominantly male. Given the possibility of global coverage, it might have been better to have gone for exclusively British democrats, and to have reached back to include the seventeenth-century Levellers, who in the famous Putney debate of 1647 gave very clear expression to fundamental democratic principles.
The absence of women – only three feature alongside thirty-six men – is more serious, and surely somewhat surprising. In 1934 it was only five or six years since women in Britain had at last obtained the vote on equal terms with men, yet there is no chapter on the Suffragettes, nothing on the Pankhursts, and even the essay on John Stuart Mill does not pay much attention to his advocacy of women's suffrage. There is, however, an excellent essay by Evelyn Sharp on Mary Wollstonecraft, whose extraordinary talent for radical analysis is epitomised in one of her pithy comments on Edmund Burke: 'Security of property! Behold in a few words the definition of English liberty!' – an observation which has certainly not lost its relevance.
Equally good is John Middleton Murry's piece on Mary's son-in-law, the poet Shelley. Murry takes Shelley's politics seriously, and shows how they permeated his poetry. 'Democracy was the vital atmosphere of his political thought.' Tie this in with Bertrand Russell's essay on Paine, and you can see how the period of the French and American Revolutions was when the democratic imagination blossomed as never before, and perhaps never since.
There is at least one exception to this – the mid-nineteenth century American poet, Walt Whitman, who is rightly included in this collection. In his passionate belief in human equality, he was a true, complete democrat, or as Gerald Bullett put it in his excellent essay, 'a man full-blooded and brotherly, unselfconscious in his democracy and genuinely at ease with all kinds and classes.' Democracy, properly understood, is not just a system of government, but a commitment to universal human equality.