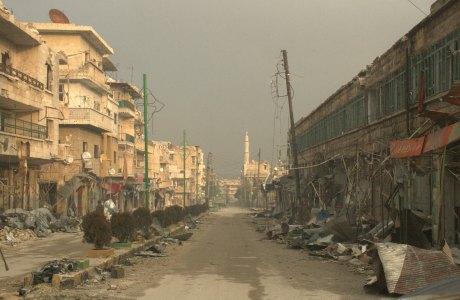 Masoud takes us to a house full of refugee men from Hama. Almost all have been injured in resisting the Assad Regime. They identify as Free Army. Most were hit with missiles or shrapnel. Eleven sit together in one room on plastic chairs and thin mattresses.
One young lad with a beautiful, joyous whole-face smile has lost the ability to speak due to a brain injury. He's getting it back but for now can only respond with nods and smiles, comprehension but no conversation. Another has been paralysed down the right side of his body. Another has lost a leg. Most are young – under the age of 30. Some sport beards that spell 'Salafi' to a prejudiced eye. All are covered in tattoos – considered 'haram' or a taboo in Islam.
The designs range from two swords crossed, names of loved ones, and sparsely sketched women's faces with pouting lips and straight strips of hair ('who is that?' – 'my mother' deadpans one – to peals of laughter from the rest). 'He; he's a drinker' points out one to a bearded, large man in his mid 30s – Abu Mohammed. He laughs. 'They're joking' he says with a twinkle in his eye.
They're working class guys – builders, brick layers, electricians, carpenters; but they've been through hell. Their families have too and not for the first time. In 1982 Hafez al Assad – Bashar's father and ruler of Syria for 29 years sent his forces into Hama to put down Muslim Brotherhood insurgents. The result was a crackdown and massacre of as many as 40,000 inhabitants over a period of 27 days. Now again since the uprising, Hama has seen massacres reported in nearby villages of Qubeir and Tremesh, resulting in the deaths of over 250 people.
Torture
Abu Mohammed hands me a cigarette and shakes his head wearily. 'You've been to Palestine yes?' (I nod) 'So you've met men who have been jailed and tortured yes?' 'Yes' I reply, 'Its almost a rite of passage there, most men from their mid teens onwards go through it, get rounded up, get arrested, go inside'. 'Israel', begins Abu Mohammed, slowly, 'Is more merciful than the regime of Assad'. Pause. 'We have been tortured with knives, slashed, we have been electrocuted, we have been drilled, with electric drills (he makes a drilling gesture with his hand) into our bodies.' The boys around the room nod wide-eyed. 'See this beard?' says Abu Mohammed, pointing to his chin. 'I'm shaving this off as soon as Assad is brought down'. It's unclear how religious the guys really are. There are stories of some fighters growing beards to look more pious in order to secure funding from more religious Gulf state backers.
We eat: baba ganoush covered with mincemeat and tomato, pitta, omlette, and lentil and parsley soup. Our talk is about the first days of the uprising in Hama. I ask the guys how they felt. 'By God' says Abu Mohammad, 'I started to cry.' Another man in his 40s pitches in 'Me too. I could not believe it. So many young people came out, they had lost their fear. Our town square was full'. 'I felt such joy, we all did' says Abu Mohammed, dipping his bread in olive oil. 'Tears rolled down our cheeks with joy'.
Leaving the humble, overcrowded home with no running water, I see a young, clean cut, gelled-hair trendy guy of about 15 or 16 sitting talking to the other guys. I greet him in Arabic but they tell me he's Turkish, a neighbour. It was good to see this friendship overcome the fear-stoked barriers being whipped up between refugees and locals. Would he be a man by the time they can go home?
*Some names have been changed
This is the third part of a six day serialization of Ewa's trip to Syria, It accompanies Jon Sack's beautiful reportage from the Syrian border in comic form: The Physio.
Ewa Jasiewicz is a journalist and campaigner. She is part of a small international solidarity initiative working to support grassroots groups in Syria. Please support these organisations:
Karama Bus children's relief project in Kafranbel