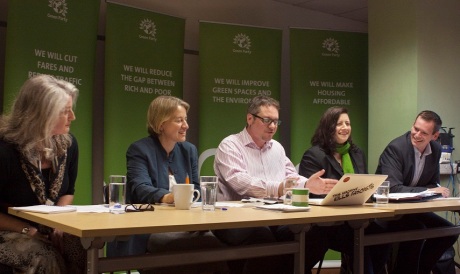 Green Party leadership candidates at a London hustings. Left to right: Pippa Bartolotti, Natalie Bennett, (returning officer Jon Nott) Romayne Phoenix, Peter Cranie.
Green Party members in England and Wales will soon be receiving their ballot papers in the first serious contest for leader and deputy leader the party has held. Though the posts were first introduced in 2008 (previously the Green Party had 'principal speakers'), and elections recur every two years, there was never any doubt that Caroline Lucas would be leader, and Norwich councillor Adrian Ramsay deputy.
This time, however, Caroline Lucas has decided not to stand again. She's cited the need for a wider group of Green politicians to gain public profile as her reason, and there's little doubt that her own time as leader led directly to her election as the Green's first MP in Brighton Pavillion. But she and her team are no doubt also keenly aware of the time she needs to put into getting re-elected in Brighton – in a seat where Labour are her main rivals, are bashing the Green-led council for passing a cuts budget (however hypocritically) and in the context of a likely national swing to Labour at the next election, it's tactically smart for her to concentrate on Brighton for the next couple of years.
Hence the Greens face a leadership race with no obvious winner going into the contest, although of the four candidates, there are frontrunners. The first to declare, Wales Green Party speaker Pippa Bartolotti, is surely not among them. Pippa, whose background is in business 'sustainability', is of the 'neither left nor right but forward' camp (and uses the phrase on her website). Once a more widely held position, the phrase no longer really chimes with the mood of a party more and more made up of people specifically looking for a left alternative. Plus it sounds rather silly. With turns of phrase like "the government has to stop pimping the planet and it has to stop pimping the people" (at the London hustings) and a grasp of media strategy that led her to proclaim "I annoy journalists all the time" as some kind of virtue, Pippa has something of the Jenny Jones about her.
The other candidate I would rule out is Romayne Phoenix. Romayne is standing on a 'Green Left' ticket with deputy leadership candidate Will Duckworth. Green Left is a small and dwindling ecosocialist current in the party. This is no barrier to electoral success: Derek Wall, a better known member of the group, has been elected male principal speaker of the party before. But he's endorsed Alex Phillips (see below) for deputy so its clear there's no unity around the ticket in the group. And there are plenty of socialists in the wider party who aren't connected to Green Left and I would guess won't be voting for Romayne.
They may well vote for Peter Cranie, who is also (marginally) the bookie's favourite. Peter ran as the lead candidate in the North West for the European Parliament elections in 2009 on a specifically anti-racist, anti-BNP ticket. Though he just missed beating Nick Griffin to the last MEP place in the region, he is well placed to beat him next time. He says he wants the Greens to be known as much for housing as for the environment, and comes across like he might just be able to carry that off convincingly (he's a Scot from a working class background who used to be in the Labour Party).
Also in the running is Natalie Bennett, chair of Green Party Women, parliamentary candidate for Holborn and St Pancras, and with a record of competence and getting things done within internal Green Party structures. An Australian who has worked as editor of the Guardian Weekly, she has framed her campaign around speaking up for the marginalised, and around concrete ambition for the party's electoral growth.
Of the deputy leadership candidates, the most interesting is perhaps Alex Phillips. She's the youngest of the candidates, but as a Brighton councillor was the only one to vote against the cuts budget (as amended by Labour and the Tories) and was closely involved in Caroline Lucas' election campaign. She will probably get the Young Green vote (more for her more leftwing politics than for her own relative youth), but is also supported by a good range of people in the party establishment.
Her main rival is probably Caroline Allen since though Richard Mallender is a party stalwart he appears to have run a rather lacklustre campaign so far, with no prominent backers listed on his website. However, that's to reckon without the party's election rules, which mean that once the leader is elected, deputy leadership candidates of the same sex are then disqualified so as to ensure gender balance. That means two of the deputy candidates have no chance of winning, but no-one knows which two until the votes are counted.
If I had to guess I would say that Peter Cranie will be the Greens' next leader. From the evidence of the hustings so far he has the most natural manner, and the strongest chance of broadening the party's appeal. He's probably best known among ordinary Green Party members and has the support of enough of the party establishment to win.
An unofficial Green Party elections blog is being run by Matt Sellwood and Jim Jepps, both occasional Red Pepper contributors, and both now running one of the frontrunners' campaigns each (Peter Cranie and Natalie Bennett respectively). It is nevertheless being scrupulously fair in its presentation of videos of various hustings and other news and opinion. The ballot closes on 31 August, with the result announced before Green Party Autumn conference on 7 September.
Unlike some of their European cousins, its been a couple of decades since the Greens in the UK have had any kind of right wing. Nevertheless, there are probably two main strands of thinking in the party. One is a kind of ecoliberalism, concerned with climate change and more bike facilities. The other is a left social democracy, concerned with inequality and defending the NHS. To a certain extent they co-exist, even in the same people, but recent years have seen the latter gain ground. Whatever the outcome, this leadership contest seems to confirm that.
Nevertheless, finding someone combining genuinely leftwing politics with credibility as a mainstream politician is difficult in any party. Too often the Greens manage only one or even neither. Getting somewhere near both in the Greens' second ever leadership team could open up the possibility of a real advance for the party.